Industry representatives suggest that the amount of penalties companies have actually paid is close to zero.
Article content
In April, the top procurement official at National Defence made a plea to companies supplying the Canadian Forces.
Article content
Provide the products you claimed you would be capable of delivering in the contracts that you signed, said Troy Crosby, Assistant Deputy Minister for Materiel, and provide that equipment on time as specified in those contracts.
Crosby's comments to The Canadian Press news service were seen by some in the defence community, including those in industry, as an indication of just how screwed up military procurement had become.
The federal government commits to pay billions of dollars to a company for military equipment. Then that company can't deliver what it promised to deliver, even though it signed a contract clearly outlining that it could, and the best the top procurement official can do is plead with the firms.
Article content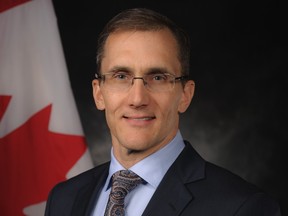 "If I could write to Santa Claus and look for some things that I would like to see happen … on an industry side, I would like to see probably less, or a shift in the balance away from, business development to delivery," Crosby said.
Wish lists to Santa, however, aren't good enough, says Conservative MP Kelly McCauley, who has been pushing for more accountability when it comes to defence contracts. How about some consequences for the firms who don't deliver, he argues.
"The only consequences we actually see are those for the military personnel who have to do without the needed equipment and those for the taxpayers who often end up having to spend more to make up for the shortfalls," McCauley said.
McCauley rhymes off a list of delinquent military equipment programs.
Article content
The delivery of Canada's new search and rescue aircraft from Airbus, already four years behind schedule, is being hindered by software problems affecting the plane's cockpit systems, among other issues. In an example of the lack of accountability and oversight, last summer Procurement Canada told parliamentarians it didn't have a single document concerning efforts to fix problems dogging the $2.4-billion search-and-rescue aircraft purchase.
The cost of the yet to be built Canadian Surface Combatants has skyrocketed even before one warship has been built. The estimated price tag for constructing the ships has climbed from an original $26 billion to $84.5 billion, according to parliamentary budget officer Yves Giroux.
Article content
In March, The Canadian Press pointed out that, nearly three years after a glitch resulted in a Cyclone helicopter plunging into the Ionian Sea, killing six Canadian Forces members, it remained unclear when that issue would be fixed.
But it won't be Sikorsky, the company that delivered the problem-plagued helicopters, footing the bill. Instead, that extra cost for what was already a $3-billion program will be borne by taxpayers.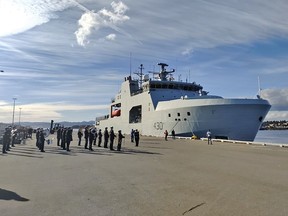 Then there are the problems dogging the new Arctic and Offshore Patrol Ships being delivered by Irving Shipbuilding. The first patrol ship, HMCS Harry DeWolf, was out of service for months because of mechanical problems, including issues with diesel generators. In December 2022, this newspaper confirmed the repairs to HMCS Harry DeWolf wouldn't be covered by Irving because the warranty for the company's workmanship on the vessel, delivered in 2020, was only for one year.
Article content
National Defence insiders argue that holding companies to task for failure to deliver military equipment can be difficult. Since there is a tendency to hope problems can be worked out, the firms continue to receive second chances.
Government documents obtained by this newspaper show the previous Conservative government could have hit Sikorsky with up to $89 million in fines for missing its deadlines on the Cyclone helicopter, but waived those penalties. Instead, federal bureaucrats persuaded the politicians that the best course of action was to renegotiate with Sikorsky. Under that new deal, Canada paid the U.S. aerospace firm $117 million extra for improvements to be made to the Cyclone. Still, the problems persisted.
Article content
In 2021, this newspaper reported the Liberal government had awarded a contract for new military radars to Thales, a firm that couldn't complete the same project six years ago, but the new contract for $186 million was worth more than three times the original amount.
Public Services and Procurement Canada said Tuesday it couldn't provide details on the amount of penalties defence firms had faced over the past decade for failing to deliver. Specific details about individual firms needed to remain confidential, the department added.
Industry representatives suggest the amount of penalties the companies have actually paid is close to zero.
But McCauley says, given the pressure on Canada to spend billions of dollars more on defence, there needs to be some accountability about whether value is being received on military contracts. At the minimum, governments can think twice about dealing with a firm who failed on a previous project.
"You can't keep awarding contracts to companies who have shown they can't deliver," McCauley said. "It will take more than just writing to Santa Claus with a wish list to fix this problem."
David Pugliese is an award-winning journalist covering Canadian Forces and military issues in Canada. To support his work, including exclusive content for subscribers only, sign up here: ottawacitizen.com/subscribe