Former President Donald Trump travels to Iowa on Wednesday as he turns up the volume on his campaign in the state whose caucuses lead off the GOP presidential nominating calendar.
But Trump returns to Iowa in the wake of controversial abortions comments he made this past weekend that sparked outrage among some in the social conservative community in a state where Evangelical voters play an outsized role in the Republican presidential caucuses. 
Trump, who for months has been the commanding front-runner in the 2024 Republican race, is gunning to take down Florida Gov. Ron DeSantis, who's relentlessly criss-crossed Iowa this summer as he tries to shave points off of Trump's enormous double-digit lead in the Hawkeye State.
With less than four months to go until the Iowa caucuses, the former president will hold a "Team Trump Caucus Commitment" organizing event with campaign volunteers at the Jackson County Fairgrounds in Maquoketa. Later, he'll give policy remarks at the Grand River Conference Center in Dubuque in front of what his campaign estimates will be a crowd of up to 2,500 people.
WITH FOUR MONTHS UNTIL THE FIRST VOTES, THE 2024 GOP BATTLE HEATS UP IN THE FIRST CAUCUS STATE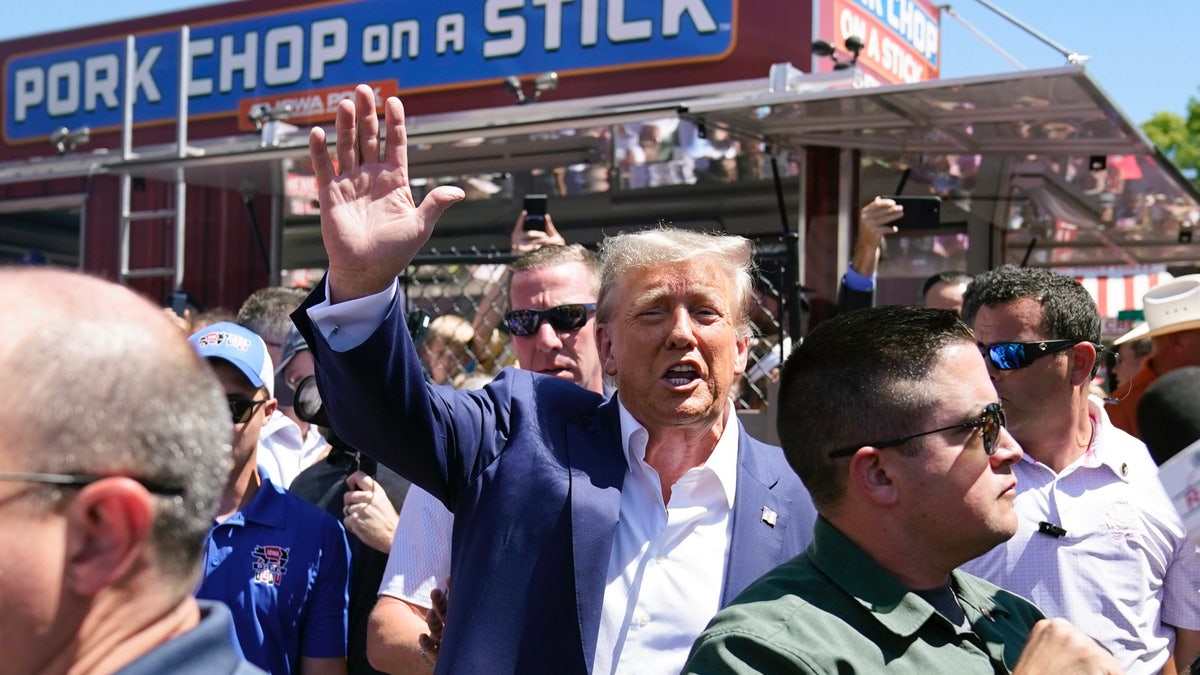 Trump's campaign also highlights that the former president will make four more trips to Iowa next month.
"Polling shows President Trump leading by nearly 40 points, but as he always tells us, put the pedal to the metal," Trump campaign spokesman Steven Cheung emphasized in a statement. "We don't play prevent defense, and his aggressive upcoming schedule reflects President Trump's continued commitment to earning support in Iowa one voter at a time."
The campaign's also adding a new senior adviser in Iowa. And the former president's getting support in the state from the Trump-aligned super PAC MAGA Inc., which this past weekend launched a more than $700,000 week-long ad buy in Iowa.
2024 WATCH: THE GOP PRESIDENTIAL NOMINATION RACE IS TRUMP'S TO LOSE
Trump's historic four criminal indictments this year — including two for allegedly trying to overturn his 2020 election loss to President Biden — appear to have only strengthened his support among likely Republican primary voters.
The latest Fox News national survey in the GOP nomination race, conducted Sept. 9-12, pointed to Trump expanding his already enormous lead over the rest of the field.
But while still towering over his rivals, Trump's lead in the latest surveys in Iowa, as well as New Hampshire and South Carolina, two other crucial early voting states in the Republican nominating calendar, is not as overwhelming.
"It's closer in Iowa, New Hampshire and South Carolina that it is nationally, but it's not close," said David Kochel, a longtime Republican consultant and veteran of numerous GOP presidential campaigns in Iowa and nationally.
"These things do break late. There's a lot of stuff we haven't seen or heard yet. Whether it's Trump's trials, which I don't think are going to move any numbers against him. Whether it's future debates. Whether it's something we can't foresee now," Kochel noted. "The door's still open, but it's not as wide open as it was."
Trump's made seven trips to Iowa so far this year, including a quick swing through the State Fair last month and an appearance earlier this month at a fraternity house in Ames before attending the annual Iowa-Iowa State college football game.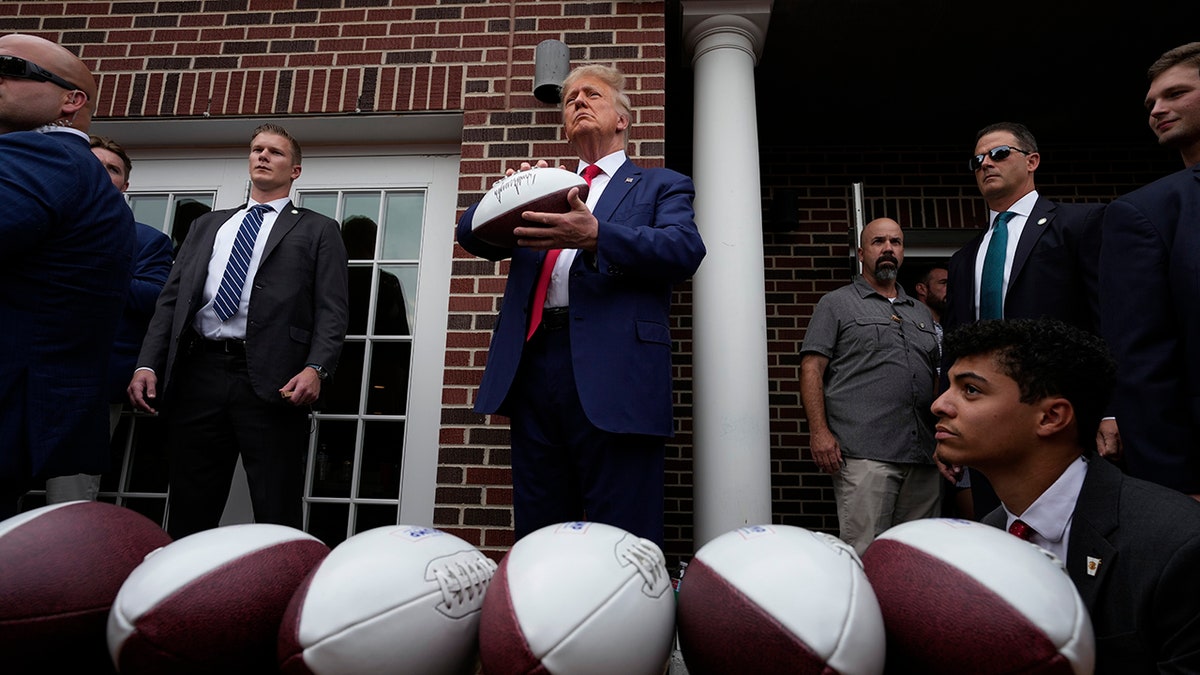 His campaign touts that they added over 2,250 signed caucus pledge cards during Trump's most recent Iowa trip, bringing the total collected to more than 27,500. And they highlight that they've recruited over 1,000 precinct captains for January's caucuses.
But Trump's visits to the state can't compare to frequency some of his rivals travels, such as DeSantis, former ambassador and former South Carolina Gov. Nikki Haley, former Vice President Mike Pence, Sen. Tim Scott of South Carolina, and biotech entrepreneur Vivek Ramaswamy.
HOW THIS ONE-TIME BATTLEGROUND STATE IN THE HEARTLAND TURNED BRIGHT RED
With the clock ticking towards January, Iowa based Republican strategist and presidential campaign veteran Jimmy Centers emphasized that "at some point the rest of the field has to make a stronger and more compelling argument as they why them. Why are we changing horses from the former president…They have to speak more directly to that point and start doing it soon."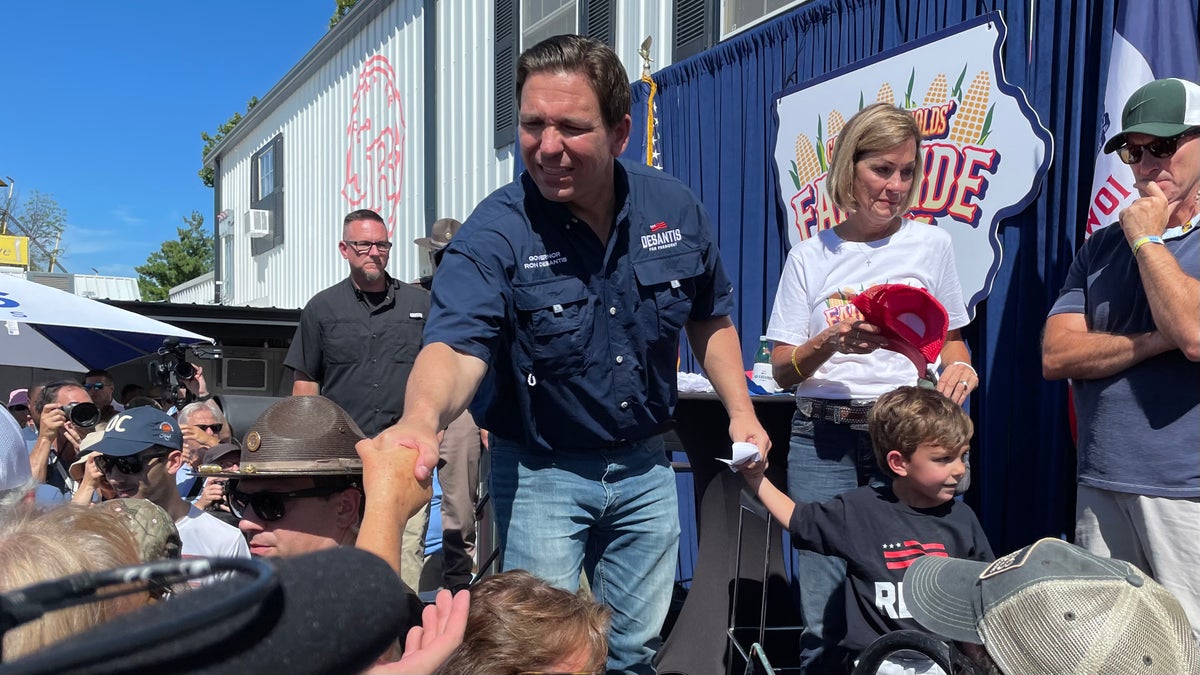 But Trump appears to have handed his rivals some ammunition over the combustible issue of abortion.
Trump declined to endorse a specific number of weeks after which abortion would be banned, with some exceptions, and he refused to say whether he feels the issue should settled at the state or federal levels, in an interview that aired Sunday on NBC News' "Meet the Press."
"We're going to agree to a number of weeks or months or however you want to define it," Trump said. "And both sides are going to come together and both sides — both sides, and this is a big statement — both sides will come together…I think both sides are going to like me."
NIKKI HALEY SEARCHES FOR COMMON GROUND ON COMBUSTIBLE ISSUE OF ABORTION
Trump also once criticized Republicans who take too hard an abortion stance, saying "You're not going to win on this issue."
And he called the six-week abortion ban DeSantis signed into law in Florida "a terrible thing and a terrible mistake."
Firing back, DeSantis said in an interview with Radio Iowa that "Donald Trump may think it's terrible. I think protecting babies with heartbeats is noble and just and I'm proud to have signed the heartbeat bill in Florida and I know Iowa has similar legislation,"
"I don't know how you can even make the claim that you're somehow prolife if you're criticizing states for enacting protections for babies that have heartbeats," DeSantis stressed.
Scott, who to date has mostly avoided criticizing Trump, said during a campaign stop Monday in Iowa that "President Trump said he would negotiate with the Democrats and walk back away from what I believe we need, which is a 15-week limit on the federal level."
Popular conservative GOP Gov. Kim Reynolds of Iowa – who earlier this year signed a similar six-week ban into law – on Tuesday defended her measure, saying "It's never a "terrible thing' to protect innocent life."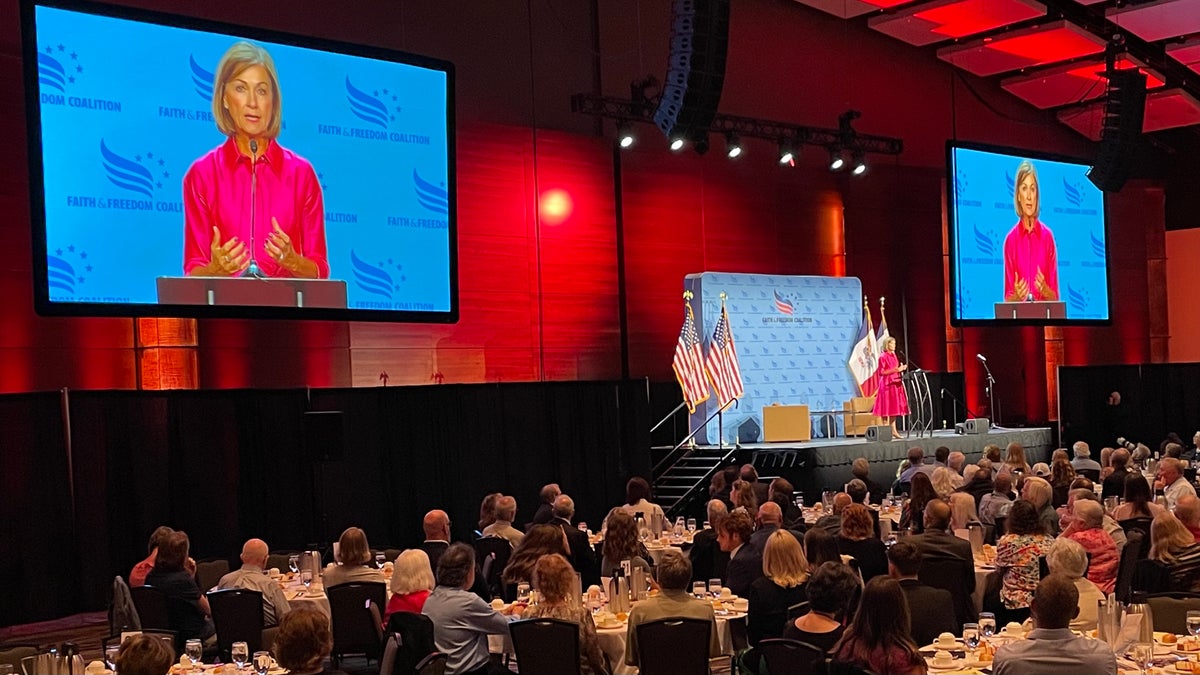 Bob Vander Plaats, the president and CEO of the Family Leader, an influential faith-based organization in Iowa, took to social media to charge that the former president Donald Trump "has shown his true colors."
"The scripture states out of the heart, the mouth speaks. I think  @realDonaldTrump revealed his heart on @MeetThePress," Vander Plaats argued.
And he warned that Trump's "let's make a deal" on the #SanctityofHumanLife " could lead to the former president "losing his base" in Iowa.
Vander Plaats, who is far from a Trump supporter, is likely to endorse one of the former president's rivals in the coming months.
Trump took to his Truth Social network on Tuesday to defend his record, writing, "I was able to do something that nobody thought was possible, end Roe v. Wade.
"Like Ronald Reagan before me, I believe in the three exceptions for Rape, Incest, and the Life of the Mother. Without the exceptions, it is very difficult to win Elections, we would probably lose the Majorities in 2024, and perhaps the Presidency itself, but you must follow your HEART!" Trump wrote.
And he reiterated past comments that "In order to win in 2024, Republicans must learn how to talk about Abortion. This issue cost us unnecessarily, but dearly, in the Midterms…"
CLICK HERE TO GET THE FOX NEWS APP
Nicole Schlinger, a veteran Iowa-based conservative operative and strategist who is well-connected with evangelical groups, told Fox News that Trump "was the most pro-life president in our lifetime. He gave us the justices that gave us Dobbs, and we're grateful for that."
But she added "what he does next matters and negotiating weeks of human life with Democrats does not seem like what Evangelical caucus goers wanted when they asked for those justices."
"It remains to be seen but this could be one of those moments where we say the tide turned," Schlinger predicted. "I think it could and it should motivate Evangelical caucus goers to take a second look. I think the door's open for another candidate, but it's up to someone to walk through it."
Get the latest updates from the 2024 campaign trail, exclusive interviews and more at our Fox News Digital election hub.