A spokesperson for former President Donald Trump directed a transgender joke at an aide for Florida Governor Ron DeSantis on Wednesday, prompting a reaction from Caitlyn Jenner.
Polling indicates that Trump has built a commanding lead over DeSantis, his nearest rival, with Republican voters in his bid to represent the party again in the 2024 election. A recent survey, conducted by The Wall Street Journal, found that 59 percent of Republicans said the former president would be their preferred candidate, versus just 13 percent for DeSantis.
Former Keeping Up with the Kardashians star Jenner stands among Republicans who have continued to support Trump amid his ongoing legal issues. As a result of her unwavering support for Trump, Jenner has become increasingly critical of DeSantis as he ramps up his efforts to land the GOP nomination.
Her stance appeared unshakable on Wednesday, when Trump campaign spokesperson Steven Cheung took a swipe at DeSantis aide and rapid response director Christina Pushaw on X, formerly Twitter.
After DeSantis shared a post on the platform regarding his announcement of an energy policy rollout in Midland, Texas, Cheung offered a scathing assessment.
"Amateur campaign advance work," Cheung wrote. "Horrible, s***ty audio from a horrible, s***ty candidate that just steals from President Trump's policy book."
Responding to Cheung's cutting post, Pushaw asked him: "Can a man become a woman?"
"You asking for yourself?" Cheung clapped back.
Jenner, who transitioned to female in 2015, showed which side of the showdown she was on when she reacted with a trio of laughing face emojis.
The TV personality has been an outspoken critic of transgender women participating in sports against other women. Her stance aligns with the views of several conservative commentators.
Pushaw's post asking if a man can become a woman was a reference to Trump's response to a question about transgender people during an interview with former Fox News anchor Megyn Kelly on September 14, years after he famously made derogatory comments about her after a 2015 presidential debate that she moderated.
During the discussion on her SiriusXM podcast The Megyn Kelly Show, Kelly at one point raised the topic of transgender people, noting that in 2016, Trump said that he would allow 1976 Olympic decathlon gold medalist Jenner use the women's restrooms at Trump Tower.
When pressed about whether or not he believed a man could "become a woman," Trump gave a hesitant and slightly evasive answer that started with an, "Ummm."
"In my opinion…I think part of it is birth," Trump said. "Can the man give birth? No. Although they'll come up with some answer to that also. I heard just the other day, they have a way that now the man can give birth. No, I would say. Yeah, I'll continue my stance on that."
Elsewhere in the interview, Trump said his views on the matter had evolved since 2016 and claimed that the topic of trans people was a "brand new subject" at the time. He also dismissed the idea that he had "reversed" his past views, claiming that the matter was too small at the time to have a fully formed opinion and asserting that his policies as president should speak for him.
Opposition to transgender people has, in recent years, become a prominent stance among conservatives, particularly those on the further-right fringes. The foregrounding of the topic has notably led conservatives to call for boycotts of major companies and brands that embrace the trans community in their marketing efforts, most of which had little long-term impact.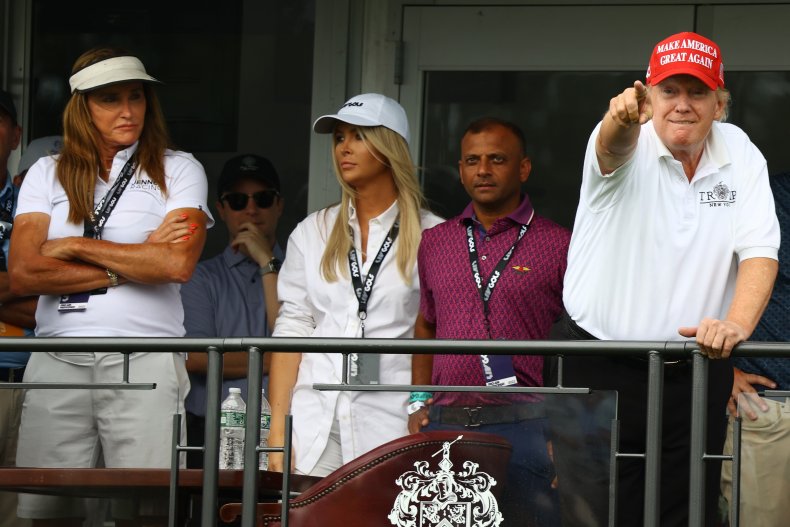 Early in his political career, Trump expressed softer stances on gender and sexuality issues, notably saying that he supported gay marriage prior to the 2016 election. His stances became less inclusive after he took office when he notably signed a ban on openly transgender individuals serving in the military, which was later reversed by President Joe Biden.
Meanwhile, Jenner, who ran an ill-fated race to replace California Governor Gavin Newsom, scraping just 1 percent of the total vote in the 2021 election, has remained committed to the GOP, despite the growing wave of anti-transgender sentiment.
A vocal critic of transgender women in sports, the Fox News contributor stepped up her efforts a notch in April by announcing the launch of an initiative called Fairness First. The political action committee that describes itself as "a big tent movement, non-partisan in nature, with the intention of protecting women and girls in sport—especially in light of recent events with radical gender ideology."
In April, she said on X that "indoctrination" of America's youth has led to the transgender community being "oversaturated."
While Jenner now supports Trump and backed him during the 2016 presidential campaign, she spoke out against him in an op-ed published by The Washington Post in 2018.
"The reality is that the trans community is being relentlessly attacked by this president," she wrote at the time. "The leader of our nation has shown no regard for an already marginalized and struggling community. He has ignored our humanity. He has insulted our dignity.
"He has made trans people into political pawns as he whips up animus against us in an attempt to energize the most right-wing segment of his party, claiming his anti-transgender policies are meant to 'protect the country.' This is politics at its worst. It is unacceptable, it is upsetting, and it has deeply, personally hurt me."
Jenner called her efforts to work with the Trump administration a mistake and criticized the then-president for his pursuits against LGBTQ rights, including his ban on trans soldiers and his reversal of former President Barack Obama's protections for trans schoolchildren.
"It's clear these policies have come directly from Trump, and they have been sanctioned, passively or actively, by the Republicans by whose continued support he governs. My hope in him—in them—was misplaced, and I cannot support anyone who is working against our community," Jenner wrote. "I do not support Trump. I must learn from my mistakes and move forward."
She has since said that he has openly supported Trump on his 2024 presidential run.
Jenner, who underwent gender reassignment surgery in 2017, last year claimed that she and her staff had been inundated with death threats and hate mail from the "so-called 'inclusive' LGBT community" in reaction to her views.