Nature is an essential part of car design. It goes beyond providing inspiration for the looks of a vehicle, though. Natural features like ocean waves, mountain ranges and all manner of creatures can inform the choice of materials and the overall exterior.
The Rhode Island School of Design (RISD) is working with Hyundai Motor Group (HMG)—the parent company of the Kia, Hyundai and Genesis brands—to take those kinds of tactics even further. RISD is tapping biology experts to help expand the thinking of the automotive company's designers.
"When HMG first approached RISD back in late 2017, they were looking for a meaningful way to engage in sustainability that took its cues directly from nature itself," Jennifer Bissonnette, interim director of the Edna W. Lawrence Nature Lab at RISD, told Newsweek. "The chairman of HMG has had a keen interest in insects since he was a child and thought they were a great place to start thinking about nature-informed design for the future of mobility."
The Nature Lab, which originated in the early 20th century, was the brainchild of RISD faculty member Edna Lawrence, whose lifetime of work saw her collect all manner of specimens—flowers, leaves, shells, birds, fish, insects, minerals and sea life—during yearly trips across the U.S. and around the globe.
The goal of the lab that bears her name was always to be a place of research rather than a display hub. Still, it's a veritable museum of creatures and materials waiting to be studied. Plants and animals, from the fully intact to various preserved parts, including a blowfish, bear, puffin and iguana, are housed alongside pinecones, shells, rocks and seed pods.
"When we look to nature for answers to the design challenges we face, we're tapping into 3.8 billion years of evolution that have resulted in myriad forms and processes," Bisonette said. "Everything from creating energy-efficient aerodynamic forms to optimizing lightweight materials for strength are design innovations that the natural word has already iterated on multiple times."
During a tour of RISD's facilities, Bissonnette discussed the wing structures of butterflies, explaining that though they're soft, water beads off of the structures. She also noted how birds manipulate their bodies into positions to enter water without hardly making a splash. These characteristics could influence both the aerodynamics of vehicles and the materials used to assemble them.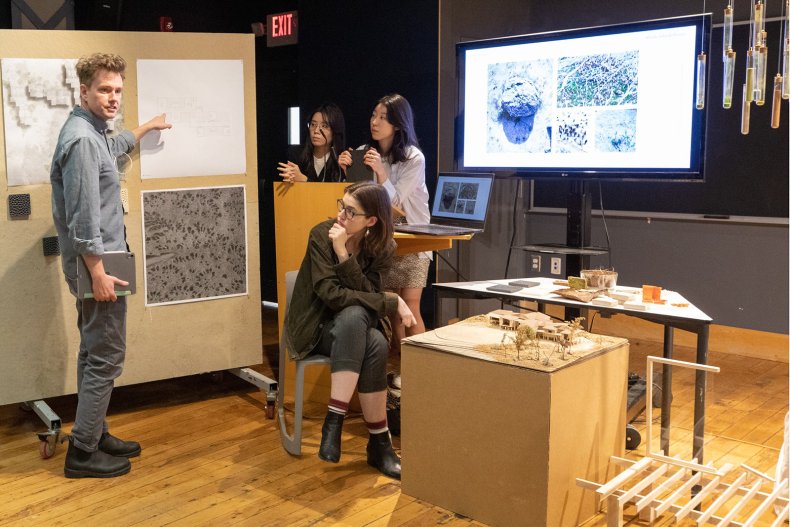 Other animals' cellular structures played a role in the development of 3D-printed, honeycomb-linked components—strong yet flexible surfaces that can absorb impacts.
Lightweight materials and new-age design are especially important to HMG as the company's design team looks for ways to push traditional boundaries, given new parameters surrounding the electrification of vehicles and sustainability. Shapes take on a more major role as energy efficiency becomes a top priority, as does safety in a world where vehicles will soon be driving themselves.
"Unlike a traditional program sponsorship, the HMG X RISD partnership aims to bring innovation through differentiated approaches, especially regarding future challenges, through interdisciplinary collaboration and a deep understanding of nature," Jieun Bae, a researcher and design engineer at Kia Future Design Group, told Newsweek.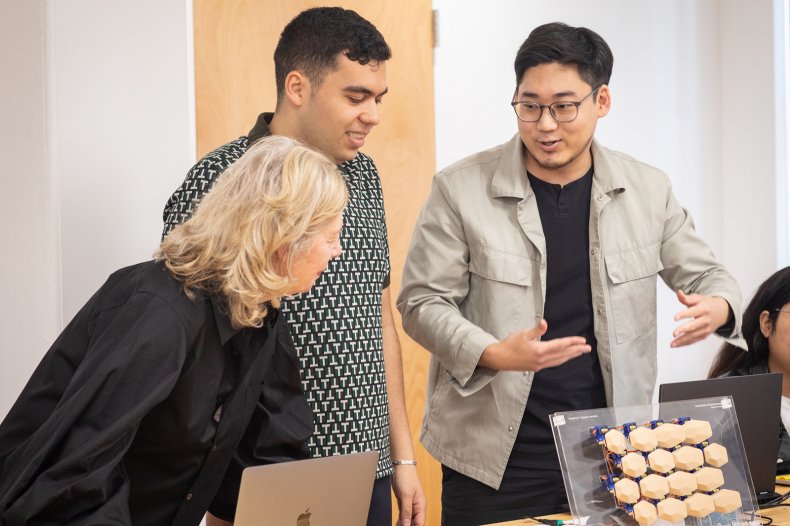 "By highlighting these aspects, the partnership aims to draw inspiration and insights from nature's principles and solutions. This approach recognizes the importance of sustainable practices, ecological balance and harmonious coexistence with the environment."
The Nature Lab is a place of study, offering access to authentic natural history specimens in a library-like environment. Microscopes, high-speed cameras and advanced imaging systems are side-by-side with card catalogue-like storage of long-deceased creatures, taxidermized larger animals, articulated skeletons and aquariums filled with plants.
"With the rapid advancements in electric vehicles, autonomous technology and sustainable transportation, HMG recognizes the importance of staying at the forefront of these developments and hopes to gain access to creative minds and fresh perspectives that can push the boundaries of traditional automotive design by the partnership with RISD," Bae said.
One could get a glimpse at those new perspectives by diving into the collections within the Microscopy and Advanced Imaging Lab, a part of the larger Nature Lab. There, researchers are able to use an electron microscope that can magnify objects up to 350,000 times their actual size, as well as a hi-resolution 3D scanner to get a look at the finite detail of a butterfly's wing, bird's beak or worm's skin. This allows for a cell-level analysis of the structures that keep seemingly fragile wildlife going despite living in harsh conditions.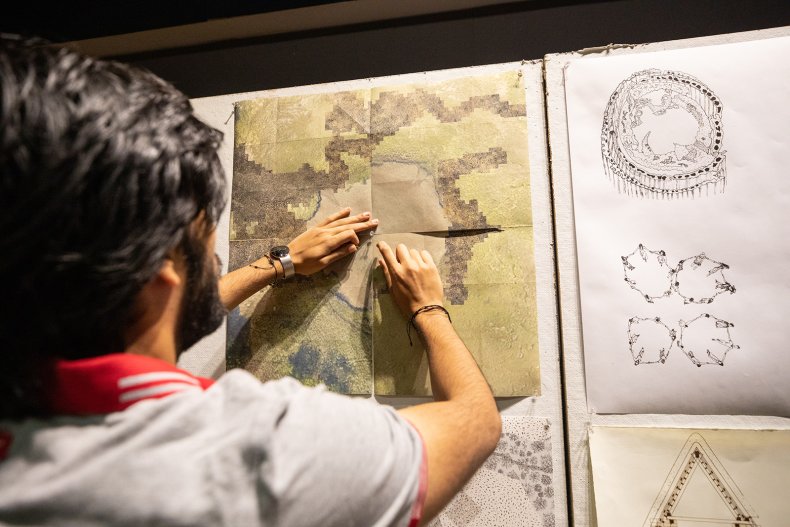 As automakers all over look to change up materials and environmentally harmful production processes, biomimicry, the reproduction of nature's forms, looks to be an intriguing path forward.
"[This] partnership has facilitated a cultural shift within HMG, particularly in terms of sustainability insights and the embrace of biomimicry as part of their design and innovation processes, contributing to a more sustainable and nature-inspired future," Bae said. "This shift allows HMG to align its practices with the growing demand for sustainable solutions and positions them as a forward-thinking and environmentally conscious automotive company who develop products that are more efficient, resilient and environmentally friendly."