Staff at a Louisiana shelter told Newsweek they were left in tears over the heartbreaking cruelty after discovering puppies dumped by a breeder.
The three puppies were dumped by the breeder outside the Villalobos Rescue Center – Life 4 Paws, Inc. in New Orleans on Sunday, September 17.
Security cameras captured the moment the puppies were dragged out from the vehicle and left at the shelter.
In the clip, a black vehicle can be seen pulling up outside the shelter before the driver gets out and opens the back seat.
The man can then be seen sharply yanking on the puppies' leashes before he pulls them toward the shelter fence.
At all times, the three dogs appear to be distressed and are not willing to go along with the man. Then the dogs and the man move out of view of the camera.
The discovery of the puppies distressed shelter employees who were left in tears when they took them into their care.
Newsweek has contacted the New Orleans Police Department for comment about the abandonment via email.
Villalobos Rescue Center employee Tia Torres told Newsweek the puppies' owner tried to dump them on his own a few weeks ago but was told they did not have any room.
She added: "So it was no surprise to see him come back when we were not open and tie them to the fence.
"But the strange part was that he left all of the pups' vaccination records and paperwork.
"So despite him breeding these dogs for money and dragging them out of his car, a part of him cared enough about them to not take them to the kill shelter and instead brought them to us."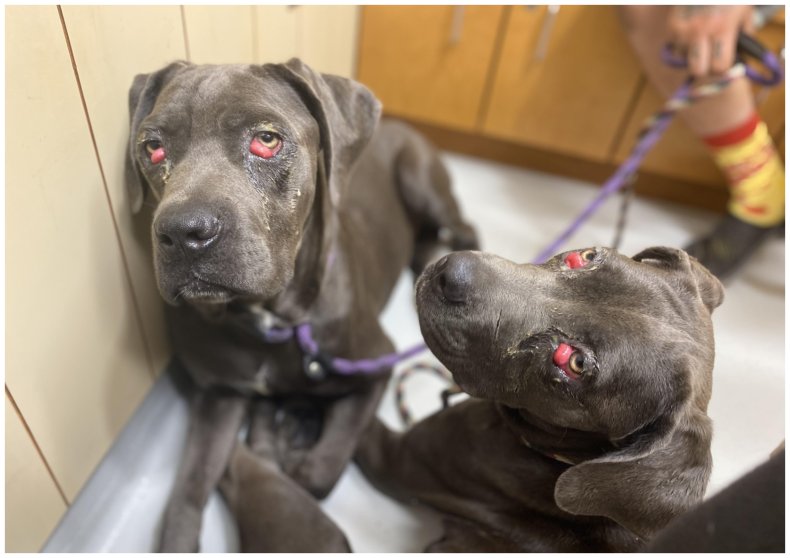 Torres added: "When the employees came into work, they cried. Literally cried. Not just because it was sad to see, especially after viewing the camera footage but also because they are overwhelmed and emotionally and physically exhausted.
"We had nowhere to put these pups so one of my employees took them back to his house where he is already fostering five of our dogs plus he also has his own personal dogs. It's that overwhelming right now."
Each year, 6.3 million pets are surrendered to U.S. shelters, which is an average of 17,260 a day, according to the American Society for the Prevention of Cruelty to Animals.
The number of dogs and cats taken in by pet shelters hit 46,807 during January 2023, an increase of 1,744 compared with January 2022, the 24Pet 'Shelter Watch Report' found.
Around 920,000 surrendered animals are euthanized every year. Shelters are striving to minimize euthanasia rates by promoting adoption campaigns, spaying and neutering programs, and behavior rehabilitation.
Torress continued to tell Newsweek: "Dumping dogs like this and not caring if the facility has room or not is now very common in every state, every city. In my opinion, it got worse after COVID and people began dumping the animals that they had adopted to keep them company while on lockdown.
"Then the next wave of dumped animals came as the economy got worse and people did not have the money to care for them. This is the worst I've seen for the rescue/shelter community in my 30 years of being in the animal rescue world."