China space officials said Monday that the program plans to place astronauts on the moon before 2030, as well as expand its space station.  
The deputy director of the Chinese Manned Space Agency confirmed that objectives at a press conference at the Jiuquan Satellite Launch Center, but did not provide a timeline. 
Deputy Director Lin Xiqiang told reporters that the country is first preparing for a "short stay on the lunar surface and human-robotic joint exploration."
"We have a complete near-Earth human space station and human round-trip transportation system," he said. 
SOUTHERN CALIFORNIA STARTUP VAST ANNOUNCES PLANS TO LAUNCH WORLD'S FIRST COMMERCIAL SPACE STATION
Lin told the media that a schedule of two crewed missions a year is "sufficient for carrying out our objectives."
The agency also introduced three astronauts who will launch aboard a Shenzhou 16 spacecraft to the Tiangong space station on Tuesday morning. 
The astronauts will replace a crew that's been in space for half a year. 
The new crew includes a civilian for the first time. Gui Haichao, a professor at Beijing's top aerospace research institute, will join mission commander Jing Haipeng and spacecraft engineer Zhu Yangzhu as the payload expert.
Jing told reporters that the mission marked "a new stage of application and development" in China's space program.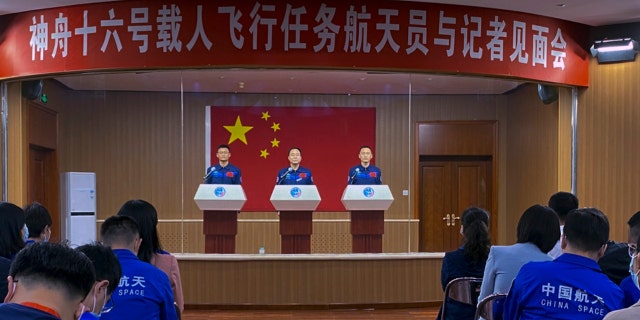 NASA UNVEILS SLEEK NEW SPACESUITS FOR ARTEMIS III MOON MISSION
"We firmly believe that the spring of China's space science has arrived, and we have the determination, confidence, and ability to resolutely complete the mission," the major general, who has made three previous space flights, said.
China launched the main part of station in 2021 and sent the final module up in November of last year. 
Lin said that a fourth module will be launched "at an appropriate time to advance support for scientific experiments and provide the crew with improved working and living conditions."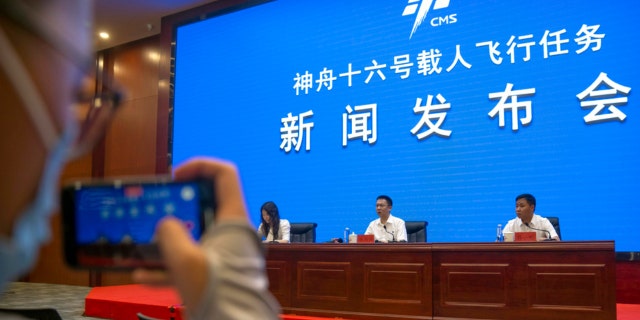 China built its own station after it was excluded from the International Space Station, in large part over U.S. objections regarding the Chinese space programs' ties to the People's Liberation Army, the military wing of the country's ruling Communist Party.
CLICK HERE TO GET THE FOX NEWS APP 
"Our country's consistent stance is that as long as the goal is to utilize space for peaceful purposes, we are willing to cooperate and communicate with any country or aerospace organization," Li Yingliang, the technology director of the Chinese crewed space flight agency, said.
"Personally, I regret that the U.S. Congress has relevant motions banning cooperation in aerospace between the U.S. and China. I very much regret that personally," he added.
NASA aims to put astronauts back on the moon by the end of 2025.
Reuters and The Associated Press contributed to this report.