Jordan Sanchez clutched her notebook and stood in front of a noisy conference room filled with business and political leaders hobnobbing over drinks and hors d'oeuvres—a tough crowd for a poet. It was reception time at a Climate Week event on Monday in New York City, and Sanchez was there to use her poetry to add some heart to the day's cerebral sessions on climate policy and finance. She smiled broadly and began to read:
The extremities of the Earth extending far past their reach,
Autumn leaves falling down like money from trees,
And the companies have the biggest rakes,
In a soon-to-be world of climate refugees
Looking for an escape or release.
At age 21, Sanchez is already accustomed to reading her work for big audiences, big venues and big events. In 2019, when she was just out of high school, she read from the stage of Harlem's storied Apollo Theater, standing near where James Brown once spun and sang. In 2021, she performed at an event for the United Nations Environment Programme's World Environment Day, and in 2022, her work was included in an exhibit at the Peabody Essex Museum in Massachusetts.
Sanchez started writing seriously while still in grade school, with the encouragement of an English teacher, Julie Ann Fairley, who is also a poet and children's book author.
"She was the first and one of only three Black teachers I ever had," Sanchez told Newsweek. Soon, Sanchez was using poetry as a way to explore tough social issues such as racism and, by her senior year of high school, climate change.
"I kind of always saw poetry as an avenue for social change," she said. Climate action depends upon bringing people to a real human connection with the issue, Sanchez said, something that policy and science alone can't do.
"Everything to do with climate is very jargon-filled," she said, "and as important as the stats and science are, it's hard for people to connect with numbers. And I truly do believe that the only way for people to act on it is if they see it as something affecting them and other people around them."
Sanchez recalled a time when the effects of climate change hit close to her. Her grandmother lives in Puerto Rico and was left without electricity for months when Hurricane Maria struck the island in 2017. Scientists say the storm's intense rains were five times more likely in today's altered climate compared to conditions from the middle of the 20th century.
Sanchez uses poetry to grapple with the intense feelings that climate change can trigger, and to face the sense of a world speeding out of control. She's even used verse to try to connect with those who deny climate change.
Denial is the first stage of grief, but what are you grieving?
Maybe the fact that our clean air is leaving,
Our lungs constantly receiving the grey,
Ourselves slowly receding into the black.
A New York native, Sanchez is a junior at Harvard where she studies math and physics, giving her a left-brain logical analysis of climate science to complement the right-brain orientation of her writing.
"I always thought that physics gave me another lens to look at the world," she said, "and both ways of looking are equally correct."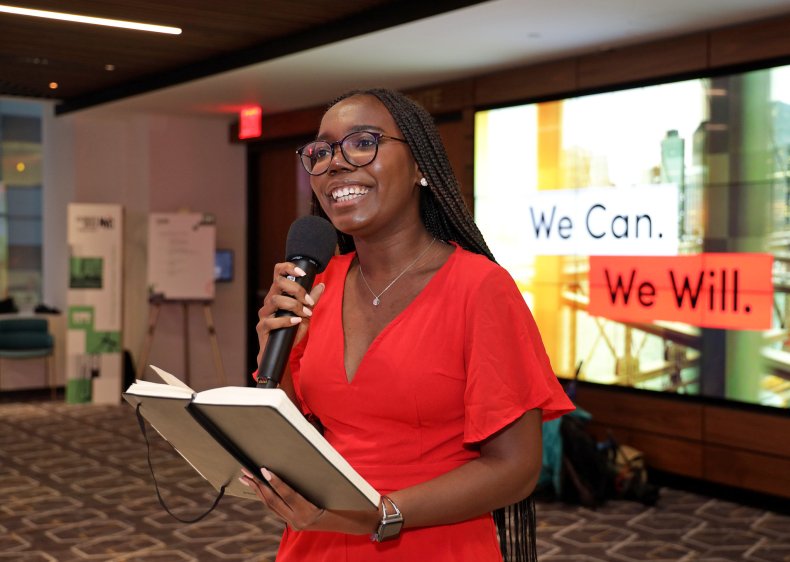 Like many young people, Sanchez wrestles with anxiety brought on by the knowledge that the world they'll live in will likely be one of climate extremes unlike what previous generations experienced. She said eco-anxiety is a natural, sensible response to what is happening.
"If you can see the world that the science is describing and not be afraid, and not have some kind of anxiety, then I want whatever you're on," she said with a laugh. She said young people aren't just anxious, they're angry and frustrated that there is so much talk about climate change but not enough action.
Her prescription for eco-anxiety? "Do something for the 'eco' and the anxiety will take care of itself," she said. Another poem of hers reads:
Change has a fist and a voice.
And she is not afraid to shout.
We see her in the hues of the youth,
Hear her in the battle cries on the streets,
Taste her in the bitterness of the past,
Feel her in the warm embrace of hope.
Sanchez is gaining considerable reach among young audiences (she currently has 147,000 followers on TikTok) and she said that she hopes her work will encourage more young people to find ways to engage on climate change.
"The more action you take, then the more hopeful you feel because you see all the kinds of futures that are lying ahead of us," Sanchez said. "With every action you take, you're able to see a better and brighter future."
Resilient, we stand on our own two feet.
I'll tell you, reimagining the future has never tasted so sweet.