Article content
Ottawa Public Health reports the COVID-19 situation continued to remain relatively calm over the last week, although three more deaths were recorded.
Article content
Hospitalizations and case numbers continue to show slight improvements.
However, the agency continues to advise residents to stay current with their booster shots, particularly people considered to be at most risk, such as those over the age of 65 and people with pre-existing conditions.
Ottawa
(As of Thursday)
3: New deaths
1,067: Total deaths
8: Ottawa residents in hospital due to active infections
0: Ottawa residents in ICU because of active infections
22: Confirmed COVID-19 patients in Ottawa hospitals as of Wednesday (includes non-Ottawa residents); 9 in hospital because of COVID-19 (none in ICU) and 13 for other reasons (none in ICU)
78: New COVID-19 cases (previous seven days. Case numbers are considered underestimates with testing limited to certain groups)
Article content
109: Known active cases
91,714: Total cases
6: Ongoing outbreaks in institutional settings
10.9 Rate (per 100,000) of COVID-19 reported in previous seven days
Source: Ottawa Public Health
OPH dashboard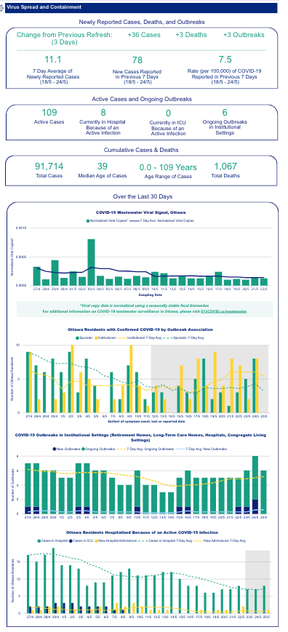 The situation in Ottawa
Main COVID-19 indicators continue to be stable with little movement this week. There was one new death reported in the Friday update.
Who should get COVID-19 booster shots?
Ottawa Public Health continues to encourage every Ottawa resident who qualifies to get a booster vaccine this spring.
That includes two groups of people:
Those who are at the highest risk of poor outcomes from COVID-19, including people over 65, residents of long-term care, retirement and other congregate living settings for seniors, people over 18 living in congregate care settings for people with complex medical needs, pregnant women, people over 18 who are moderately to severely immunocompromised and people over 55 who are First Nations, Inuit or Métis and their household members.
Article content
In addition, anyone over the age of five who has not had a booster shot since last September is encouraged to get one if it is at least six months after their last dose or a COVID-19 infection.
Although Ottawa had one of the highest rates of vaccination in the country when the earliest COVID-19 vaccine doses were available, the uptake for booster doses has been relatively low, with 56 per cent of the total population having received three doses and 31 per cent having received four doses, compared to 85 per cent of the city's total population with one dose.
How to get vaccinated against COVID-19 (and flu) in Ottawa
Find out more about getting COVID-19 vaccinations at Ottawa Public Health's community clinics and neighbourhood health and wellness hubs. Book COVID-19 vaccination appointments through Ontario's online portal or by calling the Provincial Vaccine Contact Centre at 1-833-943-3900, or make appointments at participating pharmacies.
Article content
Flu shots are available at pharmacies and OPH flu shot clinics serve children aged six months to five years and their household members and people without OHIP who couldn't get the vaccine through pharmacies or health-care providers.
How to get tested and treated in Ottawa
Pharmacists can dispense Paxlovid, an antiviral drug used to reduce severe outcomes from COVID-19 to eligible people at no cost, both in person and virtually. People can use Ontario's online anti-viral screener to see if they're at higher risk of severe illness and might benefit from the medication.
Ottawa residents can find out who's currently eligible for testing and how to book tests and seek treatment at local care clinics or assessment centres on the health unit's website.
Families can also check out CHEO's page on when to go to the emergency department and alternatives to the ED.