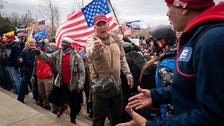 WASHINGTON — Ray Epps faces up to a year in prison for rioting at the U.S. Capitol on Jan. 6, 2021, but far-right Republicans are clinging to a conspiracy theory that the Arizona man is a federal agent.
Epps, a wedding venue owner and two-time Trump voter, pleaded guilty Wednesday to a single charge of disorderly conduct in a restricted federal area. Some republicans say the charge is fishy, suggesting that Epps encouraged other rioters in a supposed entrapment scheme orchestrated by the Department of Justice.
"The American people aren't buying it, there's something up there, and the DOJ needs to level with us," Rep. Thomas Massie (R-Ky.) said of the charge against Epps.
The theory that Epps helped start the riot is part of the right-wing lie that Donald Trump bears no responsibility for what happened on Jan. 6. And the fact that Republican lawmakers still cling to their Epps story, even after his guilty plea, suggests that it will never die.
Shortly after the 2021 attack, the FBI posted a picture of Epps on its Capitol violence "most wanted" page, and then took the photo down. A video from Jan. 5 of that year showed Epps saying Trump supporters should go into the Capitol, and a video from Jan. 6 showed him whispering in a rioter's ear before the man struggled against police.
The fact that Epps was known to the FBI but hadn't been charged, even though he was on video encouraging his fellow Trump supporters to attack the Capitol, supposedly meant the Justice Department was protecting him, according to right-wing media and several Republicans in Congress.
Now, they say the charge against him only strengthens their suspicions.
"A misdemeanor? For being the only one on camera telling everybody to go into the Capitol for two days?" Massie said.
There are good reasons to doubt that Epps is some kind of government asset. It turned out the FBI removed him from its "most wanted" because he got in touch when he found out they were looking for him. And during a transcribed interview with lawmakers in January 2022, Epps said repeatedly, under penalty of perjury, that he wasn't connected to any federal or local law enforcement agency. In April, the FBI, which generally refuses to comment on sources or investigations, said in a rare statement that Epps "has never been an FBI source or an FBI employee."
There were also people other than Epps talking about attacking the Capitol. For instance, the FBI's field office in Norfolk, Virginia, on Jan. 5 sent a memo highlighting threats from online forums, such as "Congress needs to hear glass breaking, doors being kicked in, and blood from their BLM and Pantifa slave soldiers being spilled" — references to Black Lives Matter and anti-fascist movements.
And video from the east front of the Capitol on the morning of Jan. 6 shows people talking about attacking the building, as well as somebody repeatedly yelling "storm the Capitol" into a bullhorn.
Epps has lodged a defamation suit against Fox News over a series of reports on former anchor Tucker Carlson's nightly broadcast accusing him of being a "fed." He said this deluged his family with death threats and forced him and his wife to flee their home.
Michael Teter, an attorney for Epps in the defamation case, described his Wednesday guilty plea as "powerful evidence of the absurdity of Fox News's and Tucker Carlson's lies that sought to turn Ray into a scapegoat for January 6." If he'd been charged earlier, Teter said, Fox would have called him a hero and a political prisoner.
In his interview with the House committee investigating the Jan. 6 attack, Epps identified Massie, as well as Reps. Marjorie Taylor Greene (R-Ga.) and Matt Gaetz (R-Fla.), as the lawmakers who did the most to blow up the fake story about him.
Greene called the misdemeanor charge against Epps outrageous.
"Think about all these people that walked in the Capitol videoing because Ray Epps was out there telling them to go in the Capitol, and they're sitting in jail," Greene told HuffPost. "He has to be some sort of contractor, some kind of informant."
Around 1,150 people have been criminally charged in relation to the Capitol attack, according to the Justice Department, with arrests still to come. So far more than 600 have had their cases adjudicated and received sentences, with 378 sent to prison and around 100 given home confinement. In general in the U.S., people who plead guilty, like Epps did, get lighter sentences than those who go to trial.
Jim Jordan (R-Ohio), chair of the House Judiciary Committee, said the Epps case "looks pretty strange."
Jordan pointed to just-released testimony from Steven D'Antuono, the former assistant director in charge of the FBI's Washington field office, that his office wasn't sure how many FBI informants might have been in the crowd on Jan. 6. D'Antuono said he thought there may have been a "handful" of such informants, but they had come of their own accord and weren't affiliated with the Washington field office. (Trials have revealed that there were several informants tagging along with members of the Proud Boys street gang; defense attorneys have not claimed the informants manipulated their clients.)
"So if a CHS [confidential human source] was there and then we found out afterwards, that doesn't necessarily mean that there was malicious, nefarious action by the FBI to put that person there," D'Antuono said during a transcribed interview in June. "They might have just been there and then told us after the fact that they went."
D'Antuono also said the FBI used tips from informants connected to other field offices to dissuade people who were known to be violent from traveling to Washington that day ― essentially the opposite of the role that Republicans have ascribed to confidential human sources on Jan. 6.
"There were some people that were planning to travel that we were trying to dissuade from traveling, because we felt that they would've been violent here," D'Antuono said. "We might have used like, you know, police officers or whoever to go talk to the person … and dissuade them from coming here."
During a hearing in July, Rep. Troy Nehls (R-Texas) accused FBI Director Christopher Wray of protecting Epps.
"If you are suggesting that the violence at the Capitol on Jan. 6 was part of some operation orchestrated by FBI sources or FBI agents, the answer is no, it was not," Wray said.
This week, Nehls told HuffPost he still thinks Epps was working with the FBI or another federal agency. He said he believes the Justice Department charged Epps only in response to pressure from himself and other lawmakers.
"If they think that this is going to get me to stop talking about this guy, hell no, it's not," Nehls said.