Boyd was only 21 years old on Sept. 18, 2013, when the OC Transpo bus/Via Rail train collision in Barrhaven took his life.
Article content
I try my best not to be saddened as the anniversaries of the OC Transpo bus/Via Rail train collision in Barrhaven that claimed the lives of five bus passengers and its driver come and go. I mostly succeed — a feat which I credit to the memory of one of its victims.
Connor Boyd was only 21 years old on Sept. 18, 2013, when the crash took his life. I never met him, but I still think about him often.
Article content
I was on holidays the week the crash took place, and so I didn't cover it for the paper. I returned to work the following week, on Sept. 23, and was sent to cover Boyd's funeral service, the first of six such observances.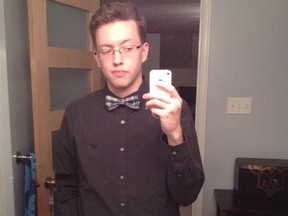 It was unseasonably cold and grey that morning — the sort of weather I typically associate with Remembrance Day ceremonies — as about a thousand people filled Cedarview Alliance Church. The pastor, Chris Rideout, talked about our "wrecked hearts," which seemed to me a wholly appropriate description. Even those who, like me, didn't know Boyd, felt it. Given both his youthfulness and the violence and suddenness of his death, how could our hearts feel anything but wrecked?
The coincidence of my own son being only three years older and sharing Boyd's first name made it inevitable, perhaps, that my mind would wander through various "what if" scenarios following the crash. How, I wondered, does a parent cope with and recover from such a loss? As a parent, I couldn't imagine the abrupt emptiness of that vacuum. A decade on, the thought still ties my stomach in knots.
Article content
However, during Boyd's funeral, pastor Rideout, along with Boyd's family and friends, soothed our pulverized hearts with a balm that was as surprising as it was soothing: Boyd's life, despite being so lamentably short, was nonetheless so well-lived and so filled with joy and humour that it stood as an example for us all.
There were some remarkable moments during the service. Until that day, I'd never been a fan of Peter Gabriel's music, but hearing a thousand people singing along to his Solsbury Hill, Boyd's favourite song — and especially the line "'Son,' he said, 'Grab your things, I've come to take you home'" — changed that. Meanwhile, the whimsical mischief of Boyd's younger sister, Eliza, who hid a Fruit To Go snack bar in Boyd's pocket just prior to the service — the final exchange in an ongoing game they played with one another — spoke volumes about the love they shared. Her story of their unwitting scavenger hunt of sorts brought things closer to home for me, as my children for years similarly took turns stashing an unwanted object — in their case a terrible Nintendo game cartridge — amongst the other's belongings.
Article content
"We knew what we had was good," Boyd's father, Rob, said of his son that day, "and we did cherish every moment of it. We never took you for granted."
Over the ensuing years, I've shared the dark humour of the Fruit To Go story with many friends. I repeatedly feel a frisson up and down my spine and think of Boyd when I hear Solsbury Hill, which I now often sing along to.
Connor Boyd was someone who impacted those he came in contact with in ways that most among us spend our entire lives trying to do. He did that to me, posthumously and after barely two hours in the company of his friends and family — a remarkable feat I've also shared with friends.
The mark that Boyd left on me is one I honestly don't think I'll ever forget, and it's why I try to avoid feeling blue when I think about him.
I trust that Boyd's friends, family, colleagues and acquaintances will always remember how blessed they are to have known him, and I hope that those who were close to the other victims of the crash — Michael Bleakney, Karen Krzyzewski, Rob More, Kyle Nash and driver David Woodard — have similar thoughts to bring them solace.
'No shame in getting help:' Survivors of 2013 crash offer advice

$9 million paid to plaintiffs who sued city after deadly bus-train crash in 2013