The demonstrations began as part of a number of rallies against transgender rights to be held across Canada Wednesday.
Article content
Thousands of protesters squared off in the shadow of Parliament Hill Wednesday in a noisy and emotional clash over transgender rights.
On the Hill, it was the "1 Million for Children March" — a conservative movement that says it "advocates for the well-being of children everywhere."
Article content
Countering them was a collective of about double the number of rainbow-flag-waving supporters of trans rights, who marched to the Hill after a rally at the Supreme Court of Canada.
Article content
Between them stood a phalanx of police officers from as far away as Toronto.
Chanting slogans like "Trans rights are human rights" and "We're fabulous, don't f— with us!" the counter-protesters drew support from federal NDP leader Jagmeet Singh, who marched at the front carrying a rainbow-coloured banner that said "Pride not Prejudice."
"We've seen a lot of attacks on vulnerable people, attacks on the queer community, the trans community," Singh said, citing recent gender policies related to the New Brunswick and Saskatchewan education systems.
"We wanted to show our solidarity and support that we can protect each other and support each other."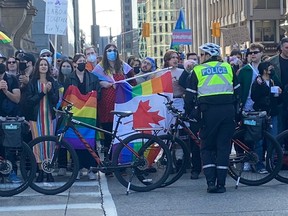 Two of the counter-protesters, Rebecca, 37, and Sarah, 39, who asked that their last names not be used, said it was disturbing to read the signs of the anti-trans side, many of which invoked religious beliefs.
"It makes me really sad because they're all saying it's in the name of God. But this isn't what God does. I think trans kids are the future. They bring love into the world where there is so much hate."
Her partner, Sarah, said she was raised Catholic and coming out as gay was difficult.
Article content
"We are all God's children, she said, "and we all deserve respect.
"It's sad. I'm really hurt inside," she said.
The protest was organized by groups that identify themselves as #1MillionMarch4Children and Hands Off Our Kids. MillionMarch4Children says it is "uniting diverse backgrounds and faiths. We share a resolute purpose: advocating for the elimination of the Sexual Orientation and Gender Identity (SOGI) curriculum, pronouns, gender ideology and mixed bathrooms in schools."
Community Solidarity Ottawa, which names the Ottawa District Labour Council, Capital Pride, Horizon Ottawa and other unions and community groups as allies, called on local activists "to prepare for counter-protests by joining forces with community partners and unions to ensure safety."
Sara Algabron, a Canadian originally from Libya, said she felt it was important to join the 1 Million for Children march to protect children.
"It's against humanity. They give kids rights to change their gender, but they are too young to understand," said Algabron, a mother whose children are grown. "They are taking our rights and they are too young to make this decision. If they need to change their gender in the future, OK, but why now? They're kids."
Article content
Shortly after 11 a.m., the main group of protesters began marching south on Elgin Street. Traffic cameras at that time showed police blocking all southbound traffic as they passed Queen Street, then Laurier Avenue. The march appeared orderly and there was no immediate information on their ultimate destination.
At 12:15 p.m., Ottawa police said online that multiple roads remained closed, including:
Wellington Street between Bank and Elgin
Wellington Street heading eastbound between Lyon and Bank
Metcalfe at Queen
Laurier Street was opened between Lyon and Bay following a previous closure.
The city said on X (the new name for Twitter) Wednesday that it respects "everyone's right to protest and express their opinions" and "denounces any acts and displays of hate and discrimination."
"We value a diversity of minds, perspectives and lived experiences while ensuring residents feel safe in their community and in accessing the programs, businesses and services that the city has to offer."
Mayor Mark Sutcliffe went further, saying "I respect the right to protest, however the specific targeting of 2SLGBTQIA+ children for being who they are, has no place in our city. The protests taking place today will only cause harm to youth who are looking for our support and acceptance."
Similar protests by the MillionMarch4Children were held across Canada Wednesday, with many drawing counter-protesters, as well.
With files from Joanne Laucius and Postmedia staff
Protesters and counter-protesters likely to clash downtown Wednesday. Here's what we know

Trial of accused convoy leaders Lich, Barber | A guide to court coverage