Donald Trump has been frequently referenced and recreated in hip-hop songs in 2023, endorsing his policies and the MAGA cause at large.
The likes of Forgiato Blow have gained notoriety through siding with the former president and right-wing conservatives, with Rep. Marjorie Taylor Greene appearing in one of his videos, while last month the song "First Day Out" featured an A.I.-generated Trump rapping about his arrest in Georgia.
According to one viral TikTok this week, rap behemoths Drake and 21 Savage have joined in too, endorsing Trump on a new track.
The Claim
A TikTok by Loza Alexander, posted September 17, 2023, and viewed 1.1 million times, showed what looked like Drake and 21 Savage featuring on a song and video called "Strong Delusion" which included pro-Trump lyrics.
A caption read: "DRAKE IS A TRUMP SUPPORTER NOW? Strong delusion Feat Drake and 21 Savage."
The video shows two rappers with strong likenesses to Drake and 21 Savage.
The Facts
The song, which has been re-posted across TikTok, includes pro-Trump lyrics such as "Life is crazy, MAGA wave getting icy, baby" and "White Mercedes, Trump flag on the license, baby."
It also features conspiratorial and conservative sentiments, mentioning the "deep state", identity politics, and President Joe Biden "sleeping up in Maui."
The video and the song are convincing, with what both looks and sounds like Drake and 21 Savage, rapping in their signature cadences.
However, neither rapper is in the video. Although convincing, the video and song appear to have been created using A.I.
A higher quality version of the video, available via YouTube, shows Drake and 21 Savage's faces have been imposed on another body. The full video also shows that the person who posted the TikTok, Loza Alexander, features as well.
The original TikTok does not make this immediately clear. Another post featuring the song from September 21, 2023, states "people dont even know i wrote this entire song lol and prodused the beat from scratch smh."
Newsweek has contacted representatives for Drake, 21 Savage, and Loza Alexander for comment.

Drake has publicly criticized Trump in the past. In 2017 the Canadian rapper was filmed delivering an on-stage rant about Trump after the former president had introduced his controversial travel ban, Grazia reported.
"People trying to tear us apart, trying to make us turn against each other," he said.
"So tonight, my proudest moment isn't selling tickets or having people sing my songs.
"My proudest moment, if you take a look around this room, you'll see people from all races, all places, and all we did tonight was come inside this building, show love, celebrate life, more life and more music.
"And I just want you to understand, if you ever thought for one second that any one man is gonna tear this world apart, you're out of your motherf****** mind.
"It's on us to keep this s*** together. F*** that man!"
21 Savage has also criticized Trump-era border controversies, in particular, the separation of children from their families at the border in the song "A lot," rapping "Been through some things, but I couldn't imagine, my kids stuck at the border."
These lyrics were speculated by some to be the motive for his arrest in 2019 by U.S. immigration officials, accused of living in the United States with an expired visa.
The Ruling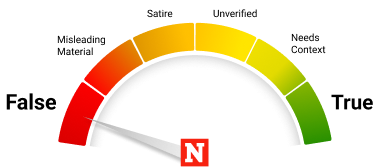 False.
Drake and 21 Savage did not star in a pro-Trump rap. Their appearance and voices appear to have been recreated using AI.
The song was created by artist Loza Alexander, although this is not immediately clear from the promotional TikTok.
FACT CHECK BY Newsweek's Fact Check team