"It all started with imagination," says owner Sowon Kim of her Thai restaurant, Mexican taco truck, and mini-bakery.
Reviews and recommendations are unbiased and products are independently selected. Postmedia may earn an affiliate commission from purchases made through links on this page.
Article content
Social Thai / Hugo Café / Hugo Taco
399 Bank St., 613-230-0084, ottawasocialthai.ca, instagram.com/hugoonbankstreet, instagram.com/hugostaco
Open:
Social Thai Monday, and Wednesday through Friday noon to 9 p.m.; Saturday and Sunday 3 p.m. to 9 p.m.; closed Tuesday.
Hugo Café weekdays 8 a.m. to 6 p.m., weekends 10 a.m. to 6 p.m.
Hugo Taco Wednesday through Monday 3 p.m. to 10 p.m., closed Tuesday.
Prices: Most dishes between $17 and $22 at Social Thai; most items between $3.50 and $8 at Hugo Café; most tacos $5 at Hugo Taco
Access: Steps to front door, washrooms downstairs
Article content
When duty calls at her unique Ottawa food business, Sowon Kim can rustle up items from three of the world's great cuisines. She might bake anything from sweet, tiny French cakes to macarons to outrageously indulgent, trendy croissants. If needed, she can assemble authentic Mexican tacos in a nearby food truck. Or, she may help out in a Thai kitchen, giving a toss to a wok filled with ingredients for a stir-fry.
"I cook here, there, everything… When the kitchen gets really busy, I have to jump in," Kim told me, gesturing all around her, inside the crowded, slightly chaotic space at 399 Bank St.
Kim has run her restaurant Social Thai in Centretown since 2016. But in the last year, Kim, 31, added two other food brands under the same roof.
Last October, she opened Hugo Café, which converted half of Social Thai's dining room into a mini bakery and coffee shop. And in July this year, Kim opened Hugo Taco in the brand new food truck outside Social Thai, on Waverley Street.
When I reviewed Social Thai in the spring of 2018, I wrote favourably of food that was "well-made (and) direct of flavour." I think even more highly of Kim's new conglomeration of food businesses, which seems quirky on paper but makes absolute sense after you've eaten their wares. Kim has created a multicultural success story that I wouldn't have predicted, but which I'm quite drawn to.
Article content
Nor am I alone. "People love our corner. They say our corner has everything," Kim said.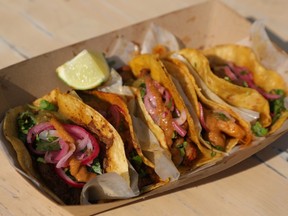 Last week, almost to prove that it could be done, I began dinner with two tacos, eaten at the picnic table beside Hugo Taco, and then had a Social Thai dinner of stir-fries and a curry, followed by some pineapple soft-serve sorbet from Hugo Café.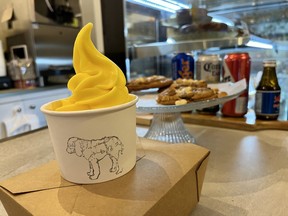 And I'm not the only one who treats the three commonly held businesses as a mini-food court. The next day, I met a customer, likely a regular, who for her late lunch or early dinner matched some Social Thai papaya salad with a shrimp taco and tortilla chips with guacamole from the truck.
Kim said the taco business currently draws the most people. I get it. Taco season is in full swing, Hugo Taco makes very good tacos, and it's optimally located to serve hungry Centretown residents.
Social Thai, however, brings in the most money, since it serves the most expensive items, Kim said. Meanwhile, at the café, business is "very steady," she said. "Everybody needs coffee."
I was most consistently won over by the café, which, like the taco truck, is named after Kim's cocker spaniel. (There are paintings of her dog on the cafe's walls, and even on the screens of the business's point-of-sale devices.)
Article content
I've had Hugo Café's financiers (those sweet, tiny French cakes), chocolate-walnut brownies, slabs of Basque cheesecake, and, when I was feeling especially decadent, a pistachio version of a supreme croissant (a crispy, swirly, pastry cream-filled treat that went viral in 2022 after Lafayette, a French bakery and café in New York, launched it). All were finely crafted and delicious, and I'm getting hungry just writing about them.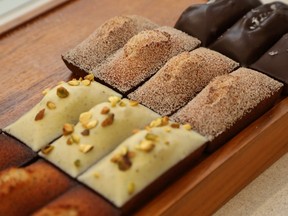 The credit goes to the café's manager and pastry chef, Ardianto Sumitro, who is just 22 and who met Kim before the pandemic began, when they were both attending Le Cordon Bleu Ottawa in Sandy Hill, studying to become pastry chefs.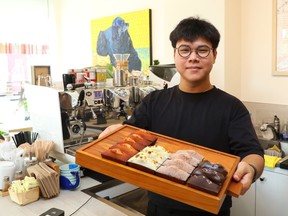 Sumitro, who is from Bali, also makes treats that draw upon Asian flavours, such as mango sago, a tropical pudding of sorts, and macarons in pandan coconut, matcha and Korean honeycomb flavours. On the café's Instagram page, these creations certainly look like doozies.
When COVID-19 prompted lockdown after lockdown, and Social Thai went into takeout mode, Kim began thinking about how to make better use of her empty dining room. Pivoting to convert half of it into a café and bakery, outfitted with two Italian countertop convection ovens, was her answer.
Article content
When Social Thai, which had even created a takeout window looking onto Waverley Street, re-introduced in-person dining last fall, it scaled back in that regard. Gone were its plates and cutlery, replaced by takeout containers and utensils. It has done away with waitstaff and now relies on a touchscreen kiosk in the dining room that customers use to place orders.
When we tried Kim's legacy business last week, I was a bit let down by stir-fries in which the proteins had been too harshly cooked. It also seemed as if the Thai basil had been left out of our chicken basil stir-fry. But the seafood curry had more going for it, and for dessert, the pineapple soft-serve sorbet from the café was top-notch.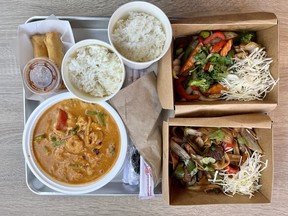 My savoury pick from Kim's businesses would be the succulent, cooked-to-order shrimp tacos from the truck, although various pork and beef tacos were also quite good, improved by warm, tasty tortillas and optional salsas, including a dangerously hot habanero sauce. Corn chips here were laudably fried in-house.
The chef at the truck is German De Los Santos Cruz. Kim chalks up meeting him, and subsequently opening a business where he could make tacos, to coincidence.
Article content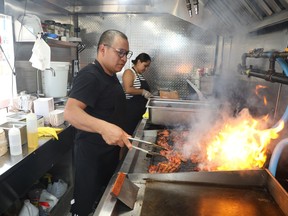 Kim says her husband, who grew up in California, always wanted her to open a taco truck. Then, when De Los Santos Cruz came to Social Thai last fall to get some food, Kim could tell quickly that he worked in the food industry. They struck up a good conversation, because Kim, who grew up in Ottawa, took Spanish in high school and then lived with Mexican roommates when she studied international relations at the University of Toronto a decade or so ago.
Kim doesn't know yet what the future holds for her businesses, given that, for example, food trucks usually close when the weather grows too cold. But she doesn't discount opening even another business.
"I'm constantly thinking," she says. "It all started with imagination."