While residency programs in abortion-restricted states continue to fill up, medical students' hesitancy to apply raises concerns about future job shortages in red states.
Since the Supreme Court issued its bombshell Dobbs decision overturning the federal abortion protection of Roe v. Wade in June 2022, 14 states have made abortion illegal, and a half dozen have banned the procedure before pregnancy terms of 15 weeks. Early data released by the Association of American Medical Colleges in April shows that states with abortion bans saw a larger decrease in residency applications during the 2022-2023 cycle when compared to those where abortion is legal or where gestational limits are in place. While there was a 5.2 percent decrease in OB/GYN applicants nationally, applications in abortion-banned states saw a drop of more than double, at 10.5 percent.
But while applicant after applicant reported that the Dobbs decision had influenced where they would apply for residency programs, almost all of the most restrictive states continued to fill their residency positions.
"Looking at the states with the most restrictive legislation, there has not been a decline in the number of applicants attempting to match or those who have matched OB/GYN positions," Donna Lamb, president of the National Resident Matching Program (NRMP), told Newsweek.
However, the competitiveness of residency matching, and particularly the OB/GYN specialty, has made it difficult to understand how impactful the Dobbs decision has been on states with abortion restrictions and bans in place. The process is so competitive that applicants are desperate to match, even if it means completing residency in a state with more abortion restrictions, because they could still go on to practice medicine in a state where abortion is protected.
As Vermont OB/GYN Lauren McAffe told Newsweek, "Folks will pursue better opportunities where they can."
"Yes, it's just a decision about training, but people who train in a state, about half of them stay in the state to practice," Dr. Atul Grover, one of the AAMC study's co-authors and executive director of the association's research and action institute, told Newsweek. "The question is are you now reducing the number of physicians or reducing the quality of the physicians who are willing to go and practice there."
A study from AAMC found that overall, more than 54 percent of those who completed residency training from 2008 through 2017 are practicing in the same state as their residency. Medical institutions are aware of this and the recruitment of strong residents for full-time positions is important for hospitals looking to maintain their ability to provide care. But, if those physicians leave the state after their training is up and move to a state where there are fewer restrictions on abortion care, underemployed hospitals will continue to struggle to recruit new talent for positions that continue to go vacant.
"If I look at the states for which the restrictive laws have been put in place, they are very often the same states that already have problems recruiting and retaining physicians," Grover said.
Workforce data shows that Idaho and Mississippi both have fewer than 200 physicians per 100,00 residents and that Oklahoma, Wyoming, Arkansas, Nevada, Iowa and Alabama are similar. Comparably, the national average is 272 physicians per 100,000 residents. States like Maryland, New York and Vermont, where there are few restrictions on abortion, all have nearly 400 physicians per 100,00 residents. Massachusetts has 466 physicians per 100,000.
"The problem with rural areas is just getting a physician, period," Monty Veazey, CEO of the Georgia Alliance of Community Hospitals, told Newsweek. "You just cannot get them interested into coming to rural areas."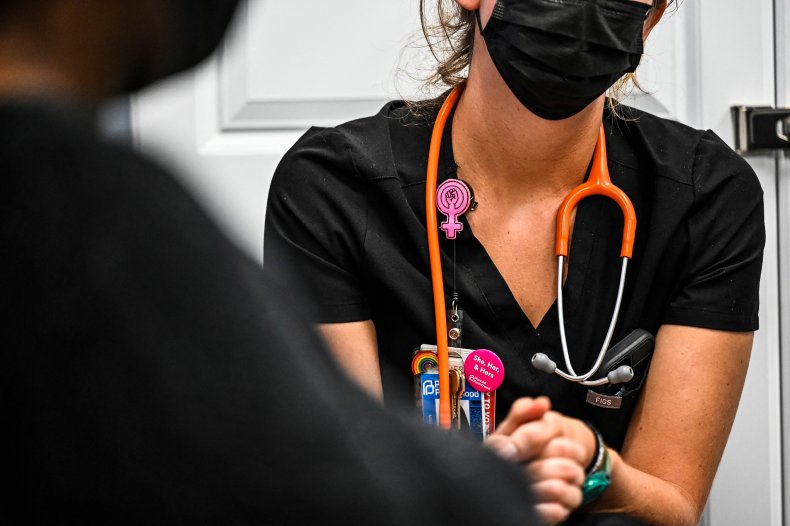 Veazey said there are only 58 hospitals serving Georgia's rural counties, which account for 78 percent of the state. Because health care facilities are so few and far between in those communities, he said some patients have to drive 35 miles to see a doctor or refill their prescriptions. Of the state's rural counties, nine don't have a physician at all. Seventy of the 124 don't have an OB/GYN.
"The states that have abortion bans, by and large, are also the states that have the worst health outcomes," Nell Mermin-Bunnell, co-founder of Georgia Health Professionals for Reproductive Justice, told Newsweek. "In Georgia, we're one of 10 states that have not done Medicaid expansion. We've had over a dozen hospitals, especially rural hospitals, close in the past few years. We have one of the highest maternal mortality rates in the country. We have very poor pediatric health."
Mermin-Bunnell and her co-researcher Ariana Traub, both medical students at Emory University in Georgia, conducted a survey during last year's application cycle that found close to 80 percent of third- and fourth-year medical students said abortion laws are influencing where they're choosing to apply for residency. Nearly 60 percent said they were unlikely to apply for a program in a state with abortion restrictions.
"It's really hard as a doctor to have a patient sitting in front of you asking you to help them and to have to say to somebody's face, 'I know exactly what to do to help you. I am trained to adequately prescribe that medication or perform that procedure or do that surgery or whatever it is. But I can't do it because you can't pay for it, or because the government is telling me that I can't do it,'" Mermin-Bunnell said.
In an effort to recruit more doctors to rural Georgia, Veazey said hospitals in Albany and Moultrie have offered residency programs at local hospitals in recent years. But since those programs are still fairly new, it remains to be seen where those students will wind up practicing after their training.
"I have concerns because a lot of the students who are admitted are not from the state," he said. "The question becomes whether they will remain in Georgia and whether they will remain in rural areas."
But living in a rural community does not automatically mean that health conditions are worse for residents. For example, nearly two-thirds of Vermont residents live in rural areas. Yet, the state has the fourth highest number of physicians per 100,000 residents, a staggering 386 compared to the national average of 272.
Vermont has also become somewhat of a hotspot for residency applications. Officials with the University of Vermont's Robert Larner College of Medicine told Newsweek that the school's OBGYN program has seen a 48 percent increase in the number of residency applicants since 2019, despite a 3 percent rise nationally. The number of applications has risen steadily, and in the application cycle following the Dobbs decision, the numbers once again jumped 48 percent.
"I would say those numbers are very significant," Melissa Davidson, associate dean for graduate medical education at Larner, said.
The other big change that Davidson has seen in the last year or so is how drastically the conversation surrounding abortion care has changed.
"I interview over 90 percent of our [anesthesiology] applicants, and it is a topic of conversation that I had never discussed before this year," she said. "For the first time, our applicants to anesthesiology have also been asking questions about how we support women's reproductive rights, and that has never been an issue before, has never been an ask for me before in my 20-plus years of interviewing."
Colleges in Vermont and others in states with abortion protections have been inundated with requests from residency programs in restricted states seeking training opportunities for their students, but those visiting-resident requests come with their own challenges as hospitals try to remain patient-centered and efficient.
"There is a big push nationally to figure out how we as a community of educators can continue to provide this necessary training across the country, so it is not just limited to residents who live and work in supportive states," Bronwyn Kenny, OBGYN residency program director at Larner, told Newsweek. "And not just for OB/GYN trainees. This is necessary training—at least to have some passing familiarity with the concepts—for several different specialties, family medicine, emergency medicine, pediatrics and adolescents. It doesn't happen in a vacuum of OBGYN."