The late Queen Elizabeth II has become the subject of a new viral video, as fans have shared clips showing the monarch's proficiency as a genuine "dancing queen" on social media site TikTok.
Britain's longest reigning monarch, who died in September 2022 at the age of 96, Elizabeth was known and respected for her stoicism and adherence to the royal adage "never complain, never explain." Despite this, there were a number of moments throughout her 70 years on the throne when the queen allowed her more relaxed and informal side to shine through.
Uploaded to TikTok by user elizabethiiqueenofhearts on September 20, the new viral video features a compilation of clips taken at family and state occasions from the 1950s through to the 1990s of the queen performing a series of dance moves.
A number of the clips show the monarch dancing traditional Scottish group dances known as reels. For this, a group form and reform a succession of pairs and movements, often with one dancer at the center of a circle.
Members of the royal family have danced reels in Scotland regularly since Queen Victoria and Prince Albert bought the Balmoral estate near Aberdeen in 1852. Each year, the king or queen hosts the annual ghillies' (gamekeepers) ball which sees the royals dance reels with members of their household and the local community.
The TikTok video is played over the soundtrack of ABBA's hit 1976 song, Dancing Queen. Over the years, a number of sources have attributed the song as Elizabeth's favorite pop song.
In 2008, BBC DJ Chris Evans told listeners of his radio show that he had performed a set at a private party attended by the queen where she displayed her love for the ABBA hit.
"I always try to dance when this song comes on because I am the Queen and I like to dance," the monarch said, per The Sun.
Elizabeth's dancing skills were praised by a range of public figures. In an interview her cousin, Lady Elizabeth Anson, revealed that the royal was "a fantastic dancer" adding: "She's got great rhythm."
Pop star Elton John also recalled an occasion where he was tasked with taking the monarch around a dance floor.
In his 2019 memoir, John recalled being a guest at Prince Andrew's 21st birthday party at Windsor Castle and how he was asked to dance by Princess Anne before being tapped on the shoulder while Bill Haley's Rock Around the Clock was playing.
"I was trying to dance as inaudibly as possible with Princess Anne and the Queen—still holding her handbag—while what appeared to be the world's quietest disco played Bill Haley," he wrote. "I tried my best to come up with a facial expression that suggested this was a perfectly normal state of affairs."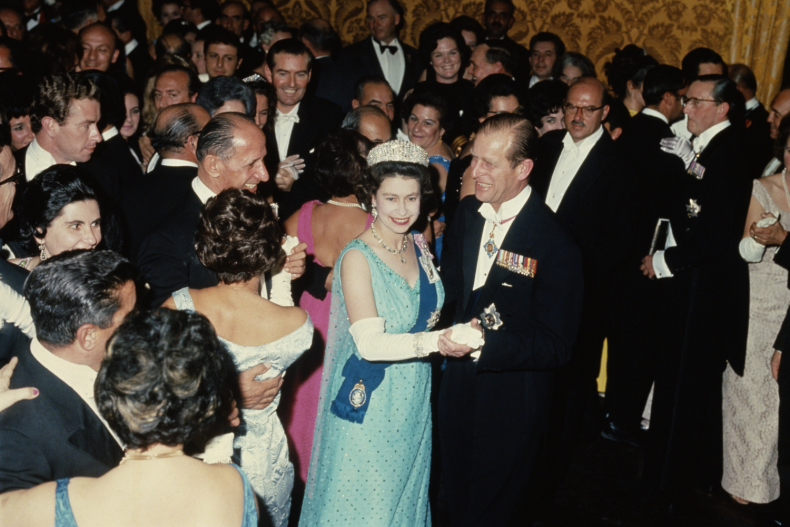 At the time of Elizabeth's death in 2022, John posted a personal tribute recalling his times with the monarch with "joy and admiration."
The new TikTok video has proved popular among the social media platform's users, gaining more than 120,000 views so far, in excess of 7,500 likes and numerous comments, many of which have praised the late royal.
"Omg I love the little shoulder shimmy she did in the beginning. She looked so radiant!! ❤️," wrote one viewer of the dance clips.
"What a glorious dutiful woman. She set the bar for all of us. She did the best she could amazingly! My role model," posted another, while a further comment read: "Oh she was beautiful 🙏."
James Crawford-Smith is Newsweek's royal reporter, based in London. You can find him on Twitter at @jrcrawfordsmith and read his stories on Newsweek's The Royals Facebook page.
Do you have a question about King Charles III, William and Kate, Meghan and Harry, or their family that you would like our experienced royal correspondents to answer? Email [email protected]. We'd love to hear from you.