Five former Metropolitan Police officers in London pleaded guilty to 19 counts of sending grossly offensive racist messages in a WhatsApp group—some of which reportedly referenced Meghan Markle. This proves Prince Harry's concerns about the safety and well-being of his family in Britain are valid, an expert has told Newsweek.
On Thursday, Peter Booth, 66, Robert Lewis, 62, Anthony Elsom, 67, Alan Hall, 65 and Trevor Lewton, 65, pleaded guilty to committing offences under the Communications Act 2003, after messages sent in a private WhatsApp group were investigated following an exposé by the BBC in 2022.
Another member of the group, Michael Chadwell, 62, was charged with one count of sending "by public communication grossly offensive racist messages." He has denied the allegation and will stand trial on November 6, the same day those who pleaded guilty will face sentencing.
The messages, sent between 2020 and 2022, are reported to have not only referenced Meghan and Harry but also the U.K. government's polarizing plans to deport asylum seekers to Rwanda and the devastating flooding in Pakistan. There were also comments about other senior royals such as the Prince and Princess of Wales and Queen Elizabeth II.
This is not the first time that Metropolitan Police officers have been involved in a racism scandal over messages relating to Meghan. In 2022, two serving officers were fired after WhatsApp messages were investigated, revealing several of a racist nature, including one sent at the time of Meghan and Harry's royal wedding in 2018.
The latest incident draws into focus Harry's previous statements about the racism faced by Meghan in Britain and his desire to keep his wife and family safe.
In 2021, the prince stated in the documentary series The Me You Can't See that the media played a key role in inciting racial hatred towards Meghan.
"My biggest regret is not making more of a stance earlier on in the relationship with my wife in calling out the racism when I did," Harry said in an interview with Oprah Winfrey.
"History was repeating itself. My mother was chased to her death while she was in a relationship with someone that wasn't white, and now look what's happened. You want to talk about history repeating itself? They're not going to stop until [Meghan] dies."
Christopher Bouzy, chief executive of data analysis firm Bot Sentinel, has studied the online abuse faced by Meghan and appeared in the royal couple's Harry & Meghan Netflix docuseries. He told Newsweek that Thursday's guilty pleas by police officers prove the prince's point.
"The recent admission by five former Metropolitan Police officers, who pleaded guilty to disseminating racist messages via WhatsApp, some of which targeted Meghan Markle, underscores the disturbing prevalence of racial prejudice she has confronted," Bouzy said.
"Such reprehensible behavior from individuals in positions of authority is deeply disconcerting and underscores the urgency for introspection and reform within our institutions.
"Moreover, these revelations lend credence to Prince Harry's expressed concerns for the well-being of his family, reinforcing the legitimacy of their decision to relocate to the United States in search of safety," Bouzy added.
Harry and Meghan moved to the U.S. in 2020 after splitting from the monarchy amid tensions with members of the royal family, the royal institution and British tabloid press.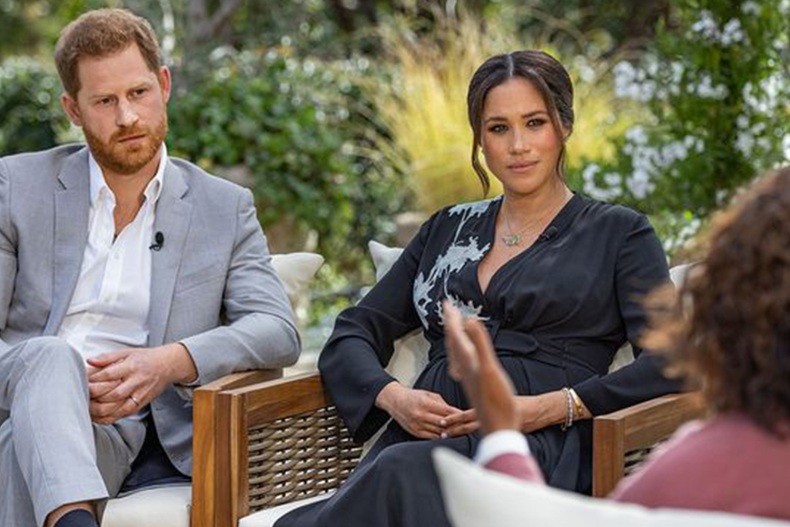 Harry has repeatedly said that the security of his family is of paramount concern, following the U.K. government's decision to remove his state-funded bodyguards when he stopped being a working royal. The prince is involved in an ongoing legal battle to have the decision overturned.
In the couple's first joint interview after the separation, Meghan told TV veteran Oprah Winfrey how the racism she faced prompted not only online abuse but also death threats.
Speaking about the tabloid media, the duchess said: "From the beginning of our relationship, they were so attacking and inciting so much racism, really, it changed the risk level, because it wasn't just catty gossip. It was bringing out a part of people that was racist in how it was charged. And that changed the threat. That changed the level of death threats. That changed everything."
In a statement on Thursday, Commander James Harman, leader of the Metropolitan Police's anti-corruption and abuse command, described the former officers' racist and discriminatory content as absolutely appalling.
"Given the defendants once served as police officers, we recognize that this case may further damage confidence in policing," Harman said. "Colleagues across the Met will be disgusted to know that these men once served in the force and will be pleased to see the outcome today.
"I hope this case also demonstrates our commitment to take all allegations of criminality and misconduct seriously, investigate those reports thoroughly and where we have evidence of discrimination and abuse to bring criminal charges against individuals wherever we can," Harman added.
Newsweek approached representatives of Prince Harry and Meghan Markle via email for comment.
James Crawford-Smith is Newsweek's royal reporter based in London. You can find him on Twitter at @jrcrawfordsmith and read his stories on Newsweek's The Royals Facebook page.
Do you have a question about King Charles III, William and Kate, Meghan and Harry, or their family that you would like our experienced royal correspondents to answer? Email [email protected]. We'd love to hear from you.