As the United States and Western allies seek to isolate Russia over its ongoing war in Ukraine, a senior Moscow diplomat tells Newsweek he is leading the charge to strengthen partnerships across Africa.
Washington has sought to expand its own influence across the continent, but a series of high-level interactions past and upcoming appear to show the Kremlin's campaign is gaining ground.
Oleg Ozerov, Russian ambassador-at-large and head of the Russia-Africa Partnership Forum, argues this is a reflection of vast changes in the international order.
"The world has entered an era of powerful transformations, which have influenced inter alia, Russian-African relations," Ozerov told Newsweek. "The pace of these developments has gained an unprecedented momentum."
Specifically, Ozerov pointed to two major developments in Moscow demonstrating this trend this past March. The first was the Russia-Africa Interparliamentary Conference which drew representatives from 40 out of the 54 nations of the continent. The second was the visit paid by Chinese President Xi Jinping, who has intensified his own nation's decades-long focus on bolstering ties with Africa.
Ozerov said that these two events "shattered the myth of Russia's alleged isolation due to the events in Ukraine, persistently promoted in the West." When it comes to African officials, he said that "most of them did not need explanations as to the rationale of Russia's actions in Ukraine."
"People in Africa understand very well that the former Soviet republic has turned into an arena of confrontation between the new and the old world paradigms, between different visions of the future, not just a trivial feud between neighbors," he said.
Diverging Narratives
Kyiv and its international supporters, including Washington, have accused Moscow of launching an "illegal" and "unjustified" invasion of Ukraine since February 2022. Western nations have sought to punish Russia for the move through an unprecedented international sanctions campaign, as well as mounting military aid in support of Ukrainian forces.
The Kremlin has referred to the conflict as a "special military operation" aimed at "demilitarizing" and "de-Nazifying" the neighboring country. Russian forces and allied private Wagner Group fighters remain locked in combat with Ukrainian troops on several axes across the nation, with no clear path to victory on either side.
The war has divided international opinion, but many non-aligned nations across the Global South, including in Africa, have maintained their neutrality. Russia has viewed this stance as further evidence of the shifting tides of the global order.
"The general well-balanced approach of the Global South in the context of Russia's confrontation with the West confirms once again that the transition to such a multipolar architecture is irreversible," Ozerov said.
"There is a growing awareness across Africa and Latin America, China, and India, in the Islamic world and even among an increasing number of Europeans and North Americans that the time of dictate and unipolar world-order is running out, as demonstrated again by the developments in Ukraine."
As such, he added, "Western narratives about an 'aggressive' and 'imperialistic' Russia have no effect outside its sphere of influence."
Still, he saw a battle of influence emerging as "the U.S. and EU leaders seek to impose Cold War logic, that of a new face-off between the Western bloc and Russia."
This extended to the upcoming Russia-Africa Summit set to take place in Saint Petersburg in July.
The Battle for Hearts and Minds in Africa
"Russia's war against Ukraine is hurting Africans," a U.S. State Department spokesperson told Newsweek. "Rising food and commodity prices are having disproportionate impacts on African countries."
The spokesperson said that "Russia's unprovoked war against Ukraine has exacerbated the increase of food and commodity prices—especially wheat, fertilizer and cooking oil—just as African economies are striving to recover from the COVID-19 pandemic, deadly drought, and the growing impact of the climate crisis on agriculture and food systems."
They alleged that Russian President Vladimir Putin "has deliberately put millions at risk of food insecurity, while Russia's disinformation tries to undermine global support for Ukraine by blaming Ukraine for shortages."
"We are confident that our partners will see through Russia's cynical attempts at disinformation," the spokesperson added, "and focus on the lives lost and the misery Russia's needless war has inflicted both on the people of Ukraine and also on vulnerable people far beyond Ukraine due to the war's exacerbation of food insecurity."
Ozerov too was confident that African countries would resist Western pressure not to attend.
"This logic, nevertheless, can hardly impress anyone in Africa," Ozerov said. "Day by day, people there can see for themselves that Moscow's policy is devoid of bloc considerations, is not directed against third countries, and seeks to develop equal partnerships rather than confrontations. Everyone is free to choose their own partners."
Ozerov said the upcoming summit would reflect emerging priorities in Africa, which he said include promoting local solutions and national interests, as well as breaking "free from the rigid constraints of globalism promoted by neo-liberalist ideologists."
In these endeavors, he said, "African countries count on Russia's support."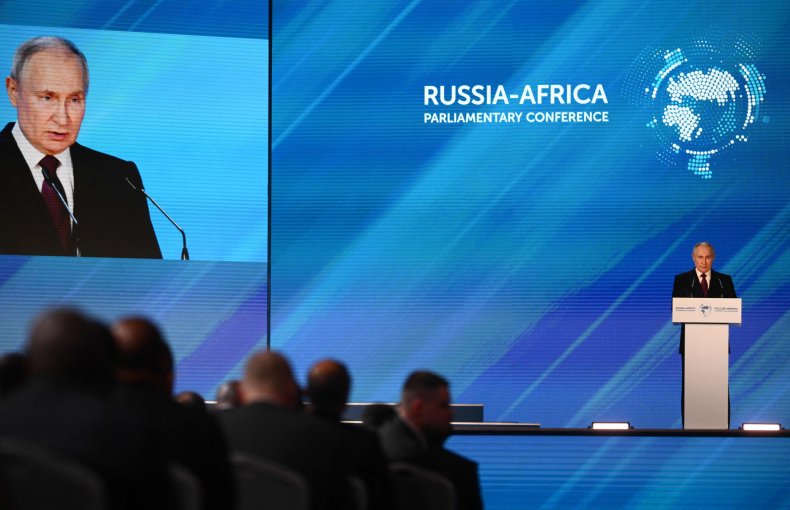 Rival Legacies
Russia also has a long history of ties to the continent. While European nations such as Belgium, France, Germany, Italy, Portugal, Spain and the United Kingdom colonized large swathes of Africa, Moscow's past inroads were largely forged through support for Soviet-era liberation movements. Ozerov said that the Russian Federation today seeks to expand upon this legacy.
"We support Africans in their efforts to complete the decolonization process in a number of countries, including small nations like the Union of the Comoros," Ozerov said. "Russia has a comprehensive view of sovereignty in its political aspect, which encompasses, above all, the consolidation of state structures, peace-building, counter-terrorism, and information security."
In addition to Russia's support for United Nations Peacekeeping in Africa, Ozerov said that Moscow is seeking to rein in militant threats through "a comprehensive consolidation of efforts by the global community to establish a broad anti-terrorist front with the participation of all the states in accordance with the U.N. Charter and free from any hidden agenda or double standards."
He recalled Russia's own experience with transnational militant groups, specifically in the Northern Caucasus region, where Russia has fought two wars against armed Islamist separatists, as well as in Syria, where Russia intervened in support of the government's campaign against jihadis and rebel groups, some of which received Western backing.
Now, he warned, "There are indications that terrorism may have been used as a tool in certain African countries, including in the Sahel."
"Russia has unique experience in countering both internal and external terrorist threats and is ready to share it actively with its African friends," Ozerov said. "Most importantly, Russia has no vested interests, such as to preserve its zone of influence or aggressively guard markets from any 'outsiders.'"
Instability as Opportunity
A growing number of countries on the continent have pushed for greater security ties with Russia as well as the Wagner Group, which is active in several African nations. This trend has accelerated in line with a growing skepticism toward Western-led interventions, especially those of France, whose forces have increasingly withdrawn from joint missions with its former colonies.
The U.S. has designated the Wagner Group a "significant transnational criminal organization," accusing the outfit of committing human rights abuses, pursuing destabilizing activities and smuggling natural resources in Africa.
"The United States has seen Russia—including through the Kremlin-backed Wagner Group and other Yevgeniy Prigozhin-linked entities—exploit insecurity as a catalyst to expand its destabilizing presence on the African continent," the U.S. State Department spokesperson said, "threatening safety, good governance, prosperity, and respect for human rights in the process."
"African countries that welcome the deployment of the Kremlin-backed Wagner Group find themselves weaker, poorer, more insecure, and less independent," the spokesperson added. "Disinformation is one of the Kremlin's most important and far-reaching tools to destabilize and otherwise exert malign influence on other countries, including in Africa."
Both Russian authorities and Prigozhin have denied any wrongdoing. Ozerov, for his part, also dismissed such criticisms.
"We are being accused of what has always characterized rather Western policy: interference in internal affairs, destabilization of the internal political situation, regime change, plundering of natural resources, etc.," Ozerov said. "These accusations, due to their groundlessness, have not impressed political elites, and much less the people of Africa."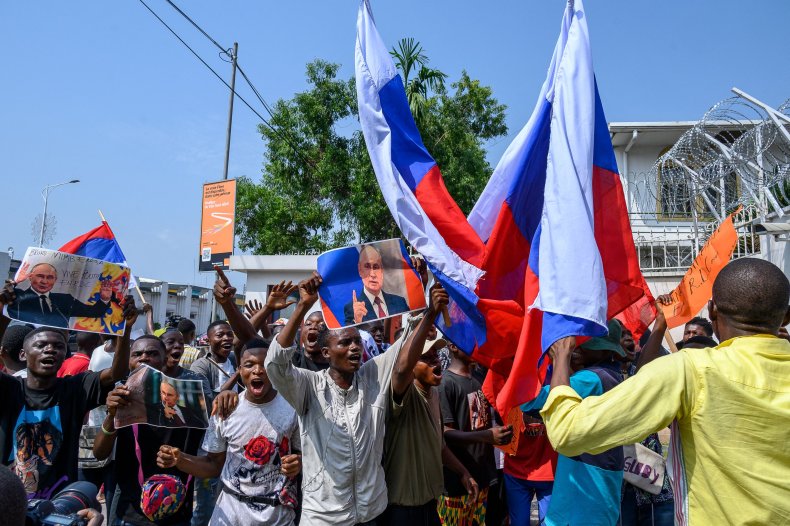 The Resource War
Ozerov also aimed to set the record straight regarding Moscow's interest in Africa's vast and valuable resources.
"Despite an interest in certain minerals, Russia does not view the countries in the continent as a raw material base for its economy," he said. "Our primary interest is to assist the development of Africa's domestic energy and electricity markets, where we have considerable expertise, especially as regards nuclear energy."
On the contrary, he argued that "the modern neo-colonial approach of Americans and Europeans implies the implementation of a simple scheme according to which Africa is to play the role of a mere supplier of raw materials to the 'civilized world.'"
In the face of this, he said that a growing number of African states "are no longer willing to be a source of raw materials for the West and wish to channel their resources for their own development, rather than to replace Russia-sourced hydrocarbons in the Western markets, as they are being actively pushed to do."
And while Ozerov acknowledged how "the West continues its active campaign to accuse Russia of the current crisis in the global food market," he said that "Africa is well aware of the true causes of the current difficulties, which are the consequences of the new coronavirus pandemic and the short-sighted policies of the developed countries of the West in the financial, energy and agricultural sectors."
As the conflict in Ukraine continues, a deal brokered last July by Türkiye and the U.N. secured the continued export of crucial grains via the Black Sea. But the deal has been subject to political disputes as both Moscow and the West accused one another of weaponizing food as well as Russian fertilizers that remain blocked in European ports due to sanctions.
Keeping Up with the Kremlin
Washington has pressed African nations on compliance with sanctions, as well. In the most serious accusation yet, Washington's ambassador to South Africa accused the nation earlier this month of supplying arms shipments to Russia to be used in Ukraine, a charge denied by South African President Cyril Ramaphosa.
As a member of the expanding BRICS economic coalition alongside Brazil, Russia, India and China, South Africa has sought to boost ties with Russia, hosting Russian Foreign Minister Sergey Lavrov in January and sending South Africa's top army general to meet his Russian counterpart in Moscow last week.
Ramaphosa has also helped to lead an ambitious push for direct Russia-Ukraine dialogue alongside five other African heads of state and sponsored by the U.K.-based Brazzaville Foundation. The six leaders are set to travel to both Moscow and Kyiv ahead of the upcoming Russia-Africa Summit in late July.
That same month, Botswana will host the U.S.-Africa Business Summit, an opportunity to showcase Washington's efforts to court African nations. The State Department spokesperson told Newsweek that "Africa is a priority for the Biden-Harris Administration."
"Our U.S.-Africa strategy is rooted in the recognition that Sub-Saharan Africa is a major geopolitical force," the spokesperson said. "Our strategy can be distilled into one word: partnership."
They took note of Sub-Saharan Africa having "some of the world's most rapidly-expanding economies, a growing and young population, largest free trade areas, one of the world's most diverse ecosystems, and one of the largest regional voting groups in the United Nations."
The spokesperson broke down the U.S. approach into four key objectives: "Foster openness and open societies; Deliver democratic and security dividends; Advance pandemic recovery and economic opportunities; and Support conservation, climate adaptation, and a just energy transition."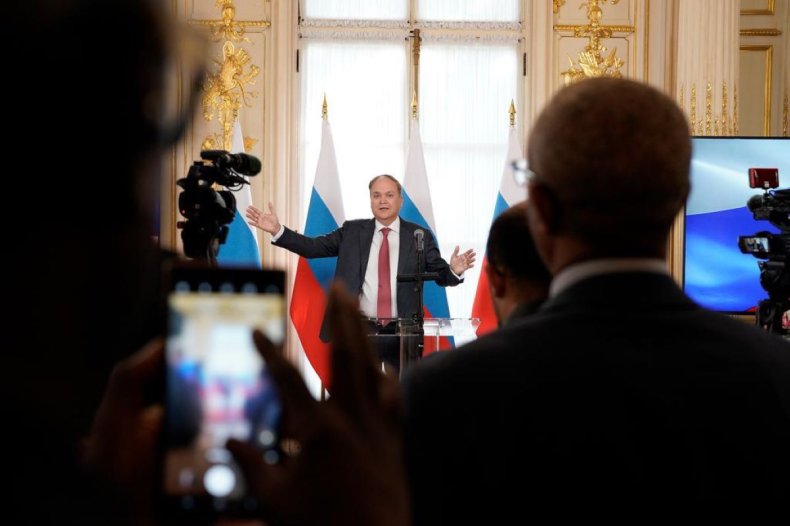 "A Full-Fledged 'Turn to the South'"
While the U.S. has also sought to expand ties with African nations through increased humanitarian aid and promoting new investment, Ozerov outlined ambitious Russian initiatives involving fields such as infrastructure, energy and higher education. Here too, however, he expected resistance from Western rivals.
"Having entered the phase of reformatting of the global world order, starting a full-fledged 'turn to the South,' we should be aware that we and our friends across the continent will inevitably face the strongest opposition from the outgoing hegemon," Ozerov said. "We are already witnessing unscrupulous attempts to destroy Africa-Russia relations at all levels: political, economic, ideological and even environmental."
Ozerov characterized Western policies as being governed by two major strategies.
The first, according to the Russian diplomat, is "a divide and rule principle" that "is used to turn the African continent into an arena for confrontation of the global players."
The second is comprised of "offers 'that cannot be refused'—loans through diverse channels from the Western countries which African nations are forced to accept due to their critical need for credit resources, which ultimately results in neocolonial dependence, loss of sovereignty and destruction of the continent's states."
And yet, he said, "it is noteworthy that the unprecedented pressure by the West on Russia's partners in Africa is not that effective in practice."
Despite the intensified Western pressure against Russia, Ozerov said that it actually "has become easier for us to work on the foreign policy track, since the West discredits itself, its human rights agenda and other values."
"It is clear for the vast majority of Africans that the modern 'universal ideology' is a kind of 'export product' aimed at breaking up national DNA, eroding traditions and destroying the institution of the family," Ozerov said. "During the trips to the continent, it became clear that the aggressive imposition of Western 'new values' causes growing rejection there and only brings Russia and African countries closer together."
"Today, we are convinced that the upcoming Russia-Africa Summit, due to its great importance to all participants, will be a success," he added, "and St. Petersburg will once again confirm its status as the 'Northern Palmyra,' a center where new meanings and historical codes are born."