A golden retriever had an unexpected and utterly hilarious reaction to his owner using her hairdryer.
Sierra Ross and her husband Gabe from Cincinnati, Ohio, first got Bonchi, their English cream golden retriever from an ethical breeder about a year and a half ago—he's been a much-loved member of the family ever since.
Bonchi also recently welcomed the arrival of a canine sibling in the form of Meia, a 10-week-old Bernese mountain dog. She loves to wrestle with Bonchi and snuggle up to him whenever she gets the chance.
"He is a very loving pup and is aggressively affectionate," Ross told Newsweek. "He loves to talk back and engage with everything we do. His favorite thing to do is sit and watch me do my hair and makeup. That's how we discovered he wasn't a fan of my hairdryer."
It's not uncommon for dogs to dislike certain sounds or even certain types of music. In 2020, a study of 13,700 pets dogs published in the academic journal Scientific Reports found 32 percent suffered from anxiety related to noise sensitivity.
But Bonchi's relationship with his owner's hairdryer is a little more complicated than just an aversion to the noise it makes. In a video posted to TikTok by Ross under the handle BigBoyBonchi, the golden retriever can be seen chomping away at the air around the hairdryer, as if trying to ward it off.
Ross said she had previously used it countless times around Bonchi while getting ready with no issue. "He doesn't mind the noise at all," she said. Then one day she did something that changed everything.
"One day he was really close to me while I was drying my hair and I just decided to point it at him and then he freaked out," she said. "I don't think he likes the feeling of the air blowing at him. He tries to eat it."
Ross said they decided to share the footage of Bonchi's reaction on social media because it was "so unusual" and unexpected. "He doesn't run from it, it's almost as if he's trying to fight back," she said. "He is also very expressive and makes silly noises."
Bonchi's response had his owners in hysterics and drew a similar reaction online, with the comments section on the clip littered with heart symbols and laughter emojis.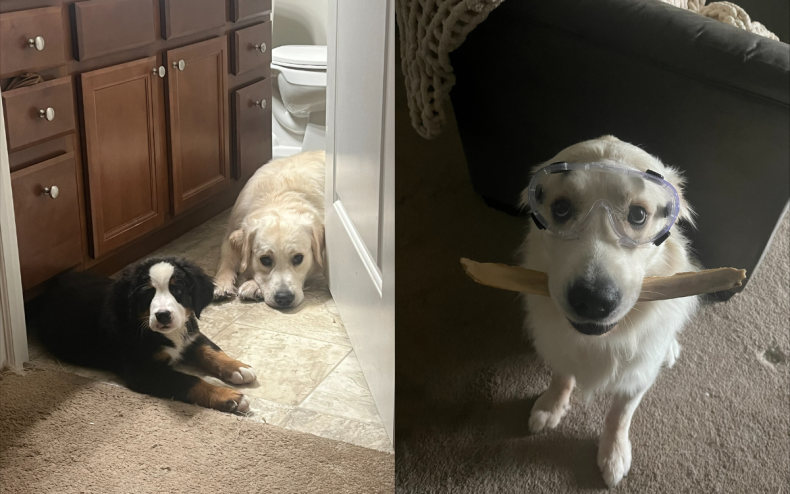 Though his reaction may have been a surprising one, Ross wouldn't change anything about her beloved pet pooch. "He's a very silly dog and he is always making people laugh," she said. "Everybody loves him and he loves everybody."
Do you have funny and adorable videos or pictures of your pet you want to share? Send them to [email protected] with some details about your best friend, and they could appear in our Pet of the Week lineup.