Not only is The Supine Cobbler, which has been called a play "like nothing you've ever seen before," inspired by abortion; it is set in an abortion clinic and it depicts an abortion.
Reviews and recommendations are unbiased and products are independently selected. Postmedia may earn an affiliate commission from purchases made through links on this page.
Article content
Society's prevailing take on abortion, Jill Connell says, is that the procedure is "supposed to be like an erasure, something not seen. We don't talk about it."
But that wasn't the Ottawa native's experience when she had an abortion in 2011. "For me, it felt like a very decisive action that takes you forward in time," says Connell.
Article content
It wasn't long before Connell, a playwright, decided to address abortion through her art. The result is her play The Supine Cobbler, which will open the Great Canadian Theatre Company's 2023-24 season when its two-week run begins Sept. 26.
Article content
The play, which debuted in Toronto in 2015, is part of a body of work that has led to Connell, a 47-year-old graduate of Queen's University, the University of New Brunswick and the National Theatre School of Canada, being lauded as one of Canada's most innovative playwrights.
Not only is The Supine Cobbler, which has been called a play "like nothing you've ever seen before," inspired by abortion; it is set in an abortion clinic and it depicts an abortion. It is also a Western.
"It's a contemporary Western, not an old-time Western," Connell makes clear.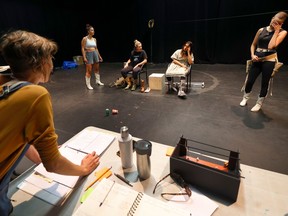 What that means is that the play adopts some aspects of that tried and true genre, such as settings, costumes and music, while subverting others. After all, Connell's play is written for an ensemble cast of five women, not for a group of macho cowboys.
The idea that women who had abortions could be made to feel alone and like outsiders reminded Connell of the "individualist male hero in Westerns," she says.
She realized that making her play a Western would allow her to set aside moral or sentimental questions having to do with abortion. "That's not what I want to talk about," says Connell.
Article content
"I was also attracted to Westerns on a content level. I watched a lot of Westerns growing up. My dad was a big Western fan," she says. "I loved how gritty and unapologetic Westerns can be.
"They have so much swagger, but they're also really emotional, and inherently high-stakes. That it was a Western really helped me first of all in writing it, because I felt I didn't have to explain anything or apologize for anything. They're so much about life and death anyway."
"The Western is a perfect palette for creating a world where things are neither good nor bad, they just are," agrees Emily Pearlman, the play's director in Ottawa.
Canadian author Sheila Heti has called The Supine Cobbler an "absolutely idiosyncratic play. It's very funny, moving and sharp, and the only work of art about abortion I can think of that doesn't sentimentalize or simplify the experience, but gets the strangeness and banality of it exactly right."
Ultimately, the story is less about an abortion, which Connell says gives the play its structure, and more about relationships, and about questions such as "How do you do your best in this destabilizing world?" and "How do you love people?"
Article content
When the play opened in Toronto in 2015, Connell was its director. While she has updated her text a little to make it more current, she is not involved in bringing the GCTC production to the stage.
"The act of her (Connell) not coming in is about trust and generosity, and letting the piece live in new context," Pearlman says.
Connell says she will be coming to her hometown to see the GCTC production, at least twice, and that she's excited that the play will be brought to life again, after being staged in Toronto in 2015 and then in Edmonton the following year.
"I'm so curious about this production, where this tone is going to hit," Connell says.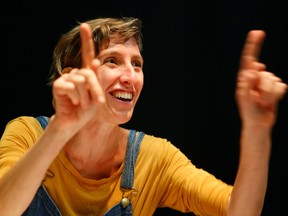 It's not like Connell and Pearlman are strangers, either personally or professionally. They met and socialized more than a decade ago because they travelled in the same theatre-community circles. "I met Jill first not as an artist, but as a friend," says Pearlman. "We initially had a magic connection."
Pearlman directed Connell's play Hroses: An Affront to Reason, when it was staged in Ottawa in 2013. The following year, that production captured the bulk of the honours at the seventh annual Rideau Awards, which honour locally produced English and French professional theatre.
Article content
When The Supine Cobbler opened in Toronto, Pearlman went to see it. "I felt I had an investment in her as a playwright," Pearlman says.
Pearlman says the upcoming production is lucky to have Ottawa musician Sage Reynolds doing its sound design and performing.
While he will be just one musician on stage, Reynolds says he will be playing double bass, baritone guitar, acoustic guitar and harmonica, and whistling. Reynolds composed music, in the style of Italian composer Ennio Morricone of Spaghetti-Western fame, and will be doing sound effects and live foley work too.
"It's intense. It's a really good challenge," says Reynolds, a musician whose mother, Barbara Lysnes, was active in Ottawa's theatre scene decades ago as a writer and director.
"The directions (for The Supine Cobbler) are very interesting, and I think the subject matter is spot-on and it's a really amazing text," says Reynolds.
The Supine Cobbler
When: Sept. 26 to Oct. 8
Where: Great Canadian Theatre Company
Tickets: starting at $15 at gctc.ca
Want to stay in the know about what's happening in Ottawa? Sign up for the Ottawa Citizen's arts and life newsletter — Ottawa, Out of Office — our weekly guide to eating, listening, reading, watching, playing, hanging, learning and living well in the capital.
Catch hometown hip hop hero Belly, superstar violinist André Rieu, or piano prodigy Kevin Chen | What to do in Ottawa Sept. 20-28

Teiya Kasahara disrupts the opera world with The Queen in Me | Q&A