Prince William was greeted by crowds of fans who filled the streets of New York after a tricky recent visit for Prince Harry and Meghan Markle saw them chased by the paparazzi.
The Prince of Wales posed for photographs during a walkabout while visiting a firehouse, in stark contrast to the Sussexes' frenzied exit from Ziegfeld Ballroom in May.
It may be tempting for some to focus on the size of the crowds, which certainly appeared large for William.
However, perhaps the most striking difference compared to Harry and Meghan's most recent visit in May was the way Liberty Street was closed off for William's appearance, allowing him to take a calm stroll to meet fans waiting behind barriers.
By contrast, Harry and Meghan appeared to arrive at Ziegfeld Ballroom through an office of car rental company Hertz and were rushed out into a waiting car as paparazzi swarmed around them.
The difference is likely rooted in the status afforded to a visit by a working member of the British royal family in their capacity as a representative of Britain.
While there is much Harry has gained since he quit the palace, including high-value contracts with Netflix and Spotify, this is also a reminder of the status he left behind.
Prince William in New York
The future king began his New York visit at an oyster farm on Monday, before stopping in on The Ten House fire station, which is near the World Trade Center and lost five firefighters in 9/11.
William discussed the mental health of first responders, a cause he has been committed to in Britain since his own struggles during his time as an air ambulance pilot.
Lieutenant Drew Kane discussed suicide awareness and PTSD among firefighters with William and, quoted by People, said afterwards: "It was apparent that he understood the topic. You could just tell in his presence that he knew what he was talking about with first-hand experience."
The prince stepped out of the station to meet New Yorkers gathered outside as the police shut down Liberty Street for his appearance.
William was given an "I Love NY" T-shirt, which he passed to an aide, and was asked if he would bring his children, Prince George, Princess Charlotte and Prince Louis, replying: "One day I'd love to."
Prince Harry, Meghan and the Paparazzi
Harry and Meghan's most difficult New York visit came in May when they attended the Women of Vision awards, put on by the Ms. Foundation for Women, at Ziegfeld Ballroom.
Meghan looked glamorous in a gold Johanna Ortiz gown, but their arrival through a Hertz outlet was a little less glitzy and their exit even more difficult.
The couple's spokesperson released a statement suggesting they had been involved in a two hour "near catastrophic" car chase.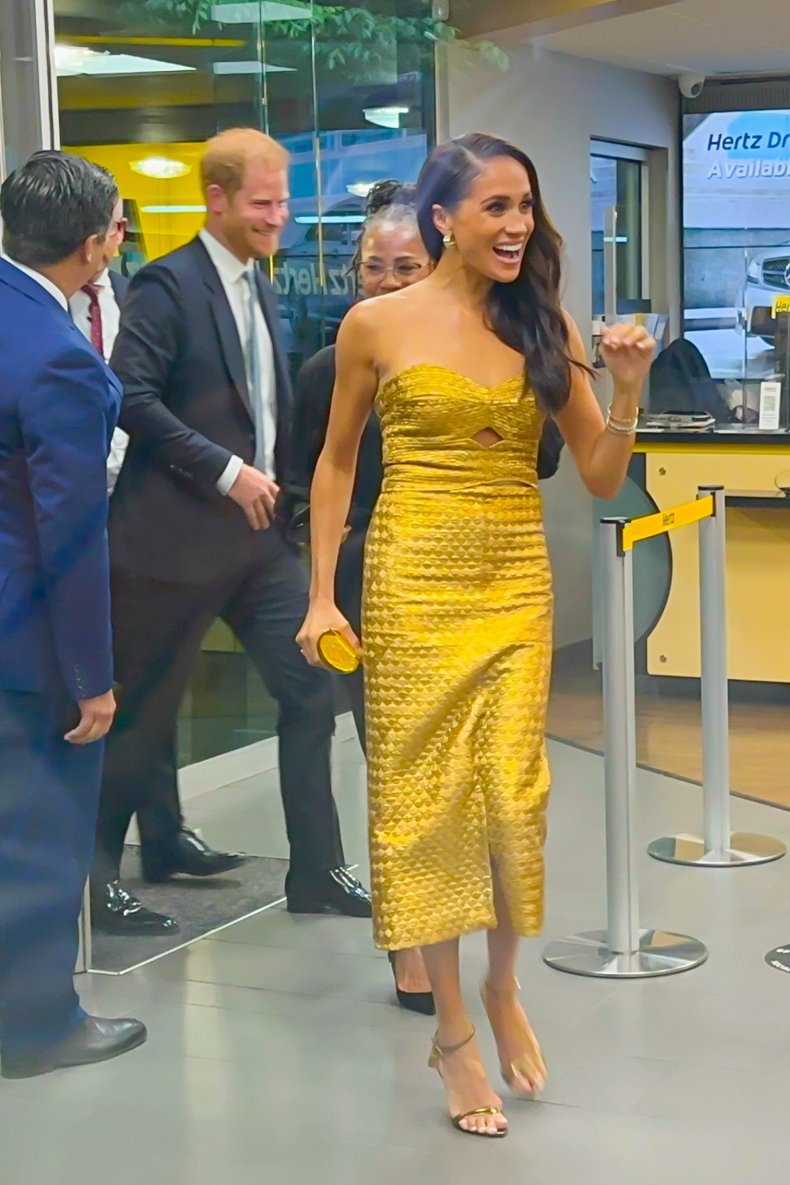 While the NYPD appeared to play down their account, the police were seemingly unable or unwilling to stop photographers from following the family.
Video footage from the evening showed a patrol car following their vehicle, but the police presence fell far short of the complete shutdown that allowed William free rein to meet and greet fans outside the firehouse.
Jack Royston is Newsweek's chief royal correspondent based in London. You can find him on Twitter at @jack_royston and read his stories on Newsweek's The Royals Facebook page.
Do you have a question about King Charles III, William and Kate, Meghan and Harry, or their family that you would like our experienced royal correspondents to answer? Email [email protected]. We'd love to hear from you.