Outspoken clinical psychologist Jordan Peterson is well known for his controversial comments on everything from transgender rights to Disney's live-action Snow White remake. However, his wife Tammy Peterson keeps a much lower profile.
Peterson, 61, and the former massage therapist, 58, have been married for 34 years and have two children—Mikhalia Fuller, 31, and Julian Peterson, 28. However, the couple have had their ups and downs over the years, including a cancer scare and a stint in rehab.
How Did Jordan Peterson Meet His Wife Tammy Peterson?
The couple first bonded as children and began dating in high school, marrying in 1989.
In a post to Instagram in February 2019, Jordan Peterson recounted his first meeting with his future wife—then Tammy Roberts—who lived across the street from his childhood home in Fairview, Alberta.
"I was about seven at the time (that's 48 years ago)," he wrote. "You can imagine what an awful lot of memories we share."
Tammy Peterson ran her own massage therapy business for three decades before leaving her career behind to support her husband with his research, acting as an advisor. She also has her own podcast—The Tammy Peterson Podcast—where she analyzes ancient scripture in relation to modern life.
While providing relationship advice on social media, the professor of psychology often references his own relationship. In a post shared in October 2022, he stated the importance of making time for intimacy in a marriage.
"It's really easy for the intimate part of your marriage, the sexual part, to drop," he wrote on Instagram, alongside a photo of him and his wife.
"That's a very bad long-term strategy. You have to—especially once you are married and you have children—you have to consciously attend to the maintenance of romantic intimacy."
The couple also released a limited series together, called Jordan Peterson on Marriage, offering tips on how to "strengthen your relationship with your spouse, and achieve the ultimate goal: the perfect date that repeats endlessly."
Tammy Peterson Recently Battled Terminal Cancer
In a July 2019 interview with The Times, Jordan Peterson shared that his wife was battling a rare form of kidney cancer
"My wife is very ill," he told the publication. "She's had two surgeries in the last two months and is suffering from severe complications from the last one."
Tammy Peterson was diagnosed with a Bellini tumor, a type of renal cancer with an extremely high mortality rate. Doctors initially believed she had a less aggressive form of cancer, but surgery to remove part of her kidney revealed the severity of the condition.
The cancer had spread to her lymph nodes, but the second surgery successfully removed the tumor.
In an interview with the "Freedom Pact" YouTube channel in 2022, Tammy Peterson said that her spirituality helped her fight the disease.
"I had a better insight into why people will go through heroic measures to save their own lives," she told host Lewis Edward.
"I realized this isn't to save my life, not for me necessarily, [but] that part of me that is in service to ourselves and the rest of our community."
The Stress Led Jordan Peterson to Check Into Rehab
Later that year, Mikhalia Peterson confirmed that her father had checked into a rehab facility in New York.
Posting a video to YouTube, the influencer explained that the author, then 57, was suffering from "horrific" discontinuation symptoms from the medication Clonazepam. The drug is used to manage seizures and muscle spasms, as well as to treat mental health conditions such as OCD and panic disorder.
Jordan Peterson has previously discussed his battle with depression and was prescribed the benzodiazepine after his wife's cancer diagnosis in April 2019. Jordan Peterson also put the tour for his book—2 Rules for Life: An Antidote to Chaos on hold—and postponed his following title, Beyond Order.
After Tammy Peterson's condition appeared to improve, he decided to wean himself off Clonazepam. However, the process did not go as planned, with Mikhalia Peterson describing her father as "like a lost puppy."
"I've never seen my dad like this," she said in the video. "He's having a miserable time of it. It breaks my heart."
Jordan Peterson Was Placed In a Medically-Induced Coma
In February 2020, the academic admitted himself into an "emergency" detox center in Moscow, after difficulty weaning himself off Clonazepam.
Mikhalia Peterson reported that her father suffered from a "severe case of pneumonia" during his time at the facility, and was placed into a medically-induced coma for eight days to help him recover.
"He's had to spend four weeks in the ICU in terrible shape, but, with the help of some extremely competent and courageous doctors, he survived," she said in an online clip.
"The uncertainty around his recovery has been one of the most difficult and scary experiences we've ever had."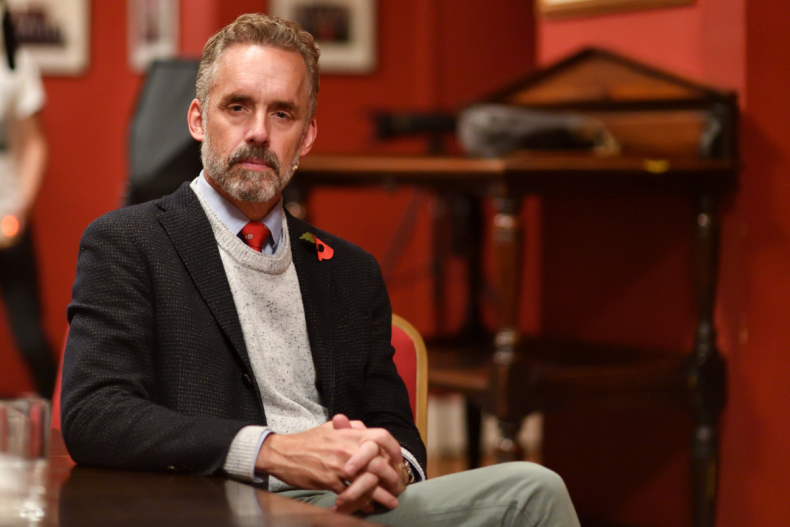 Jordan Peterson Claims He's Being Canceled
After his health scare, Peterson took a brief hiatus from the public eye. He has since returned to his career, continuing to cause controversy.
In August, he lashed out at Disney CEO Bob Iger on X, the social network formerly known as Twitter, after photos taken at Disney World Resort, Florida, appeared to show men dressed as female characters.
On September 4, Peterson was mocked by critics after supposedly referencing a scene from Sky Fall (2012). Peterson appeared to quote the "Rat King" speech from the James Bond movie, originally performed by Javier Bardem's villainous Raoul Silva.
Peterson also recently called for a boycott of Skittles candy due to its "woke" LGBTQ+ packaging, and on September 5, published an essay in The New York Post titled "I'm being professionally canceled for my moral stance on trans butchery," explaining that he is likely to lose his license for his comments on trans issues.