As Japan seeks to address growing concerns regarding Chinese military activities in the region, Tokyo's toolbox is limited by the vast volume of trade between the two Asian powers.
Speaking to three reporters at an intimate offsite briefing on the sidelines of the United Nations General Assembly, Japanese Foreign Ministry deputy spokesperson Okano Yukiko said that issues pertaining to China were discussed at length during a recent meeting of the Group of Seven (G7) nations, over which Japan currently presides.
Okano revealed a "slight change in our notes" from last year's session, during which Germany was president of the elite bloc of economic powers that also includes Canada, France, Italy, the United Kingdom, the United States and the European Union.
"Under German presidency, it was more about decoupling," Okano said. "Under Japanese presidency, it has more to do with derisking, because China is our biggest trading partner, and we want them to behave as a major power.
"So, we say what we need to say," she added, "but we need to engage them in international cooperation or global challenges."
Responding to Newsweek's question regarding Japan's ability to respond to the perceived threat posed by China, Okano described an uptick in People's Liberation Army activities, as well as growing cooperation with Russia since Moscow launched its war against Ukraine in February of last year.
"On the military side," Okano said, "they have been becoming very active, and with the Ukraine war, they increased the joint activities with Russia surrounding the Japanese Archipelago, which is very worrisome."
Okano noted how, during the intensive debate that has surrounded Japan's efforts to reform its defense policies over the past year, proposals were put forth as to whether to describe China as "the biggest threat to our security," but the final language agreed upon instead referred to China as "the biggest security challenge."
She said China is "not yet a threat, but a very big challenge to our security," also criticizing a "very opaque" Chinese military budget.
Beijing has also voiced criticism of Japan's military buildup as well as its growing cooperation with the U.S. and other Asia-Pacific states.
Responding to joint exercises held in the South China Sea by the U.S., Japan, Australia and the Philippines, Chinese Defense Ministry spokesperson Senior Colonel Wu Qian told reporters late last month that "bilateral and multilateral defense and security cooperation between regional countries should contribute to peace and stability in the region, and should not target at other countries.
"The Chinese military will take solid measures to safeguard our national sovereignty and maritime rights and interests, and maintain peace and stability in the South China Sea," Wu said at the time.

When it comes to trade, however, ties between China and Japan are more complex.
"On the economic side, they need our investment and our technology. Decoupling simply does not work for us nor for them," Okano said. "So, we need to find a way, but it's not easy."
At the same time, Japan's close ally, the U.S., has intensified its own efforts to cut China out of certain sensitive markets, including semiconductors that are crucial to producing advanced chips at the heart of the 21st-century technological race. While U.S. Commerce Secretary Janet Yellen's visit to China in July marked an effort to establish dialogue, President Joe Biden has only doubled down on new restrictions targeting Beijing, which has retaliated with its own limits.
From Japan's perspective, Okano said, "We are watching very carefully what is happening between the U.S. and China in terms of economy, and we share the concern that the U.S. government has vis-à-vis economic security."
Earlier this year, Tokyo joined Washington in implementing restrictions against the export of certain semiconductor manufacturing technologies to Beijing.
"But," Okano noted, "there are many other economic activities going on between Japan and China, such as fisheries, car manufacturing or cosmetics." While she argued that Japan should be "very mindful" of high-end technology trade, she explained that "the overall economy is not really high end."
"I think we need them, and they need us," she added. "So, we've been talking with the U.S., we've been talking with China, and we are watching very closely how this relationship develops."
The China-Japan relationship has been further complicated, however, by controversy surrounding the latter's release last month of treated radioactive water from the damaged Fukushima plant that was devastated by a 2011 earthquake and tsunami. Concerns over the safety of Japan's massive fishing industry have drawn blowback from both Chinese and South Korean markets.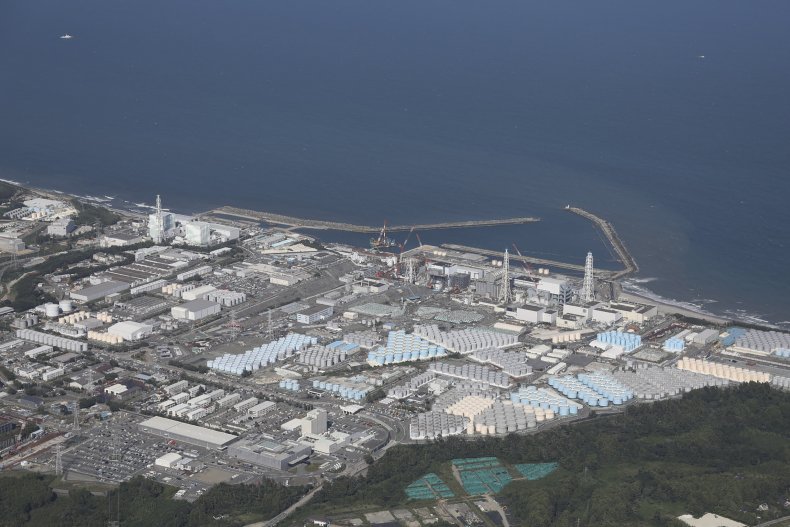 While Tokyo has vehemently defended its practice as safe, Beijing has been particularly outspoken in raising caution. U.S. Ambassador to Japan Rahm Emanuel referred to China's reaction as "economic coercion" during a speech Friday in Tokyo.
In response, Chinese Foreign Ministry spokesperson Mao Ning asserted that "there is no precedent for such discharge since humanity began using nuclear energy for peaceful purposes" and that the international community shared Beijing's concerns. She called China's measures "justified, reasonable and legitimate."
"The U.S., a Pacific-rim country, always claims to champion nuclear safety and security and environmental protection," Mao said. "The U.S. personnel concerned needs to stop being partial and condoning Japan's irresponsible behavior and ask Japan to stop dumping the nuclear-contaminated water into the ocean and dispose of it in a responsible manner."
Okano referred to China's position as "disappointing" and "not based on scientific evidence."
Yet there was some potential room for improvement in ties between Beijing and Tokyo. Okano said that Japanese Prime Minister Kishida Fumio "is looking at opportunities to speak to President Xi [Jinping]" of China, and that South Korean President Yoon Suk Yeol was looking to host a trilateral meeting featuring his country, which is officially known as the Republic of Korea (ROK), alongside China and Japan.
Mao too commented on this development, which would follow a trilateral U.S.-Japan-ROK summit hosted by Biden at Camp David, where the three nations forged a new security pact.
"China, Japan and the ROK are neighbors and important cooperation partners," Mao said during the Wednesday press briefing. "Enhancing the trilateral cooperation serves the common interest of the three countries."
"China values the cooperation between the three countries and actively supports the ROK's chairmanship of the China-Japan-ROK cooperation," she added. "There is ongoing communication among our three countries on holding high-level meetings of the trilateral cooperation."