Kathy Griffin has revealed the reason for her feud with Elon Musk, after the tech mogul kicked the comedian off Twitter last year.
Appearing on the podcast Onward with Rosie O'Donnell, the 62-year-old explained that the former Tesla chairman had kicked her off X—the social network formerly known as Twitter—"personally."
"I was impersonating him and I kept posting things like, you know, #VoteBlueNoMatterWho and saying that he had become pro-choice after talking to his various babies' mothers," Griffin told O'Donnell in the interview.
"It got a little traction and people believed it, so he got very upset with me."
Griffin's removal from the platform occurred in November 2022, when Musk began cracking down on people impersonating him on Twitter. The 52-year-old enacted a ban on users who impersonated others without marking them as parodies, with Griffin temporarily changing her account name to Elon Musk.
"There was this bad joke running around Twitter, a bunch of people had written, saying 'she's not impersonating Elon, she should be kicked off for impersonating a comedian," Griffin continued.
"So he stole that joke, which had been making the rounds, because he's such a hack, and then he personally kicked me off," she said.
The SpaceX founder, who purchased Twitter from former CEO Jack Dorsey in October 2022, later reinstated Griffin's account due to backlash from fans.
O'Donnell shared a snippet of the interview to her TikTok account on Monday, with listeners praising Griffin's prank on Musk.
"This is fantastic," said TikTok user Lady Lisa.
"Kathy is a national treasure," wrote @idontworkhere93.
"She's a Queen!" agreed Brenda.
"I *love* when you two get together," said TinaB.
"Oh Kathy, you're such a trouble maker," commented Imcre8in.
"Her ability to p*** off very powerful People is pretty impressive," said Steph.
"You both are so fierce," wrote Moon Child. "Elon scares me and I've practically abandoned the forum formally known as 'twitter.'"
Many followers slammed Musk, with Susan Richy writing: "Elon and twitter sucks."
"He's so strange," said Thestarstylistla.
"If Elon kicks you off Twitter then you're doing everything right!" said Millennial Spinster.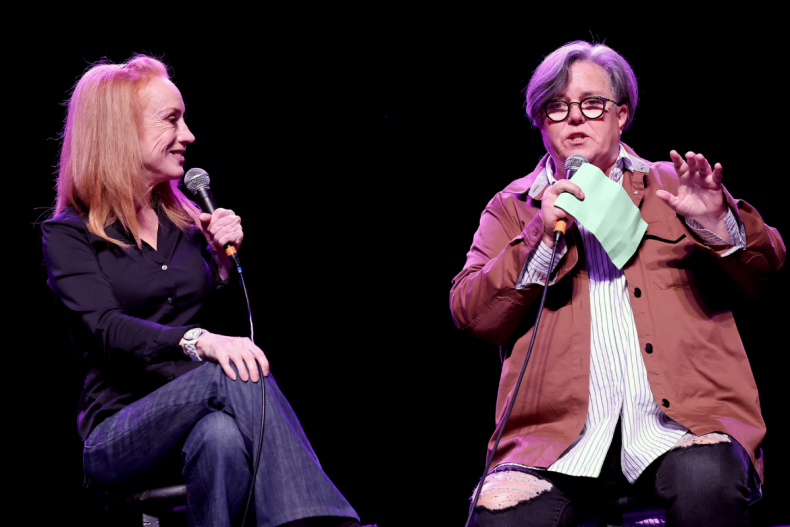 Before Musk removed Griffin from Twitter, the stand-up star said she was "shamelessly addicted to the platform."
"It was hard for me not to keep checking it," she previously told Newsweek. "But I do feel saddened, because whatever this 'Hitler 2.0' situation that I feel here we're dealing with, it's so pervasive."
She also said she was "trying TikTok," but hoped that a new word-orientated social network would take off to replace Twitter where she could share her thoughts.
The actress is known for being outspoken on social media, recently taking to TikTok to condemn the 50 people who wrote character letters on behalf of That 70's Show star Danny Masterson—who was sentenced to 30 years in jail on September 7 for raping two women in the early 2000s—including his former co-stars Ashton Kutcher and Mila Kunis.
"I know it's so difficult to get a conviction in a rape trial and it's almost impossible," she said in the clip.
"Most prosecutors, well all prosecutors, will not even bring the case to trial unless there's an incredible amount of evidence because it turns into a 'he said, she said' and historically juries are very trepidatious to say the least about convicting a guy of SA (sexual assault).
"The notion that this guy was also convicted of drugging these women… that is such serious stuff that I don't really care that they were working on That 70s Show and he was like 'a good guy to work with.'"