Part One of American Horror Story: Delicate dropped yesterday on FX, and fans are all saying the same thing about Kim Kardashian's debut.
The reality star's casting caused controversy when it was announced in April, but it appears the 42-year-old has proved the doubters wrong—at least, according to social media. Fans couldn't get enough of her character Siobhan Corbyn, an actress and mentor to series lead Anna Alcott, played by Emma Roberts.
"Kim Kardashian killed it tonight on #AHSDelicate," wrote X user @Dripmarvelshort. "She is a true born actress."
"Kim surprised me her acting is decent," said @plasticfads.
"Tonight is HER night! kim kardashian egot status incoming," commented superficialdoll, referencing the coveted EGOT status—when a performer has won an Emmy, Grammy, Oscar and Tony award, the four major entertainment accolades.
"I'm happy as hell she killing this role," said Otis Calvin Jenkins.
"Kim isn't doing half bad, can tell she's going to be the comedic relief of this season. i'm living!," said jay campy.
"Kim's first scene was so good!! besties in her acting era for sure, confirmed," said Molls.
Some wondered if Kardashian was inspired by her mother for the role, famed "momager" Kris Jenner.
"So basically Kim Kardashian is playing Kris Jenner," said Rue Aloud.
"Facts!" said @AQUARIUSRISN25. "It's not a heard stretch at all."
While @AHS_Source said "Siobhan literally being Kris Jenner is something I didn't know I needed."
Others couldn't get over Kardashian's risque opening line in the show. Raven Brunner said the line was "iconic" while @Reggieasylum69P thought it was "actually kinda fitting."
Based on the novel Delicate Condition by Danielle Valentine, the 12th season of Ryan Murphy's horror anthology series boasts a stellar cast. Alongside Kardashian and Roberts, AHS: Delicate stars Gilmore Girls' Matt Czuchry, model-turned-actress Cara Delevingne and Succession's Annabelle Dexter-Jones.
Although fans are praising Kardashian's skills on-screen, leading lady Roberts has come under fire for her reported behind-the-scenes comments to American Horror Story: 1984 actress Angelica Ross.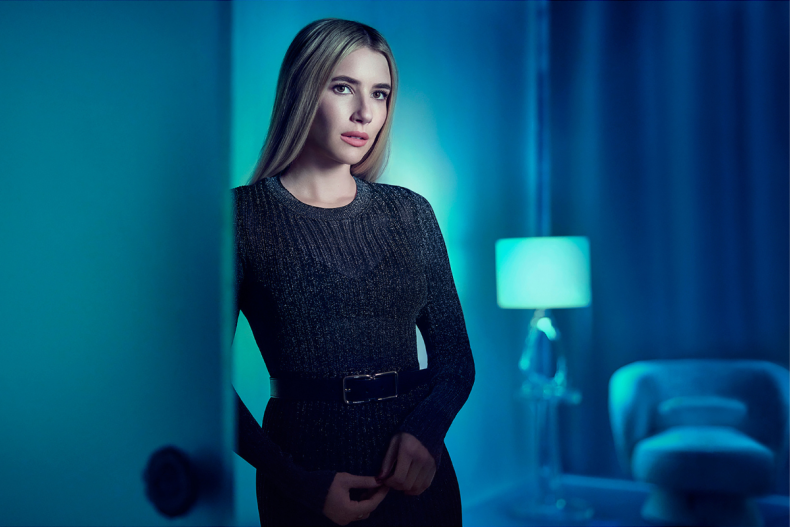 In an Instagram Live, Ross shared her experiences on-set of AHS's 10 season. Ross, who is transgender, claimed that the 32-year-old made a transphobic remark about her. The pair starred in two episodes of the show together, which were directed by John J. Gray.
"I'm standing in front of Emma, talking to her like this, and she's in front of me, her back against the mirror," the 42-year-old said in the footage. "She goes, 'John, Angelica's being mean.'"
"I know she's not being for real. She's just being whatever. And John is like, 'OK, ladies, that's enough. Let's get back to work.'
"And [Emma] then looks at me and she goes, 'Don't you mean lady?' And she turns around like this and covers her mouth [with her shirt]."
The trans rights activist said she avoided Roberts as much as possible for the remainder of filming. Roberts has been a regular on the show since 2013, starring in AHS: Coven, Freak Show, Apocalypse and 1984, with a one-episode cameo appearance in Cult.
Newsweek reached out to representatives of Roberts and FX via email for comment.