King Charles III's succession of congratulatory polo game kisses with Princess Diana through the 1980s and 1990s have become the focus of a new viral video which has been viewed over a million times on social media site, TikTok.
Details of Charles and Diana's 15-year marriage have seen a resurgence of interest in recent months as the course of their relationship has been spotlighted in Netflix's hit royal drama, The Crown.
In November 2022, the fifth season of the series dramatizing the life and reign of Queen Elizabeth II and her family contained the dramatic breakdown of the Wales' marriage as a core storyline. For the show, Diana was portrayed by Australian actress, Elizabeth Debicki, while Charles was played by British actor Dominic West.
The tragic climax to the couple's story, resulting in the princess' untimely death at the age of 36 following a Paris car crash will be a principal focus in The Crown's final season, expected to debut this winter.
Uploaded to TikTok by user, remembering.diana, this month, the new viral video shows clips of Charles kissing his then-wife on the cheek as she presented him with polo trophies over successive years.
Captioned "The kisses became more and more awkward," the video has been viewed over a million times and received in excess of 74,000 likes and numerous comments, many of which have reflected on the state of the royal couple's marriage.
"She deserved so much better," posted one TikTok user.
"It felt like a 'I love you as a friend' kiss," wrote another, with a further comment reading: "And I wish they could've been happy."
Charles and Diana married in July 1981 and had two children—Prince William in 1982 and Prince Harry in 1984. Reports that the marriage was unhappy were confirmed in 1992 by the princess who secretly collaborated on a bombshell biography with British author Andrew Morton.
The book, Diana: Her True Story, detailed for the first time Charles' extramarital relationship with Camilla Parker Bowles (now Queen Camilla) plus the princess' own experiences with depression and the eating disorder, bulimia nervosa.
When the book was published, Buckingham Palace maintained a denial that Diana had any involvement, but the relationship deteriorated further to the point where the couple officially announced their separation in December the same year.
In the following years, the couple waged a media war against one another, nicknamed the "War of the Waleses" which culminated in Diana's 1995 interview with BBC Panorama.
The couple filed for divorce, coming to a settlement and official dissolution of their marriage in 1996.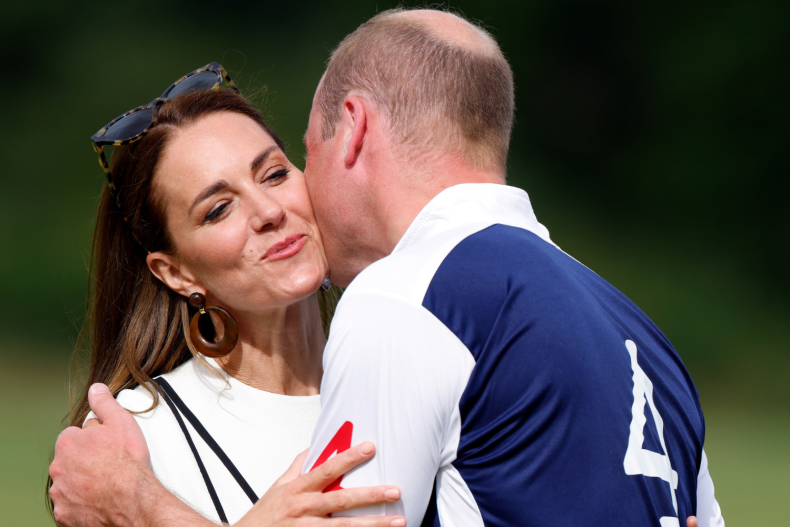 Subsequent royal couples' public displays of affection during polo games have been as closely followed as those of Charles and Diana.
Most recently, the couple's son, Prince William, was given a congratulatory kiss on both cheeks by his wife, Kate, the Princess of Wales, during a charity game in July.
Footage and images of the exchange were quickly shared on social media, with several posts reaching viral numbers.
James Crawford-Smith is Newsweek's royal reporter, based in London. You can find him on Twitter at @jrcrawfordsmith and read his stories on Newsweek's The Royals Facebook page.
Do you have a question about King Charles III, William and Kate, Meghan and Harry, or their family that you would like our experienced royal correspondents to answer? Email [email protected]. We'd love to hear from you.