King Charles III is facing a challenge to his diplomatic skill during a state visit to France as he negotiates to promote the environmental causes he passionately supports against the announcement that U.K. Prime Minister Rishi Sunak is walking back on the country's "Net Zero" commitments.
Charles has been a prominent voice leading the call for environmental protections and raising awareness of the dangers posed by climate change for over forty years.
The king was once maligned for his views and caricatured by the world's media. However, in recent years his work in the sector has been recognized and praised.
Among the concerns raised about Charles' ability to be a successful king before his accession last year were those that he would be unable to adopt the required politically neutral position on subjects which he is particularly passionate about, principally climate change.
When he came to the throne, Charles made an attempt to assuage any concerns that he would be a meddler, saying in his first address to the nation: "My life will of course change as I take up my new responsibilities. It will no longer be possible for me to give so much of my time and energies to the charities and issues for which I care so deeply. But I know this important work will go on in the trusted hands of others."
The first real test of this diplomatic skill comes during his state visit to France with Queen Camilla from September 20 to 22.
On the day the monarch arrived in France, Sunak announced his plans to halt a number of environmental policies that had been planned to help the United Kingdom meet its target to become "Net Zero" (removing as many carbon emissions as the nation produces) by 2050.
Sunak cited the monetary burden on the British public as his reason for cutting the proposed plans which included requiring homeowners to meet energy efficiency targets with insulation upgrades. Sunak has also pushed back targets to ban the sale of cars with combustion engines and gas boilers.
This leaves the king walking a political tightrope on what he can and can't say in France, Newsweek's chief correspondent, Jack Royston, told Sky News on Thursday.
"A lot of this tour is being based around climate change and the partnership [between the U.K. and France] in tackling that," Royston told news anchor Jayne Secker.
"That is a difficult subject in Britain at the moment with Rishi Sunak's announcement about cars and so Charles is going to have to be very careful in everything that he says with his wording and all of his phrasing," Royston said.
"If he starts talking about having to 'hurry up' or 'not wanting to delay' or any of these things, that are very easy to say when talking about an important issue, it could be interpreted as a political comment."
"He's going to have to be quite careful," Royston said.
Charles walked this political line with a key reference to climate change and the drive for environmental protection during his address at the French Senate on Thursday.
Paying tribute to the collaborative efforts of both nations, Charles said: "Just as we stand together against military aggression, so must we strive together to protect the world from our most existential challenge of all—that of global warming, climate change and the catastrophic destruction of nature."
"Although the challenge facing our planet is both great and grave, it has been increasingly heartening to see the action that is being taken by our governments, our people and, more and more, by the private sector.
"I have long felt that our businesses can play a most vital role, working in partnership and harmony with our governments and our people, to channel trillions to the solutions that will enable a successful transition to a sustainable world."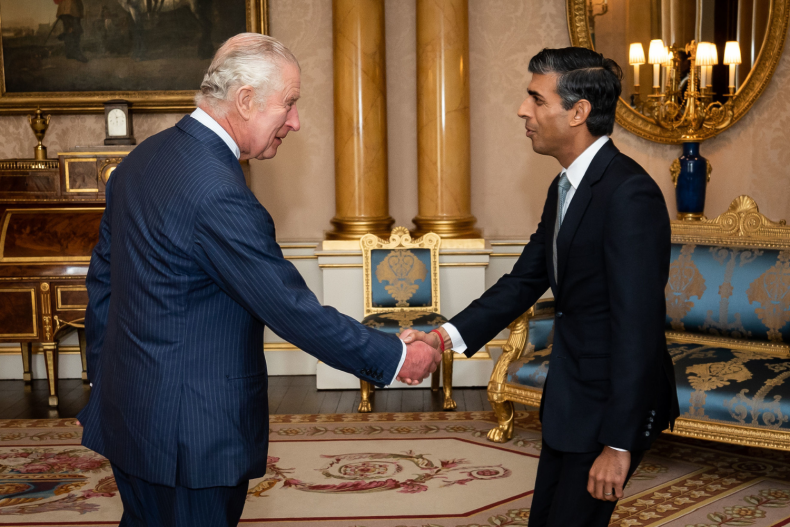 Amongst his core environmental advocacy, Charles has made a number of speeches about his hopes for the future. In 2022, while still Prince of Wales, the royal authored an exclusive essay for Newsweek in which he highlighted the urgency to act with speed in battling climate change.
"The time is now. The eyes of our children and grandchildren are judging us," he wrote. "Let ours be the generation that can. And does. As we enter a new year, there is not a moment to lose."
With this clearly stated viewpoint coming into conflict with Sunak's delays to Britain's Net Zero commitment, Charles' resolve as a monarch with a constitutional duty to remain politically neutral is facing its toughest test yet.
James Crawford-Smith is Newsweek's royal reporter, based in London. You can find him on Twitter at @jrcrawfordsmith and read his stories on Newsweek's The Royals Facebook page.
Do you have a question about King Charles III, William and Kate, Meghan and Harry, or their family that you would like our experienced royal correspondents to answer? Email [email protected]. We'd love to hear from you.