Footage from Meghan Markle's first solo engagement as a working royal after her marriage to Prince Harry in 2018 has resurfaced on social media site TikTok.
The glamorous event is best remembered for generating "controversy" after Meghan closed her own car door upon arrival, something which sparked a fierce social media debate as some praised the royal for appearing "humble," while others suggested that as a royal she should have left it for an aide to do.
The event took place in the lead-up to Meghan and Prince Harry's tour of the South Pacific, something for which the couple were widely praised, and which, according to Harry, marked a turning point in their treatment from members of the royal family.
Uploaded to TikTok by user meghanxharry, footage of Meghan leaving a private viewing of the "Oceania" exhibition of Oceanic art and artifacts at the Royal Academy of Arts in London has been viewed more than 100,000 times so far.
Captioned "Meghan, the icon you are!" the duchess is shown being lit up by camera flashes as she said goodbye to event organizers.
For the occasion she wore an all black cocktail dress designed by the French fashion house, Givenchy, who also created the wedding dress she wore at St. George's Chapel just four months earlier.
The video has received more than 12,000 likes and over 100 comments, many of which have praised the duchess, who dramatically split from the monarchy with Harry in 2020 before moving to California.
"She is so gorgeous," wrote a TikTok user of the clip.
"This Woman just oozes confidence from just looking at her," posted another, with a further comment comparing the duchess to her late mother-in-law, Princess Diana.
"The second she turns toward the cameras reminds me of that clip when Diana looked up enough so they could see her face beneath her hat," it read. "The flash."
This is a reference to a famous clip taken of Diana during a visit to Germany with Prince Charles (now King Charles III) in 1987. During the signing of a guest book in Munich, the princess was suddenly illuminated by camera flashes when she lifted her head, giving photographers a clear view of her face. The video has gone viral a number of times on social media, with one fan-edited clip being viewed over 24 million times.
Though Meghan's appearance at the "Oceania" exhibition was praised, the fierce social media debate sparked by the duchess closing her own car door was the most talked-about moment, and the subject also became the focus of mainstream media reporting.
A number of tabloid newspapers and lifestyle magazines covered the car door debate with such breadth that Harry referenced it in his 2023 memoir, Spare.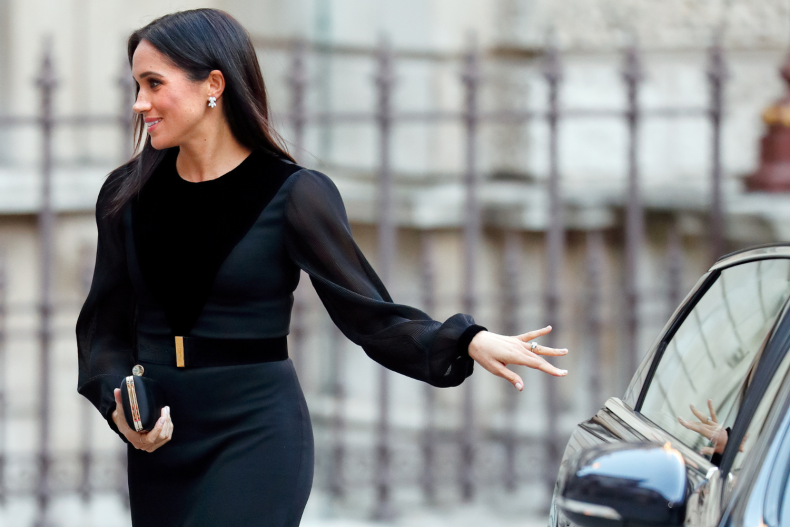 Writing about his and Meghan's decision to launch legal action against British tabloid publishers in 2019, the prince claimed that their privacy lawsuits were not as well covered by the press as trivial issues.
"The lawsuit wasn't covered as widely as, say, Meg's daring to shut her own car door. In fact, it was barely covered at all," he wrote. "Nonetheless, friends took note."
James Crawford-Smith is Newsweek's royal reporter based in London. You can find him on Twitter at @jrcrawfordsmith and read his stories on Newsweek's The Royals Facebook page.
Do you have a question about King Charles III, William and Kate, Meghan and Harry or their family that you would like our experienced royal correspondents to answer? Email [email protected]. We'd love to hear from you.