After House Republicans failed to unite behind a vote to advance their military spending vote yesterday, eight members of the GOP who represent districts won by Biden took to the Capitol steps to speak out against their party's far-right, MAGA flank.
For these members, failing to pass a defense bill—traditionally one of the GOP's most-supported spending priorities—offered a grim sign that House Republicans may not be able to unify behind a temporary stopgap spending bill to avoid an October 1 government shutdown, let alone the 12 spending bills needed to fund the government through next year.
"None of us support shutdown," Congressman Mike Lawler, a moderate Republican representing New York, told reporters. "There's certainly a level of frustration with what some of our colleagues are doing in terms of how they are going about negotiating within the conference."
Republican Representatives Andy Biggs of Arizona, Dan Bishop of North Carolina, Ken Buck of Colorado, Ralph Norman of South Carolina and Matt Rosendale of Montana all objected to the "rule vote" that would advance the defense bill to a full-fledged floor vote due to concerns over the proposed levels of government spending.
However, objections by hardline conservatives have been a theme of this Congress. When Speaker Kevin McCarthy has appeased the demands of his MAGA flank, those members have come back to him with more demands, threatening to call a "motion to vacate" vote that could oust him as speaker if he doesn't satisfy MAGA priorities.
Up until now, moderates have largely followed McCarthy's wishes, backing the speaker on various bills filled with conservative provisions that they may otherwise not support, knowing he had little room to get such provisions passed, and knowing a reliance on Democratic support could stoke "motion to vacate" calls from the hard-right flank.
However, that dynamic is beginning to change, as Republicans in the Problem Solvers Caucus plan to meet with House Democratic Leader Hakeem Jeffries today to discuss launching a "discharge petition" that would bypass McCarthy and force the House to vote on a possible bipartisan stopgap bill to avoid a government shutdown.
Republican Congressman Brian Fitzpatrick of Pennsylvania, co-chair of the Problem Solvers Caucus, whom the Lugar Center and Georgetown University's McCourt School ranked as the most bipartisan member of Congress three years in a row, described to Newsweek how he works with his colleagues in situations like the one his five fellow Republicans face.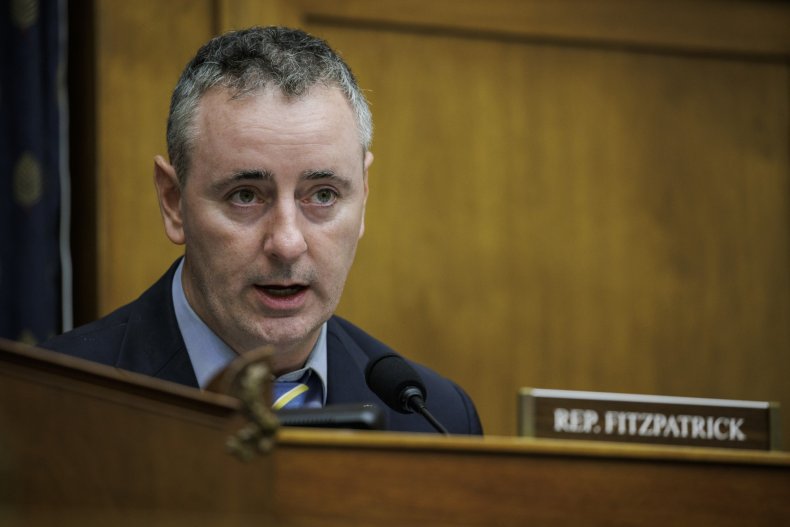 "I ask them, 'Let me manage my districts. Let me vote with my people,' and I extend the same courtesy to them, so I don't get upset with them," Fitzpatrick told Newsweek. "But I will say, part of my responsibility is to get to 218, and if you can't get there in the conference, you get there in the Congress."
Jennifer Lawless, chair of the Department of Politics at the University of Virginia, told Newsweek that McCarthy has done a "terrible job" protecting members like Fitzpatrick, whose district voted for Biden, from taking tough votes.
The speaker has met the demands of his party's MAGA wing by forcing them into difficult positions, such as when they had to vote on a National Defense Authorization Act that restricted the abortion rights of servicemembers, and now must respond to an impeachment inquiry into President Joe Biden that critics argue lacks evidence.
Congressman Adam Smith of Washington, the top Democrat on the Armed Services committee, said the failure of the defense bill speaks poorly to the Republican Party's concern for national security. He believes the current situation is one of the party's own making, and that McCarthy and the GOP moderates should have expected it.
"The thing that [Speaker McCarthy]'s got to remember about the core of the far-right Republican Party is they don't believe in funding the government—they don't ever want to vote 'yes,'" he told Newsweek. "But in the end, they still vote 'no,' because no matter what it is, they fundamentally don't believe in funding the government."
"The Republicans who are upset [that the defense bill] went down, they empowered these people," he added. "If they cared about this, they wouldn't let these people run their party, they wouldn't let Donald Trump run their party."