Jalen Morris, 24, was enjoying the first six weeks of motherhood when she was shot twice in the face and once in the back by her 6-month-old child's father.
After miraculously surviving the attack, Jalen is facing her new reality of being paralyzed from the waist down as doctors work to reconstruct her jaw and multiple other facial fractures.
"It still doesn't feel real," Jennifer Morris, 46, told Newsweek from her daughter's bedside at Grady Memorial Hospital in Atlanta, Georgia. "We are normal people, we don't commit crimes; I have never even had a speeding ticket. Stuff like this doesn't happen to people like us.
"Our daughter is very lucky to be alive after that monster tried to kill her and our grandson."
A mother's love
Jennifer and husband Cal's world was turned upside down on August 25 when ex-boyfriend Justin Wynne-Combs, 28, tried to kill their daughter before killing himself using the same gun.
Officers with the Clayton County Police Department, who received a report about the incident at 8:20 a.m., found Jalen Morris lying covered in blood with her 6-week-old son, Ja'siah, crying nearby. Clayton County police confirmed the shooting but declined additional comment.
Jennifer Morris told Newsweek she never liked Wynne-Combs and even banned him from the family home in McDonough, Georgia, about 30 miles southeast of Atlanta, where Jalen lived, after witnessing how he disrespected her daughter.
"We have six daughters, so we have always tried to instill in them a man should not call you out of your name nor should they treat you like anything less than the amazing woman you are," she said.
Cal, 45, and Jennifer explained to Wynne-Combs that if he treats their daughter properly, he will be accepted into the family.
Jennifer describes her daughter as "a shy, sweet, kind, and compassionate kid," but she believes those traits made her attract the wrong guy.
"She gives so much of herself to others and is always helping people," she said. "She never asks for anything, and this is how she, unfortunately, attracts men who are in need and have issues with themselves. But she thought she could save him and believed she could somehow fix him."
Speaking about her daughter's 18-month relationship, she said Wynne-Combs was controlling, and she had her doubts about him from the beginning. However, Jalen believed he would change for the better.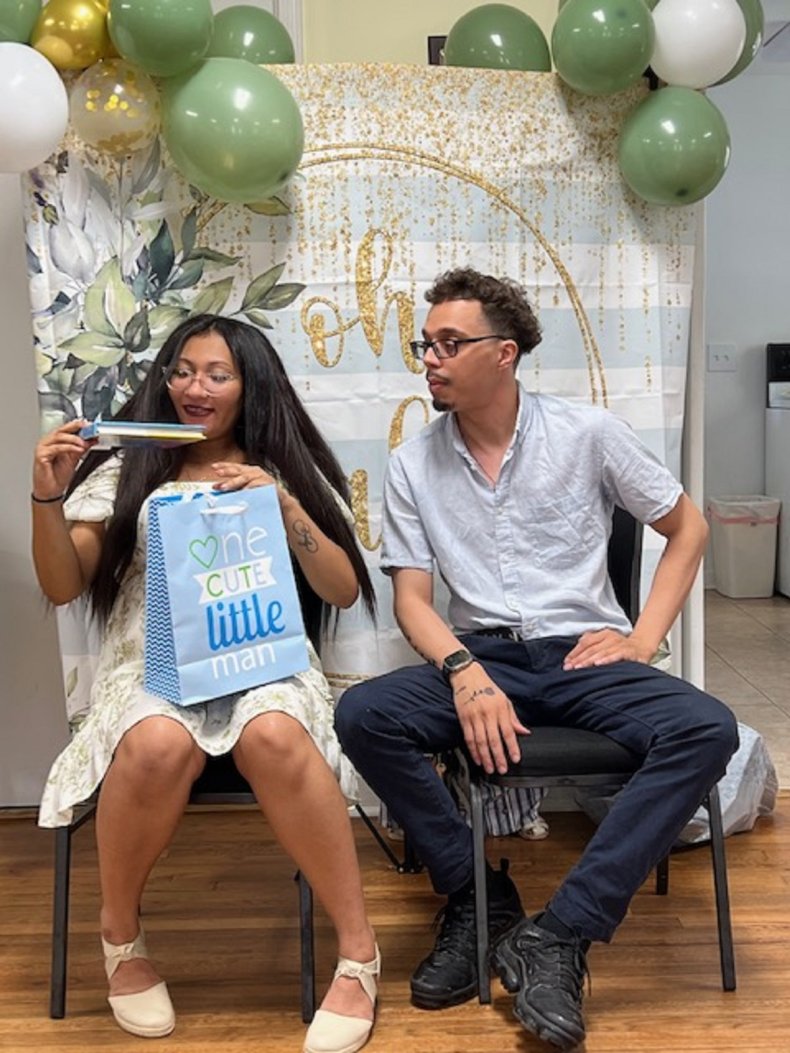 "From the moment I met him, my gut feeling wasn't good," Jennifer said. "We didn't like him to the point where we would not allow him into our home. Jalen, however, was an adult, she was 24, so all we could do is give our opinions and hope and pray she would start to recognize the behaviors we were pointing out were not normal or safe.
"He always wanted her to share her location and would ask why she was talking to her childhood best friend or even her sister, and he would question everything she did. He even had a problem with her leadership job and tried to put her down. He would do everything he could to make her feel bad about herself so she would need reassurance from him. He would have her questioning her own worth."
Before August 25, Jalen attempted to break up with Wynne-Combs, and he turned up to her workplace.
"He pushed her once at work and that is the only time we know about any physical abuse," Jennifer said.
Cal drove to her work and had a "man-to-man" conversation with Wynne-Combs, who then began to reach out to the dad when suffering with his mental health.
"My husband would try and help him as best as he could. But then Jalen started to distance herself more, so Cal tried to take himself out of the role so he could do what was best for our kids," Jennifer said.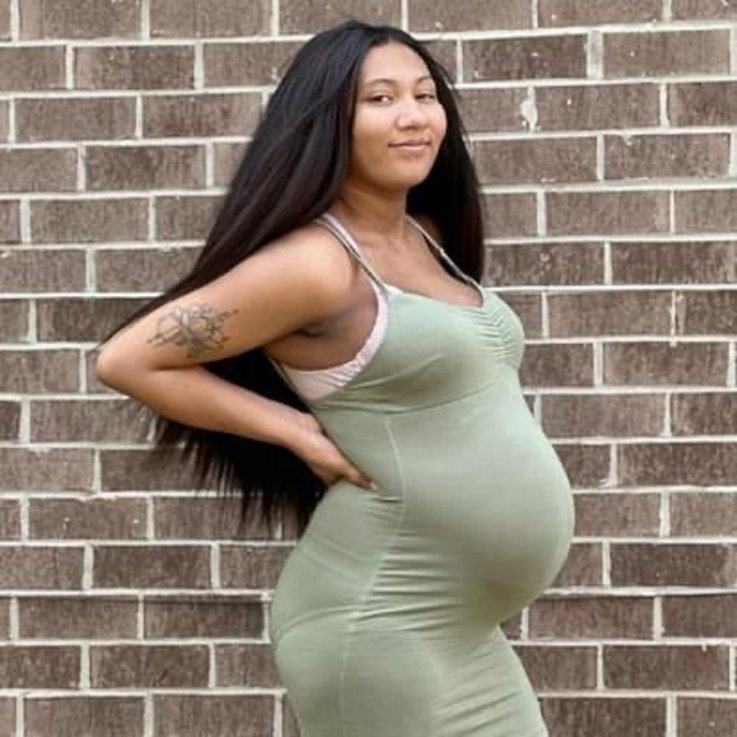 In October 2022, Jalen discovered she was pregnant.
Jennifer Morris/
In October 2022, Jalen discovered she was pregnant, and she couldn't wait to become a mom. According to Jennifer, Wynne-Combs didn't express any excitement, especially when hearing it was a boy.
"At this point, Jalen knew his behavior wasn't normal, but some people around her were saying he may change when the baby comes and deserves a chance to be a dad," she said.
When Ja'siah was born in July, Morris said, "He never asked about the baby, it was always about Jalen. He would ask what she was doing, where she was, what she was wearing. Jalen would send photos of the baby and never receive a response.
"She would go through spurts of blocking him, but he would find a way around it whether it be calling her through Instagram, Facebook Messenger, calling from blocked numbers or having his friends call.
"Numerous times, she would say, "I am worried he might hurt one of you so I would rather it be me."
One week prior to the shooting, Jalen called police to report Wynne-Combs for blowing up her phone, but they would not take any action as he hadn't physically done anything.
"In an hour timeframe, she had around 50 missed calls; he was stalking her," Jennifer said.
"He would send typical abuser-type messages, saying, "I love you" and "sorry." I believe he baited her over on the day it happened."
Jennifer said that Wynne-Combs asked to see his son, saying he wanted to end things amicably so they could co-parent Ja'siah, so Jalen headed over first thing on the morning of August 25.
"The day before she went over, he promised he was going to change," Jennifer said. "The day she went, she said she had a bad feeling and didn't want to go. I told her not to, but she said she had to, otherwise he would blow up her phone all day and she did not want to deal with it.
"She brought the baby to go and see his dad. I said call me, and your dad will come and get you if there is any trouble. While there, she texted me saying he didn't hold the baby and she didn't want to force him in case he did something 'crazy.'"
Using the TikTok handle @jennifermorris12, she has shared print screens of the conversation she had with her daughter. At 8:19 a.m., she texted Jalen: "It's not about the baby, it's about controlling you and he got what he wants by you being there." She didn't receive a response.
Ten minutes later, Morris received a text from a random number, saying: "I been shot mom, I love you" followed by another saying: "Please help me."
Holding back tears, Jennifer told Newsweek: "Initially, I thought someone texted the wrong number. It never crossed my mind that it was Jalen. Then I got a Facetime video, I saw a body lying on the ground covered in blood.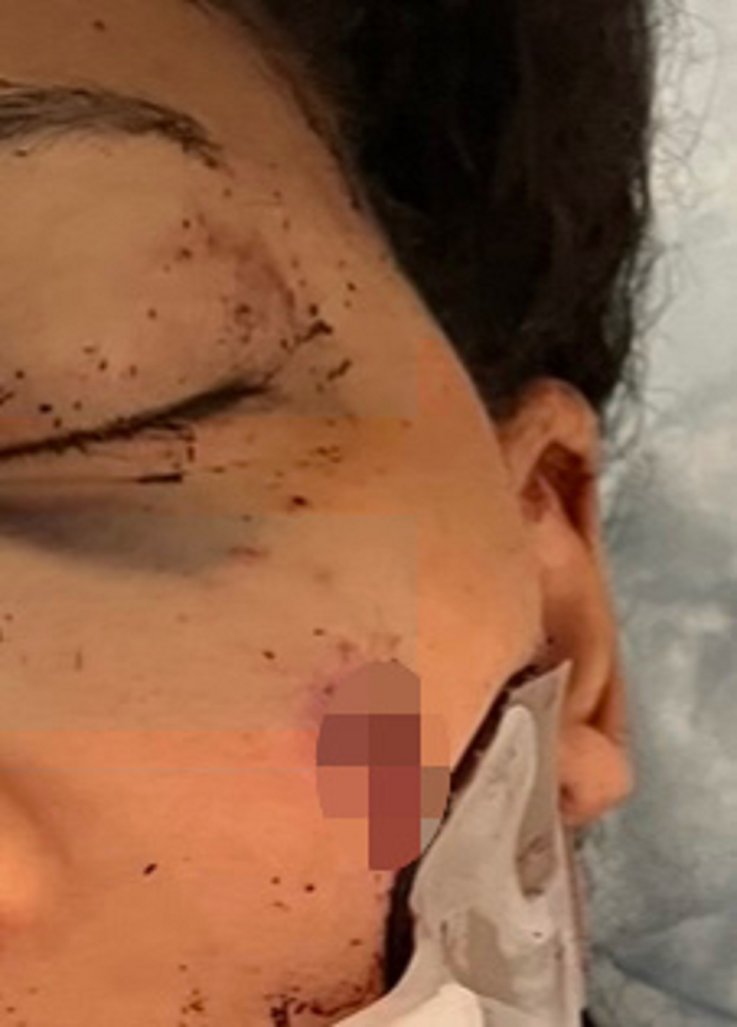 Jalen Morris was shot twice in the face.
Jennifer Morris
"I didn't realize It was my daughter. I went out of my home office, as I was working and explained to my husband what had just happened thinking we should call the police because someone may need help. At that moment the number called my phone again. My husband grabbed my phone and answered it, at that moment he heard Ja'siah crying and knew it was Jalen."
The parents' world came crashing down as they knew the bloody body they had just seen was that that of their daughter. They immediately drove to the address provided by the neighbor who had allowed Jalen to text before she blacked out.
When they arrived at the scene, they were told Wynne-Combs had killed himself and Jalen was in an ambulance on the way to the hospital. Their grandson didn't suffer any injuries.
"We thought they were going to tell us she was dead," Jennifer said. "We were in total disbelief and so worried about what was going to happen.
"Thankfully, they told us she was alive, and she needed to go a higher-level trauma center. She was covered in blood and had two bullet holes in her face. It was horrible, I would never wish this on anyone.
"I was trying to hold it together as my husband lost it. We can't both be in complete disarray. She was on a ventilator as her airway was giving up," she added, sobbing.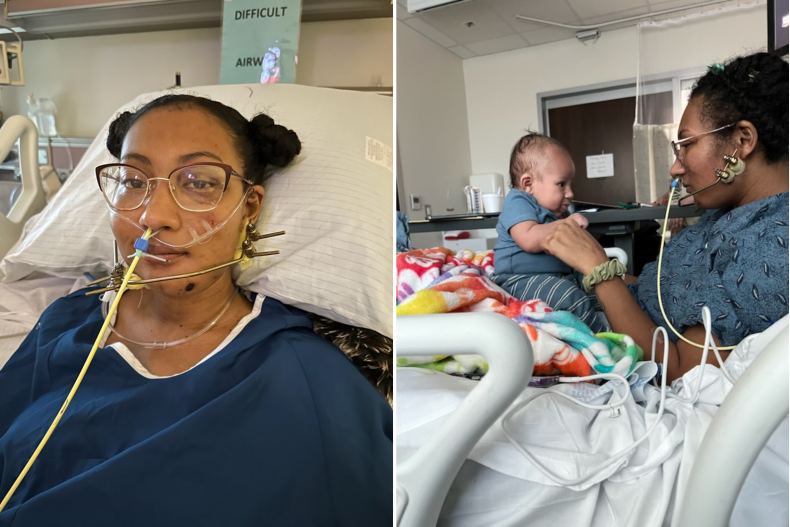 Jalen was life-flighted to Grady Memorial, where she remains. She has had three surgeries on her jaw, including a cadaver bone graft.
"She has too many fractures to count in her face and the doctors believe she may never walk again," Jennifer said. "As parents, this has broken us, having to watch her get into a wheelchair. She has no control over her legs. Everything is so surreal. You can't imagine seeing your child go through this.
"Jalen is talking to us via a whiteboard because of some damage to her vocal cords and she said he lured her into the bedroom and started being aggressive. She told us there were zip ties and he told her, 'You shouldn't have come today, now we are both going to die.'
"She recalls grabbing the baby and running towards the door and was able to open it a crack, and that's when he shot her in the back then fell to the ground. Then he shot her twice in the face, but she somehow managed to army-crawl toward the door and open it slightly more."
Medics believe Jalen was hovering over her baby and acting as a shield during the first gunshot.
During an emotional TikTok video, Jennifer wrote: "He planned on killing our daughter and grandson. My heart is literally shattered into 1,000,000 pieces. In her biggest time of need, I wasn't there to protect her.
"She is a fighter," Jennifer said. "It makes me sad because she goes through spurts, hits her legs, and says she is useless, but she isn't at all. I understand the frustration, but her legs don't define who you are and what you are going to accomplish. She has survived something that others wouldn't have been able to.
"She can't allow her disability to define her ability. I want her story to be told. I want her to feel empowered. Jalen knows she is extremely lucky to be alive. She believes she has guardian angels that day.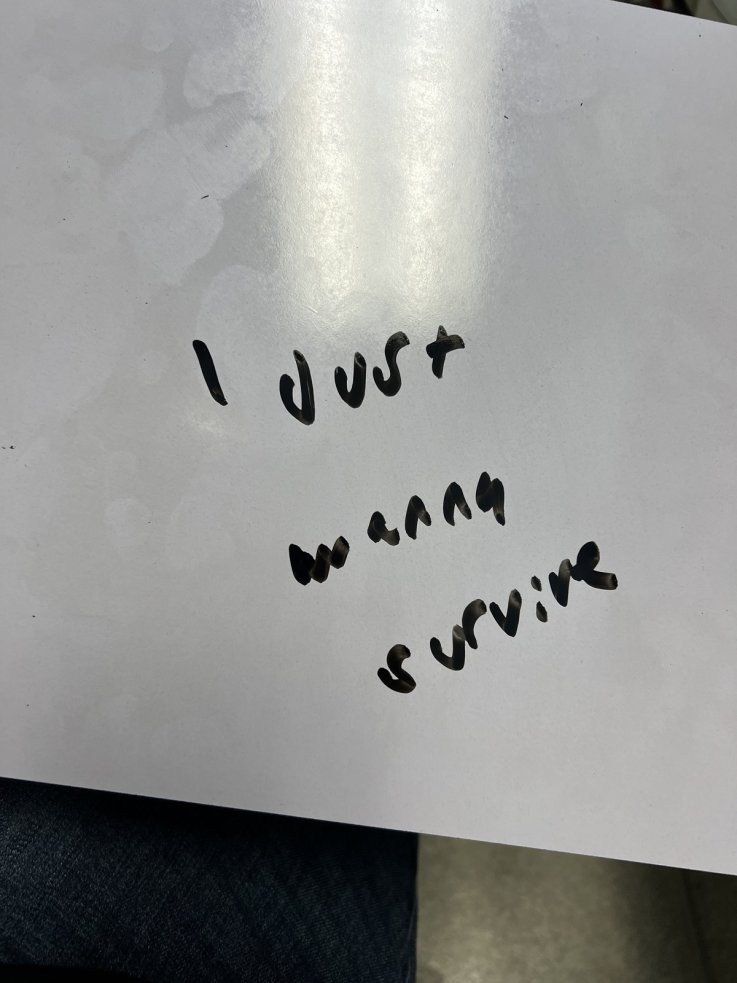 Jalen Morris is unable to communicate verbally, so she is forced to use a whiteboard. Here is a message she wrote to her parents: "I just want to survive."
Jennifer Morris
"She wrote on the whiteboard: 'I just want to survive.' She misses the baby like crazy, and I can't even imagine the pain associated with that. She is a first-time mom and is missing out on everything, but she is so thankful to be alive."
Help for Jalen, others
Though shocking, murder-suicides are far from rare: some 1,200 Americans die in such incidents each year, according to research by the nonprofit Violence Policy Center.
Jennifer hopes Jalen's story can help others find the strength to leave a relationship they are not happy in.
"Run away, it's not your job to save them. If there is one red flag, that is one red flag too many. Please don't brush it under a rug as it's not safe.
"Not only that but as a country, we need to do a better job to make sure individuals like him do not own a gun. I support having a gun for protection. But people with mental illnesses shouldn't have access to weapons."
According to the Gun Violence Archive (GVA), 2022 saw the highest number of murder-suicides using firearms on record. Some 670 occurred last year, up from 594 in 2021 and 570 the year before. As of March 9, there have have been 134 murder-suicide incidents involving guns, the GVA reported, meaning 2023 is on course to top last year's total.
Newsweek examined what might connect such tragedies and what could be done to help prevent them.
Jalen has a lengthy stay in the hospital and her family remains by her side. They are fundraising via GoFundMe to cover medical expenses and modifications for their home. So far, more than $20,000 has been donated.
An excerpt from Jennifer's emotional post on the fundraising platform says: "Our daughter is a hero; she protected her sweet baby boy while putting up the fight of her life. She should not be here, so I have no doubt she has lots left to accomplish on this Earth. We hate to ask anyone for anything as we both work very hard to provide for our family but any help big or small would be appreciated."
The money will be used to make the family home accessible for Jalen so she can live independently once she is discharged.