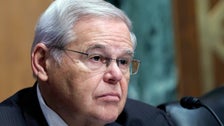 New Jersey Gov. Phil Murphy is calling for Democratic Sen. Robert Menendez to resign.
"The allegations in the indictment against Senator Menendez and four other defendants are deeply disturbing," the Democratic governor said in a statement Friday.
The New Jersey senator and his wife were indicted Friday, accused of accepting bribes from an Egyptian American businessman.
"These are serious charges that implicate national security and the integrity of our criminal justice system," Murphy said. "Under our legal system, Senator Menendez and the other defendants have not been found guilty and will have the ability to present evidence disputing these charges, and we must respect the process. However, the alleged facts are so serious that they compromise the ability of Senator Menendez to effectively represent the people of our state. Therefore, I am calling for his immediate resignation."
Damian Williams, U.S. attorney for the Southern District of New York, said at a Friday news conference that Menendez and his wife accepted "hundreds of thousands of dollars of bribes" in exchange for Menendez using his power and influence to "benefit the government of Egypt."
Federal agents said they found gold bars and cash stashed in clothing bearing Menendez's name during a search of his home.
Murphy joins a growing chorus of politicians and groups calling for Menendez to resign. New Jersey Democratic State Committee Chairman LeRoy Jones Jr. said in a statement that Menendez's resignation would be "the best course of action" so that "he can focus his full attention on his legal defense."