Article content
Some bus drivers shunned their OC Transpo uniform for civilian clothes Thursday in a one-day protest over a variety of labour beefs with their employer.
Transit General Manager Renée Amilcar met with Clint Crabtree, president of Local 279 of the Amalgamated Transit Union on Thursday to discuss the concerns. Earlier this week, Crabtree sent a letter to members calling for them to wear regular clothes on the job.
Article content
The letter, a copy of which was posted on the social media network X, formerly Twitter, said the union executive was "fed up with the style of management OC Transpo is currently under."
It cites "unjustified discipline, layoffs of much needed garage attendants, bus scheduling that is unrealistic and puts all operators' safety in jeopardy."
Article content
The letter also mentions two off duty, uniformed drivers who "were terminated today for not giving up their seats to the public."
Crabtree confirmed Thursday that the letter was authentic.
In a statement to this newspaper, Amilcar said after Thursday's meeting, she and Crabtree agreed to continue "to meet weekly and work proactively to resolve issues affecting our employees."
Rebuilding ridership is key to OC Transpo's future, Amilcar said.
"To maintain our current riders and attract new ones, we must provide a consistently high level of service to our customers. The conduct of our staff, in and out of uniform, affects whether our customers feel welcome and safe on our system."
Earlier this week, the city laid bare the stark finances of OC Transpo. Fare revenue is off by $100 million a year from what planners had been predicting in a longterm financial plan done in 2019. Planners now don't expect ridership to even return to 2019 levels until 2030.
Last week councillors on the city's Transit commission heard that OC Transpo is reassessing some of its route schedules that may put unrealistic expectations on its drivers to meet.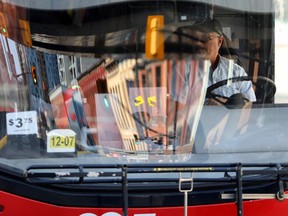 Deachman: OC Transpo needs to get good — and get good fast

Garrioch: Michael Andlauer is officially the new owner of the Ottawa Senators