An eight-year-old video of Snoop Dogg has gone viral for the strangest reason, with fans admiring the rapper's softball skills.
The clip was shared to X—the social network formerly known as Twitter—yesterday by user @MLBLife, and shows the 51-year-old music icon hilariously running to grab a moonshot while playing in the All-Star Legends and Celebrity Softball Game in 2015.
In the footage, Snoop—real name Calvin Cordozar Broadus Jr.—flies across the field to grab the ball, which has landed on the other side of the barriers. He leaps over the fence, losing his hat in the process, before collapsing on the ground on the other side.
The rapper was chasing a ball hit by baseball star Vladimir Guerrero. Known as "Vlad the Impaler," the 48-year-old former right fielder casually sauntered to a home run while Snoop was languishing by the barrier.
"Bless someone's [timeline] today with Snoop Dogg being the best Celebrity Softball player ever," wrote @MLBLife alongside the post, with the rapper's antics being viewed over 420,000 times.
"Gold!" commented chuck, while Parker Bobb posted: "Gotta love the effort."
"Their isn't one thing that snoop hasn't done," joked Eric Torres.
Snoop was one of several celebrities to take part in the game, with Snoop's teammates including Top Gun: Maverick actor Miles Teller, sportscaster Kirk Herbstreit, former Arizona Wildcats player Jennie Finch, actress-singer Olivia Holt and former boyband star and broadcaster Nick Lachey.
The opposing team's star line-up consisted of rapper Macklemore, American Idol winner Jordin Sparks, TV host Charissa Thompson, country singers Justin Moore and Cole Swindell, and actor Chad Lowe.
Baseball legends taking part included former Cincinnati Reds right fielder Paul O'Neill, 1975 Rookie of the Year winner Fred Lynn, former New York Yankees center fielder Bernie Williams and New York Yankees manager Aaron Boone.
Tim Horton, a Marine Lance Corporal who lost his left leg while serving in Iraq, also played on behalf of The Wounded Warrior project. Horton's vehicle was hit by a remotely-detonated explosive device in 2005, with the former solider requiring 50 operations and extensive physical therapy to recover.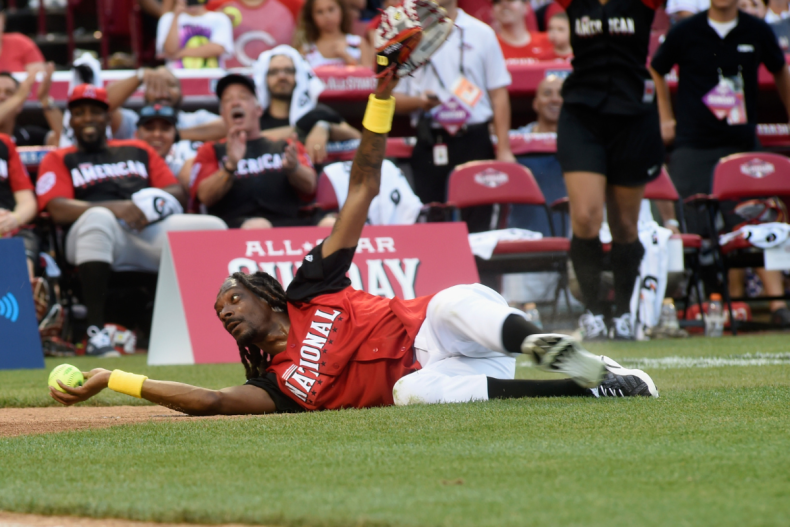 Still, Snoop managed to steal the show at Cincinnati's Great American Ball Park, almost tagging out comedian Rob Riggle with a dive and making viewers laugh by singing to himself down his microphone.
The rapper also went viral earlier this week for his unusual duet with singer-songwriter Chris Stapleton. The pair teamed up to cover Phil Collins' hit "In the Air Tonight" for ESPN's new Monday Night Football song, with Cindy Blackman Santana providing the drumbeat.
The track—which was broadcast for the first time before the doubleheader on September 19—has divided fans. While some were wowed by the tune, others called it a "d****** remix."
Resurfaced footage of Snoop's Celebrity Wheel of Fortune appearance also had fans in hysterics after resurfacing on social media in March. During his time on the show, the star made a series of errors, including mistaking the phrase "talented artist" for "toilet atlas."