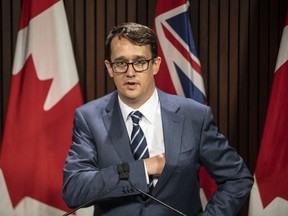 Article content
TORONTO — Ontario Premier Doug Ford has shuffled his cabinet in the wake of two ministerial resignations this week.
Monte McNaughton, who has served as labour minister for the past four years, announced Friday that he was leaving government for the private sector.
Article content
Ford has named David Piccini, who has been environment minister for the past two years, as the new labour minister.
Article content
Andrea Khanjin, who represents the riding of Barrie-Innisfil, is promoted to cabinet to serve as the new environment minister.
The other cabinet role Ford had to fill was minister of public and business service delivery, after Kaleed Rasheed resigned from cabinet and the Progressive Conservative caucus after news reports raised questions about his connections to a developer who benefited from the Greenbelt removals and a trip to Las Vegas.
Todd McCarthy is the new minister of public and business service delivery, after having been named associate transportation minister less than three weeks ago in another mini cabinet shuffle that was prompted by the resignation of Steve Clark as minister of municipal affairs and housing.
Vijay Thanigasalam, who represents Scarborough-Rouge Park, has been named the new associate transportation minister.
McNaughton said it had been the "honour of a lifetime" to be labour minister, but the time was right to leave. The departure, he said, was unrelated to "recent events."
"It is always difficult to know the right time to leave politics," he wrote in a statement. "After much soul searching over the summer months, I have accepted a job in the private sector."
Article content
McNaughton, who has been the provincial representative for Lambton-Kent-Middlesex in southwestern Ontario since 2011, said he would step down from his cabinet post immediately and resign his seat in the days ahead. He will not seek re-election.
Ford said he wished McNaughton the very best and thanked him for all of his work.
"He made this decision based on what is best for him and his family at this point in his life and career," Ford wrote in a statement.
"Whether tackling Ontario's generational labour shortage, connecting workers to better jobs with bigger paycheques, or breaking the stigma of skilled trades, Monte has been instrumental in our government's plan to put workers at the centre of Ontario's economy and unprecedented growth."
McNaughton's departure delivers a blow to Ford's cabinet bench strength. His work over the past four years as labour minister, particularly through his push to get more recognition and funding for the skilled trades, had the political benefit of garnering support from trade unions and some key figures in the labour movement who are not traditionally aligned with the Tories.
Article content
"Monte helped build a coalition of private-sector union support that has never existed in the history of the Ontario PC Party," Ford wrote.
"He introduced groundbreaking measures to protect workers' rights and ensure that more workers are in the driver's seat of their own careers."
McNaughton, who also served as infrastructure minister for a year before taking over the labour portfolio, suggested that his departure had nothing to do with the Ford government's Greenbelt scandal.
Still, the departure comes not long after the resignation of Steve Clark as municipal affairs and housing minister and Rasheed as minister of public and business service delivery, both Greenbelt-related.
The premier pledged Thursday to return lands to the protected Toronto-area Greenbelt after his government removed them late last year in order to build housing.
NDP Leader Marit Stiles said the losses pointed to a party in chaos.
"This is a government in complete and utter disarray, fractured after lurching from scandal to scandal," she wrote in a statement.
"Ford's Conservatives are now down three Cabinet ministers in just three weeks. Will there be any cabinet ministers left on Monday?"
Article content
Interim Liberal Leader John Fraser struck a more collegial tone.
"I've known Monte for all the years that I've been in this legislature and although there's a lot of times that we didn't agree, I always knew I could trust Monte," Fraser said at a media conference. "I'm going to miss him."
Liberal leadership candidate Ted Hsu echoed that sentiment, writing in a social media post that McNaughton was "a bright spot in the Ford government."
Known for striking cross-partisan friendships, McNaughton got his start at the legislature long before his election, serving as a legislative page in 1991.
He also ran for the party's leadership in 2015, though he ultimately backed out of the race and threw his support behind Patrick Brown. At the time he was opposed to then-premier Kathleen Wynne's changes to the sex-ed curriculum, championing a key cause for social conservatives, but has since publicly left those stances behind.