"It's important to remind people that Ukraine is the shield for the whole democratic world."
Article content
Eight months ago, 80-year-old Nina Polishchuk fled her home in Netishyn, Ukraine — a city of about 36,000 people some 300 kilometres west of Kyiv — and came to Ottawa, where her daughter has lived for 22 years.
Despite the 7,000 kilometres that Polishchuk travelled to reach the safety of Canada, her old home was very much on her mind on Friday as she stood on the sidewalk on Wellington Street in front of Parliament Hill, awaiting the arrival of Ukrainian President Volodymyr Zelenskyy.
Article content
Draped around Polishchuk's shoulders was a Ukrainian flag signed by soldiers at the front lines of that nation's war against Russia. One of them had included the message, "Kids are waiting at home for all of us."
All the soldiers whose names are on the flag, Polishchuk told me through an interpreter, are dead.
That should be enough to explain why Ukrainian Canadians and other supporters of Ukraine's defence of its country showed up on the Hill on Friday. Sure, some hoped they actually might see or meet Zelenskyy, which seemed wholly unlikely, given the tight security. But, as one supporter noted, he's among the few world leaders with the, ahem, cojones, to possibly make such an impromptu public appearance, and, besides, wasn't he much safer in Ottawa than in Kyiv?
This moment also stuck in my mind: Although Polishchuk doesn't speak English, when I asked the translator to thank her for me, I was told that she does understand "thank you" in English.
That expression, a simple thank you, was printed on signs waved by yellow-and-blue-decorated, "Slava Ukraini"-shouting supporters as MPs and others who were permitted in the House of Commons to hear Zalenskyy's speech first walked through the crowd to reach the Hill.
Article content
Of course, they weren't just saying thank you; the subtext of the message was, "Please don't forget about us. Please keep supporting Ukraine," an entreaty similar to the one that Zelenskyy was delivering inside.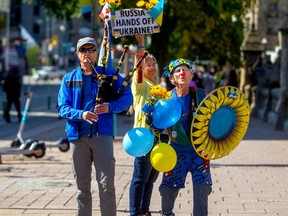 It's been a long war. Friday marked the 575th day since Russia invaded, and supporters recognize that many people, especially those in the West without ties to Ukraine, are worn out by it. But allowing the world to forget is not an option, said Olga Ialovenko, who left Cherkasy, 200 kilometres southeast of Kyiv, with her children in the early days of the war, eventually landing in Carleton Place.
"We're not just standing for a piece of land," she said, motioning to her Ukrainian flag. "We're standing for values. Those values are important for me, for my kids, and the world should protect them.
"It's important to remind people that Ukraine is the shield for the whole democratic world. So, if they are forgetting about that, it will have consequences for them."
Karen Niven-Wigston also well understands the importance of not abandoning the fight against Russia's aggression. The Sandy Hill resident has no family or direct connection with Ukraine, but is one of the demonstrators who show up outside the Russian embassy on Charlotte Street five days a week to make her voice heard. "I couldn't just stay home and not do something," she said. "I agree that many people have lost interest. It happens: compassion fatigue, which is why we go to the embassy every day. We have no expectation that we will change people's minds, but we are there to keep it in people's minds."
Article content
Keeping it front-and-centre, some among Friday's supporters told me, doesn't get any easier as the war that many thought would last just a handful of days stretches on. Ialovenko's parents, sister, sister's children and grandchildren, aunts, uncles, cousins and friends are still in Cherkasy, where Russia has bombed a market. She understandably worries for them every day.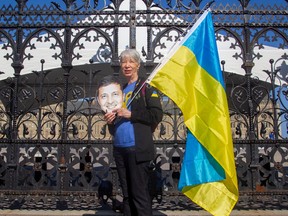 Another Canadian Ukrainian, Polina Petrova, who came to Canada seven years ago, says she thinks that even seeing pictures in the news elicits symptoms of PTSD. And yet they soldier on in what truly is a struggle for freedom. But, really, as Canadian-born Nadia Zelem put it, what other option is there? "Growing up," she said, "my (Ukrainian) father would tell us, 'Look, you have to speak Ukrainian because you don't know what's going to happen in the Soviet Union.'
"So here we are now. The ball is in our court, and Ukraine can't fail. It didn't fail under our parents' watch, and it's not going to fail under ours."
The kids, it turns out, are not all waiting at home.