Raleek Brown flashed the Heisman pose during his first college game. A year later, the dynamic sophomore wasn't even on the sideline during USC's second game of the season.
After limited playing time early in the season while switching from running back to receiver, Brown is "looking at the possibility of redshirting," coach Lincoln Riley said Tuesday after USC's practice.
"That's part of the world right now," the coach said. "I can still certainly foresee him being a big part of the team this year. You just never know week-to-week and you never know as years go on, different opportunities present themselves, so he's going to continue to work, we're going to continue to develop him like crazy."
Although he was not seen at last Saturday's game against Nevada, Brown was back on the field for practice Tuesday as the Trojans (2-0) prepared for their conference opener against Stanford on Saturday at the Coliseum. Brown, who had one catch for 14 yards against San José State, can appear in up to four games this season while maintaining his redshirt status.
The former Mater Dei star's role since shifting from running back to receiver has been a question this season, especially because he transitioned into a deep receiver room that welcomed four freshmen who have each already appeared in both games this season. Freshman Makai Lemon bumped Brown off of the depth chart as the final slot receiver entering last week's game against Nevada. Lemon caught three passes for 13 yards in the blowout.
Brown played in all 14 games as a freshman, rushing for 227 yards on 42 carries with three touchdowns, including a score in his college debut against Rice. He added 16 catches for 175 yards and three touchdowns in the receiving game.
"I still believe he's got an outstanding skill set that fits us in a lot of ways," Riley said. "You see guys make big changes and the transition for him was and is a big change. It's not always perfect in the beginning, and I think a chance to continue to improve and work on those skills and get better as a player, he's got to make the most of this time and then when opportunity presents itself, whether it's this year or next year, be as ready as he possibly can be."
Gino Quinones out for season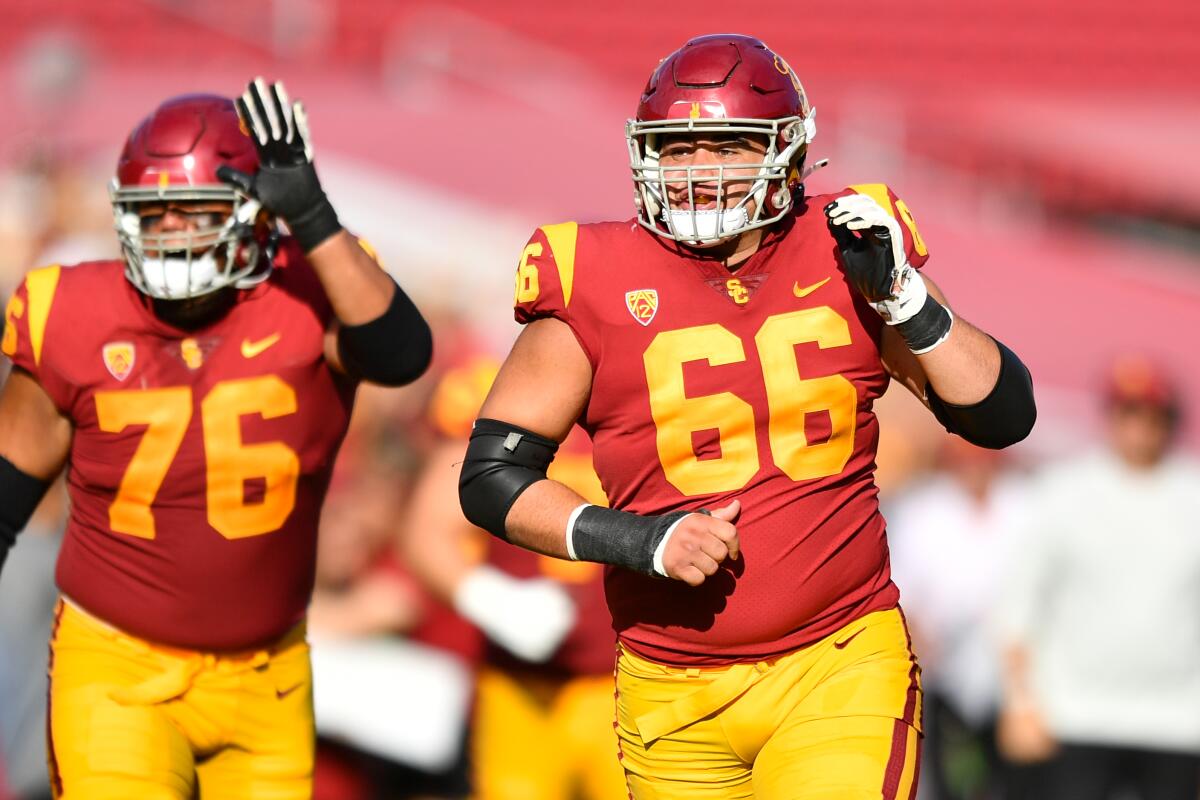 Offensive lineman Gino Quinones will miss the remainder of the season with a lower leg injury, Riley said Monday, after the redshirt senior was carted off the sideline during the first half of USC's win over Nevada.
Quinones started at left guard in the season opener and was rotating at the position with Wyoming transfer Emmanuel Pregnon against Nevada as the Trojans were working on solidifying their offensive line unit. Without Quinones, Pregnon, Jarrett Kingston — who played extensively at right guard last Saturday — and freshman Alani Noa remain in the battle for the starting guard positions.
"It hurts losing Gino," Riley said. "He was a really good player and a very valuable member. … I think it puts some more opportunities on the shoulders of Kingston and Pregnon and Alani, some of those guys inside that need to step up and go take it. We suspect that they will, but obviously yeah, it's one guy less than you'd like to have."