Canada can and should make the leap to being a truly digital government. But it will take more than a new minister and a change to the org chart. Enter Zelenskyy's Ukraine.
Article content
For digital government nerds in Canada, July 26 was a big day. The federal government appointed its first-ever minister of Citizens' Services, Terry Beech; and the Canadian Digital Service (CDS) — a 100-person, in-house software design, development and consulting team — was moved to the government's behemoth social services department, Employment and Social Development Canada (ESDC). It also houses Service Canada, the team you interact with to renew your passport, collect pension and old age benefits, and more.
Article content
The move finally puts CDS alongside the operators of the government's homepage, canada.ca — and, presumably, ensures that the team will be part of Beech's eventual portfolio.
Article content
Why? Because the government's service delivery woes have become a pronounced political liability. Early reporting on Beech's appointment tied his new job to frustrating delays for obtaining passports, mirroring recent complaints from NEXUS card seekers, employment insurance applicants, taxpayers trying to reach CRA, and veterans struggling to access disability benefits. Canada was once ranked a world leader in digital government, but it sank from third to 28th in 10 years as other countries embraced its strategic importance and prioritized progress.
But Canada can, and should, make the leap to being a truly digital government. And it can look to its ally Ukraine, another democracy nearly identical in population, as a guide.
Ukraine's success in this space has been singular and striking. Ukraine launched its "state in a smartphone app," Diia (in English, "action"), in September 2019. It now provides more than 100 services to Ukrainians: it's their passport, their driver's licence, the place where they apply for and renew permits, pay taxes, receive government benefits, prove eligibility for local government programs, get notifications about the war — even vote for who should represent Ukraine at Eurovision. Adding the construction permit application process into the app flattened a pervasive form of corruption.
Article content
Less than four years later, it is on 70 per cent of Ukrainians' smartphones, and it's fair to say that the app has radically changed how Ukrainians interact with their government.
It would be easy to dismiss Ukraine's example as inapposite in Canada — Ukrainians are at war, it's a different kind of country, it's a unitary government with none of the complications of federation. (Exceptionalism is a reliable refrain in the public service.) But Diia's success has nothing to do with any of that.
Diia's success is rooted in a bold leadership choice and political commitment the Zelenskyy government manifested when it took power in 2019. It created a new Ministry of Digital Transformation (MDT) from scratch, led by a minister with experience in the software world, with an audacious mandate to digitize all government services. And — just as crucially — it placed chief digital transformation officers in every other ministry, accountable to the MDT, and ensured that it could draw all those ministries' services into its central project. All of this made it possible for the MDT to create a single, curated, consistent, high-quality citizen experience that other countries are now learning from and seeking to emulate.
Article content
Canada missed an opportunity to fast-follow another successful example a decade ago. In 2011, the U.K. government gave its brand new Government Digital Service a chance to start over with a new gov.uk; the site it built earned the government's trust, and the team was rewarded with the money and authorities needed to take its product and practices to government-wide scale, including control over government domain names.
But Canada's government took a meeker route: in 2012 it signed a low-cost contract for an off-the-shelf website system, but made none of the organizational and policy changes that spurred the U.K.'s success. It didn't work, and the project was scuttled in 2017.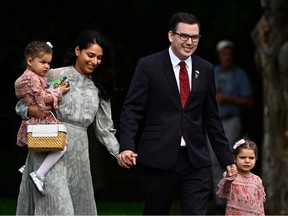 It can be different this time. Moving the Canadian Digital Service to, or alongside, Service Canada isn't enough, but it's a good start. In CDS, Canada has a strong core on which to build. That team's track record for delivering quality, scalable user experiences is well-documented. Its GC Notify service recently sent its 100 millionth message, saving the government both money and countless hours of public servants' time that would otherwise have been wasted on procuring and configuring various vendors' messaging services at higher prices.
Article content
But CDS needs more than a change of scenery, and Terry Beech needs more than a new ministry.
First, they need the car keys. As Policy Options' Kathryn May has noted, "Service delivery has long been the poor cousin to policy" in the government of Canada: an afterthought for policymakers, until it fails them. Ukraine's blueprint — an empowered owner of the citizen's whole government experience, with meaningful reach in every department — would be an excellent start.
Second, they need to not be buried in a pile of other priorities. Canada.ca has never seen the strategic investment due its position as the cornerstone of the future of government services. This underinvestment seems like the natural result of it being the smallest and least influential branch of Service Canada, itself the operational "poor cousin" of the sprawling ESDC family. Contrast again with Ukraine, where the government elevated transformation organizationally, even before the pandemic and a war made it so essential to daily life for so many.
Third, policies such as the government's Digital Standards, which promote better citizen services but have no teeth, need first-class status. The government's decision-making tables include those who represent various legal and political authorities, but there is no Lorax to speak for the citizen service trees at most of those tables: Service Canada (to say nothing of CDS) has no seat at many of the highest tables. And the same is largely true down through the clay layers. The results are apparent.
Article content
If these seem like nerdy weeds, they are. But neglecting those nerdy weeds is how we got here.
If President Volodymyr Zelenskyy were to advise Terry Beach, he'd probably urge the minister to be a relentless Lorax for users' needs. By focusing on how government meets those needs, Canada can serve its people with respect, and earn their trust.
Aaron Snow is a Fellow at the Beeck Center for Social Impact and Innovation at Georgetown University, where he divides his time between the Digital Service Network and the Intergovernmental Software Collaborative.
Artificial intelligence becoming more commonly used in public service; feds update rules

Frustration grows over long waits at Ottawa passport office
Our website is your destination for up-to-the-minute news and smart commentary. Please bookmark ottawacitizen.com and sign up for our newsletters so we can keep you informed.