On a recent trip to New York, teenagers Finn Does and Natalie Heller stood on a corner of Broadway not far from theaters and museums that draw millions to Manhattan. But the 18-year-olds from the San Francisco Bay Area were not there to take in a show. They joined tens of thousands of people voicing their alarm about climate change in Sunday's March to End Fossil Fuels, one of the largest climate change demonstrations in the country in years.
Does said the summer's climate-driven disasters created a new level of urgency and added to their anxiety about what lies ahead.
"I have a lot of concern about my future and, like, do I want to raise children in a climate crisis?" they told Newsweek.
Does said media portrayals of climate change that emphasize disaster and doom are "polarizing and paralyzing," and too often ignore what people are doing about it.
Heller held a sign that read, "When leaders act like kids the kids become the leaders."
Heller and Does both talked about the anxiety they feel about climate change and the gap between national climate policies and the action that scientists say is necessary.
"Climate burnout comes from doing so much and not seeing any payoff, and the Earth is continuing to decline," Heller said. "So that's why we have to be here."
Youth activism around climate change surged a few years ago with the surprise success of Greta Thunberg's climate strike and her fiery speeches challenging older generations to act.
A new survey shows that the kind of frustration Thunberg, Does and Heller have all expressed is broadly felt by youth around the world. Some researchers are even calling the eco-anxiety among young people a mental health threat.
UNICEF USA, a nonprofit that supports the U.N. agency charged with protecting the rights of children, surveyed more than 3,300 young people in 15 countries on four continents in April and May. More than half of those surveyed reported feeling eco-anxiety, with more than one in three young people reporting high levels of anxiety about climate change.
More than half of those surveyed said they frequently see the effects of climate change in their local communities, such as extreme heat, drought and dramatic changes in rainfall. And about 40 percent (43 percent globally; 37 percent in the U.S.) said "managing the impact of climate change on my mental health" is part of their daily routine.
"It's a mental health issue for young people," UNICEF USA President and CEO Michael Nyenhuis told Newsweek just after hosting a panel discussion at a Tuesday event during Climate Week, a showcase which brings advocates, policy makers and scientists from around the world to New York City.
The survey adds to a small but growing body of research on how young people perceive and respond to the direct impacts and media coverage of climate change. A 2021 survey by researchers at the University of Bath in the United Kingdom found that nearly half of the youth surveyed in 10 countries said that climate anxiety and distress affected their daily lives and functioning.
Nyenhuis said the new UNICEF USA survey adds important context about youth attitudes on climate change and suggests ways to help young people turn their anxiety into action. He said many respondents indicated they wanted to do something about climate change but "they just didn't know what." Only 16 percent of those surveyed said they consider themselves eco-activists.
"We think if we could lift up as models what those 16 percent are doing, we could get a whole bunch of other young people who are going to jump in," Nyenhuis said. He said the survey also showed strong interest among global youth in green jobs, and UNICEF is working on programs to encourage green job training for young people.
Madina Kimaro is a UNICEF advocate from Tanzania who visited New York for Climate Week, where she talked about how young people in her country are taking action.
Kimaro, a 19-year-old business student, is working to build climate resilience and to help people near where she lives make a transition from using charcoal and wood for their heating and cooking. She also visits schools to talk to children about climate change, and said she wants young people to have a greater voice in national and international decision-making on climate policies.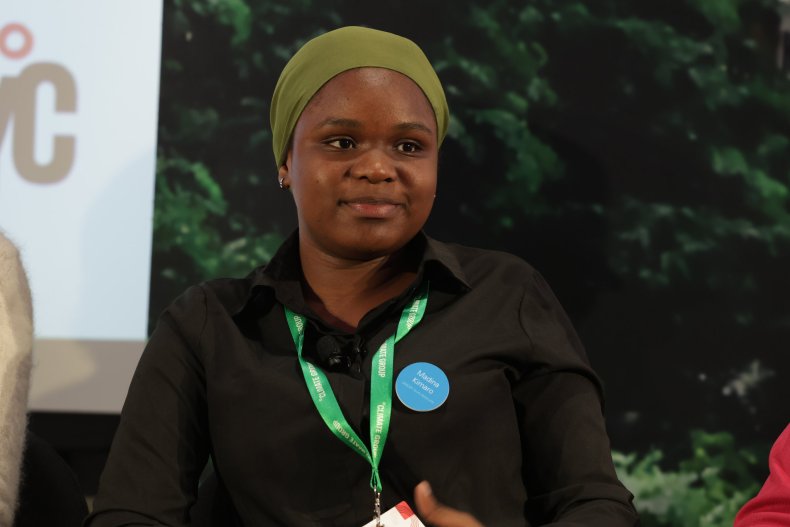 "I do feel hope sometimes when I see youth engaged," she said, "but I feel anxious because youth are not being involved in climate negotiations, we are not meaningfully engaged."
U.S. environmental activist Jerome Foster II told an audience at a Climate Week event that young people should use their purchasing power for climate action. At 21 years old, Foster became one of the youngest presidential advisers when he was appointed to the White House Environmental Justice Advisory Council in 2021.
Foster said companies need to decide whether to be "part of the change or a part of the past," and young consumers should make climate change part of buying decisions.
"Are they in line with my morals? If not, then we won't buy from them," he said.
Whatever options young people choose when they respond to climate change—whether demonstrating, working green jobs or purchasing with a purpose—Kimaro said the key is action.
"I would urge my fellow youth, my fellow activists, to keep on doing more," she said, "to give them eco-hope."