On Thursday, Rick Watkins, who previously went by the name of Rick Despatie, was found guilty of four counts each of sexual assault and sexual interference, two counts of criminal harassment and one count of sexual exploitation.
Article content
Two and a half years after disgraced and now-convicted former Ottawa Catholic School Board teacher Rick Despatie (also known as Rick Watkins) was charged with sexually assaulting students, the board's internal human resources review of how it handled parents' complaints about him remains under wraps.
"We cannot release the results of an HR investigation to the public," board spokesperson Sharlene Hunter said in an email. "The board is currently waiting for the OSBIE investigation to conclude, and we will use that report to review recommendations and determine our next steps."
Article content
OSBIE, the Ontario School Board Insurance Exchange, is a non-profit insurer of the province's school boards. According to its website, "the primary goals of the Exchange are to insure member school boards against losses and to promote safe school practices."
Known as Rick Despatie at the time of his offences, he legally changed his name to Watkins shortly before his arrest. Both names were used during his trial. On Thursday, he was found guilty of four counts each of sexual assault and sexual interference, two counts of criminal harassment and one count of sexual exploitation.
The now 60-year-old is a former math teacher and girls basketball coach at St. Matthew Catholic High School in Orléans. His victims, who were all between the ages of 11 and 13 and struggling with mathematics, said he touched them inappropriately in the classroom. Nine other charges were dismissed because the judge questioned the reliability of one complainant.
At the time of his arrest, OCSB Director of Education Thomas d'Amico acknowledged that other parents and students had said they complained about Despatie/Watkins previously, but nothing was done.
Article content
"We heard from some former students and parents that allegations had been brought forward to the previous school administration, yet they did not act on these concerns," D'Amico said in an email sent to the school community in April 2021. "Our Human Resource department staff has begun a review to determine if we failed to address these concerns."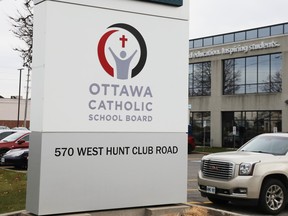 In his email, D'Amico also apologized "to any former students who have experienced harm by someone in a position of trust. No student in our care should be subjected to any type of harm, especially when attending their own school, where so many staff work hard to create a safe and caring environment."
At the trial, former St. Matthew vice-principal John Purificati testified he had never received any complaints about inappropriate touching by Watkins/Despatie.
On Friday, Hunter said many of the administrators who worked with Watkins/Despatie at the time of the assaults had since retired.
"The board has already put in place procedures to ensure that the HR department is also aware of any concerns that are raised in schools. This practice was not in place at the time that this teacher was employed with the board," she wrote.
Article content
"The majority of administrators who worked with this teacher during his employment at St. Matthew have since retired. Now that the trial has concluded, our HR staff can follow up and interview any currently employed administrator to review the past processes that were in place at the school and to confirm that the new procedures are being followed."
Watkins/Despatie is listed as "inactive/non-practising" as of May 21, 2021 on the Ontario College of Teachers website. His profile lists the criminal proceedings against him, but as of Friday had not been updated with news of his conviction.
A request for comment Friday from OSBIE was not immediately returned.
Our website is your destination for up-to-the-minute news, so make sure to bookmark our homepage and sign up for our newsletters so we can keep you informed.
Former math teacher, coach found guilty of sexual assuault

School board investigating after parents, students say complaints weren't acted upon