The Chosen has become the latest target of boycott calls from a faction of conservatives after an LGBTQ+ Pride flag was spotted on the Christian historical drama's set.
Distributed internationally by Lionsgate Television, The Chosen is the first multi-series show that traces the life, death and resurrection of Jesus of Nazareth. Some $45 million—mostly through crowdfunding—was spent on the first two seasons of the production. A third season premiered in December and concluded in February.
While The Chosen has garnered largely positive reviews, it is now facing criticism and boycott calls for the presence of an LGBTQ+ Pride flag that was spotted in behind-the-scenes footage of the show's upcoming fourth season.
In recent months, the number of large U.S. brands being targeted with boycott calls has grown dramatically, as a host of different companies unveil products supporting Pride Month, which takes place every June. Companies supporting the LGBTQ+ community outside of Pride Month have also faced backlash from conservatives.
Bud Light was initially targeted in April for a small branded partnership it did with transgender influencer Dylan Mulvaney. Retailer Target has also been the subject of calls for boycotts and has said it received bomb threats after introducing its 2023 line of Pride month merchandise.
Despite such inclusive marketing and branding initiatives being commonplace among corporations for years, many have become engulfed in controversy in recent months. Some experts have pinned the blame on a small number of influential far-right figures orchestrating a plan to make support for LGBTQ+ communities toxic for major companies.
Taking to Twitter, conservative sports host Jon Root shared screenshots of the LGBTQ+ Pride flag on the set of The Chosen.
"Christians, just like we boycotted Target & Bud Light, we need to boycott @thechosentv," Root captioned the post. "The promotion of the Pride Flag is never acceptable in church or any form of ministry. While you boycott & encourage friends/family to do the same, please pray for [creator, director, writer and executive producer] Dallas Jenkins, the actors/actresses, production crew and everyone at Angel Studios so they may understand the error of their ways."
Root also tagged The Chosen's Twitter account, writing: "Hey @thechosentv, Can you explain why there's a Pride flag on set?"
Responding, a representative of the show tweeted: "Just like with our hundreds of cast and crew who have different beliefs (or no belief at all) than we do, we will work with anyone on our show who helps us portray or honor the authentic Jesus."
"We ask that audiences let the show speak for itself and focus on the message, not the messenger, because we'll always let you down," the statement continued.
Newsweek has asked Lionsgate for comment by email.
Conservative rapper Bryson Gray, famed for his anti-Joe Biden track "Let's Go Brandon," shared a screenshot of Root's exchange with The Chosen's account.
"I never watched The Chosen and after this exchange, I never will," the musician stated.
Joining the discussion, Five Times August singer/songwriter Brad Skistimas tweeted that there was "absolutely zero reason to have the flag out on display on set regardless of anyone's personal beliefs."
"Time to BOYCOTT The Chosen with 'Bud-Lightening!!'" wrote one Twitter user, while another said: "The authentic Jesus would be against the PRIDE flag and the sins it represents!"
"Bad look," complained another. "Don't promote sin. It ruins the witness and confuses the world who is watching us. Have you not been paying attention to how Christian Conservatives are reacting to the forced LGBTQ stuff?"
A number of other Twitter users spoke out against the uproar, including Christians who spoke about the show's wide appeal.
"We are called to bring people to the presence of Christ for transformation," said one. "We are all fallen sinners and only Jesus can transform one's life from that of sin to that of repentance. This show is welcoming all people, it is not theirs to judge.
"By connecting Christians with unbelievers they are doing what they are called to do. You casting judgement on the show because you don't like seeing them including all people is your personal belief system masquerading as 'what the Bible says.' Step out from behind your tribal knowledge and lean into the Truth."
Another Twitter user called the social media backlash "lame," adding: "Jesus not only said come as you are but went to the sinners in their sin. He loved them all the way to forgiveness."
"They aren't promoting anything," another Twitter user weighed in, in answer to accusations that the show was doing such via the flag. "Their crew members are employees who are free to wear or display what they wish within the bounds of the law."
"It's a TV show, not Jesus," countered another. "If you're worried about accuracy, maybe focus on the fact that Jesus was Middle Eastern, not white? Jesus loves everyone (including the LGBTQ community) & certainly wouldn't troll around Twitter looking for symbols that make him uncomfortable."
Directly addressing Root's boycott call, another stated: "You know it breaks my heart that you've chosen to attempt to destroy this program @thechosentv that is responsible for bringing millions back to Christ. [In my opinion] leave judgement to Christ our Lord and Savior least you be judged in the manner that you judge."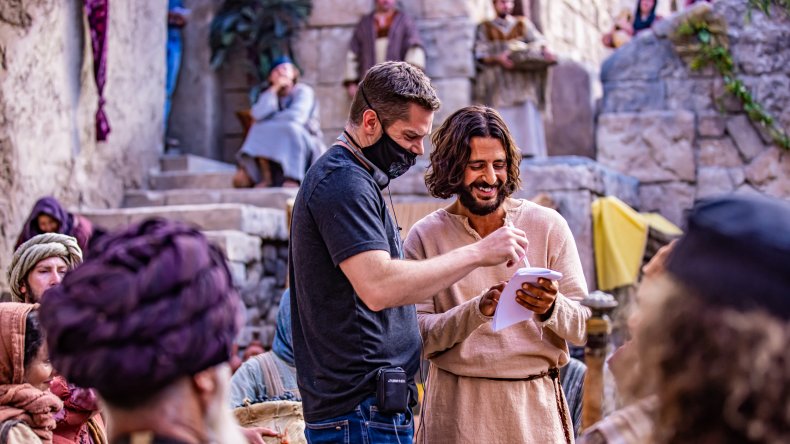 The Chosen showrunner Dallas Jenkins previously told Newsweek about the show's diversity and inclusion in other areas.
Lead actor, Jonathan Roumie, has Egyptian-Irish parentage and family roots in Syria. His followers include a mix of ethnicities: Tamar, an Ethiopian woman (Amber Shana Williams); the quasi-autistic disciple Matthew, played by Paras Patel, a South Asian, and Israeli-born actor Shahar Isaac, who plays the disciple Peter.
Regarding the cast, "We tried to run the gamut because that is authentic," Jenkins said. "Our story is that Jesus came for everyone."