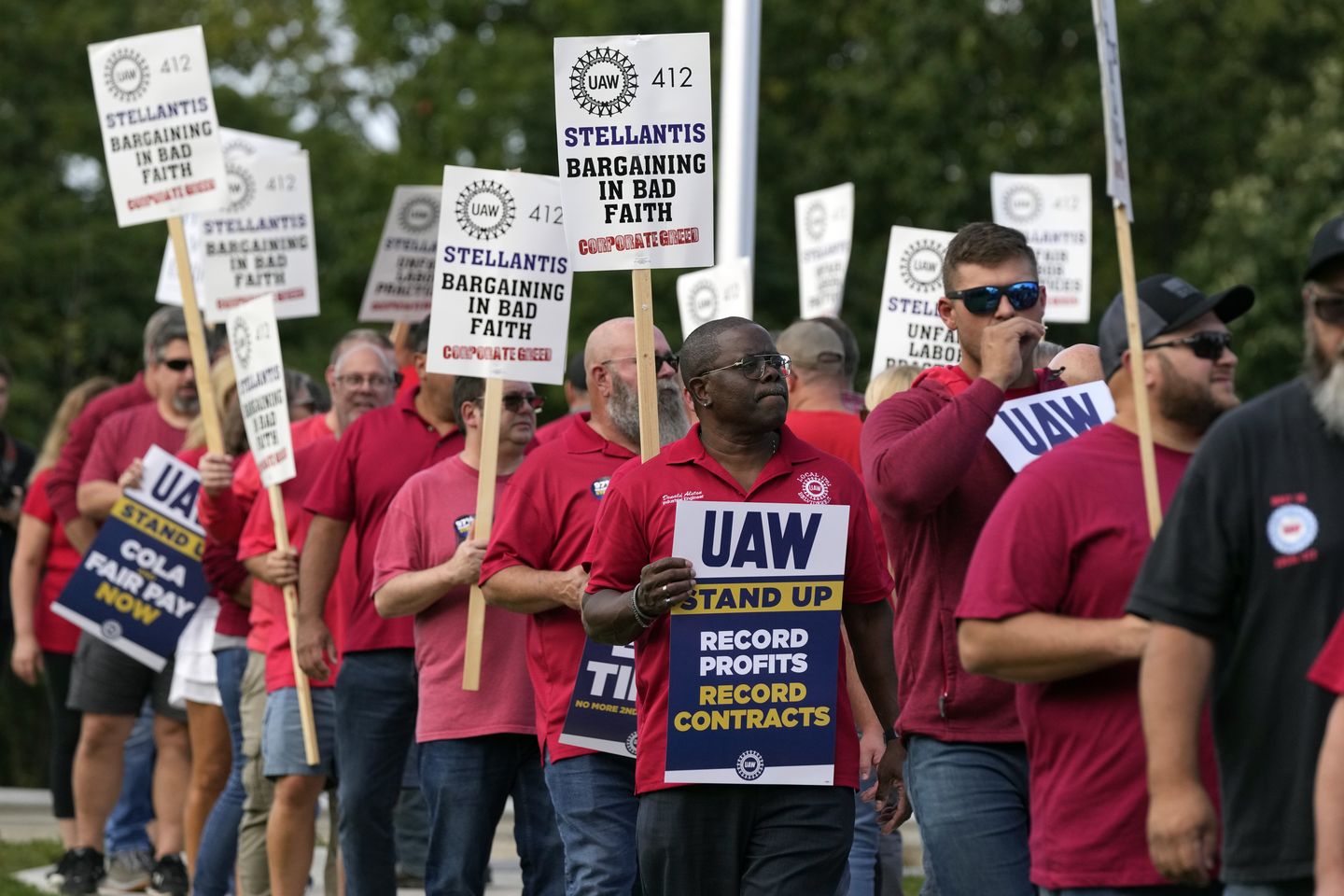 The United Auto Workers union has expanded its strike against the big three automakers, with members walking off the job at 38 parts distribution centers across 20 states, targeting Stellantis and General Motors.
However, UAW President Shawn Fain said the escalated strike will not expand to Ford, saying the automaker is "serious about reaching a deal."
GM and Stellantis remain far apart on a deal, Mr. Fain said in a video message Friday.
---
---
"At noon Eastern today, all parts distribution centers at General Motors and Stellantis will be on strike," he said. "We will shut down parts distribution until those two companies come to their senses and come to the table with a serious offer."
Stellantis is an Italian–American conglomerate that owns Fiat, Chrysler, Dodge, RAM, Jeep, Peugeot, Citroen and Alfa Romeo.
Friday's strike expansion could hurt dealerships' ability to make repairs, the most profitable part of their business.
Over 5,600 UAW members work at the new strike targets announced Friday, bringing the number walking the picket line to 18,300 — a fraction of the union's 150,000 workers.
By sparing Ford from the ramped-up strike, the UAW raises hope that negotiators are making progress.
"Ford is working diligently with the UAW to reach a deal that rewards our workforce and enables Ford to invest in a vibrant and growing future," Ford said in a statement Friday. "Although we are making progress in some areas, we still have significant gaps to close on the key economic issues. In the end, the issues are interconnected and must work within an overall agreement that supports our mutual success."
Mr. Fain's union wants wage increases of 36% over four years, a 32-hour workweek with overtime for additional hours, restoration of retiree health benefits, profit sharing, the restoration of defined-benefit pensions for all workers and cost of living adjustments. He says workers deserve a bigger share of automakers' record profits.
The three carmakers have raised their wage offers to 17.5% to 20%, along with large one-time payments and more time off. But they've bristled at a 32-hour workweek and restoration of retirement benefits for new workers, which was cut when the automakers neared insolvency in 2007, saying it would make them less competitive with nonunion companies.
Mr. Fain invited President Biden to join his workers on the picket line. Mr. Biden dispatched acting Labor Secretary Julie Su and White House senior adviser Gene Sperling to Detroit to support both parties in reaching an agreement.
The president himself offered tepid support for striking workers. That has drawn some complaints from UAW officials.