Russian losses reportedly "significantly increased" as the Ukrainian counteroffensive found success in the Zaporizhzhia region, according to the Institute for the Study of War (ISW).
A report published by ISW on Tuesday highlights the claims of Ukrainian military spokesperson Oleksandr Shtupun, who said that the Russian military had lost 313 troops on Monday in western Zaporizhzhia, a significant increase from the approximately 200 troops lost on each of the previous two days. Newsweek has not independently verified losses on either side of the conflict.
ISW suggested that the losses may be due to Russia's use of "Storm-Z" units, which consist of former prisoners. The U.S.-based think tank, which has previously argued that the units are a liability for Moscow "due to poor morale and discipline," said that the prisoners-turned-soldiers would provide only "marginal combat power" in Zaporizhzhia.
"Russian losses have reportedly significantly increased in western Zaporizhzhia Oblast in recent days, and the Russian military likely struggles with a lack of available combat-effective units that the Russian command is willing to laterally redeploy to this sector of the front," the ISW report states.
"'Storm-Z' detachments are often combat ineffective and will likely provide the Russian defense in western Zaporizhzhia Oblast with marginal combat power," it continues.
An updated war map included in the ISW report shows the claimed Ukrainian advances on Russian-occupied territory in Zaporizhzhia. ISW said that Ukraine conducted successful offensives in western Zaporizhzhia on Monday and Tuesday.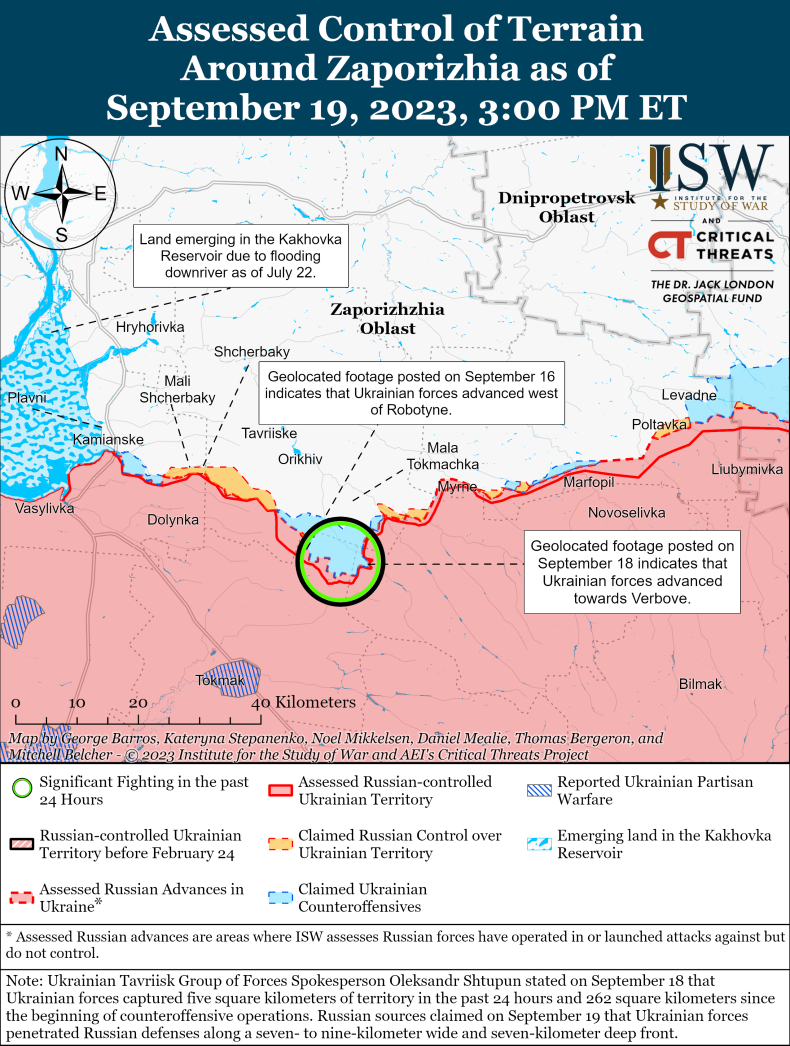 Geolocated footage published on Monday purportedly shows Ukrainian advances west of the settlement of Verbove, while an attempted Russian advance in western Zaporizhzhia was thwarted by Ukraine on Tuesday.
In addition to gaining ground in Zaporizhzhia, ISW also reported on Tuesday that Ukraine successfully "advanced along the Kupyansk-Svatove-Kreminna line."
Newsweek reached out for comment to the Russian Ministry of Defense via email on Tuesday night.
The General Staff of the Armed Forces of Ukraine said in a Facebook post on Tuesday that the military "successfully repelled an enemy attack in the vicinity of Robotyne," while adding that Russian forces had "fired artillery and mortars" at over 25 settlements in the region.
The Russian military was also accused of violating "international humanitarian law by forcibly living with civilians in their homes" by the General Staff, with "large numbers" of occupying troops in the Zaporizhzhia settlement of Tokmak allegedly being "housed with elderly civilians in their homes" and "looting the apartments and houses of Ukrainian citizens."
ISW maps published on Monday showed Ukraine's claimed advances in Zaporizhzhia and near the Donetsk region settlement of Bakhmut, where former Ukrainian Deputy Defense Minister Hanna Maliar claimed that 5.1 square kilometers of territory had been retaken over the past week.
The think tank said that Ukraine continued its counteroffensive near Bakhmut on Tuesday "but did not make any confirmed advances," despite "inflicting significant manpower and equipment losses on Russian forces."