Ukraine's counteroffensive in occupied Zaporizhzhia appears to be finding success and widening a breach of Russia's formidable "Surovikin line," according to the Institute for the Study of War (ISW).
A report published Thursday by ISW, a U.S.-based think tank, cites geolocated footage showing that Ukrainian armored vehicles were operating beyond the "tri-layered defense" line and were engaging "in limited combat" west of the settlement of Verbove. The think tank cautioned that it was "unclear if Ukrainian forces retain these positions."
The Surovikin line—named for Sergei Surovikin, the former commander-in-chief of the Russian Aerospace Forces also known as "General Armageddon"—is an 81-mile trench system that passes just outside of Verbove and consists of a series of obstacles that include landmines.
ISW said that Ukrainian forces breached the line by pushing through "Russian anti-tank ditches and dragon's teeth obstacles," becoming "the first observed instance of Ukrainian forces operating armored vehicles beyond the Russian tri-layer defense."
"The Ukrainian ability to bring armored vehicles to and through the most formidable Russian defenses intended to stop them and to operate these vehicles near prepared Russian defensive positions are important signs of progress in the Ukrainian counteroffensive," ISW's report states.
"Russian forces currently defending in western Zaporizhzhia Oblast have been unable to prevent Ukrainian forces from making gradual but steady advances since mid-August," it continues.
Maps included in the ISW report show the claimed Ukrainian advances, while nothing that Russian claims and geolocated footage indicate that "Russian forces repelled Ukrainian forces" attempting an offensive toward Verbove.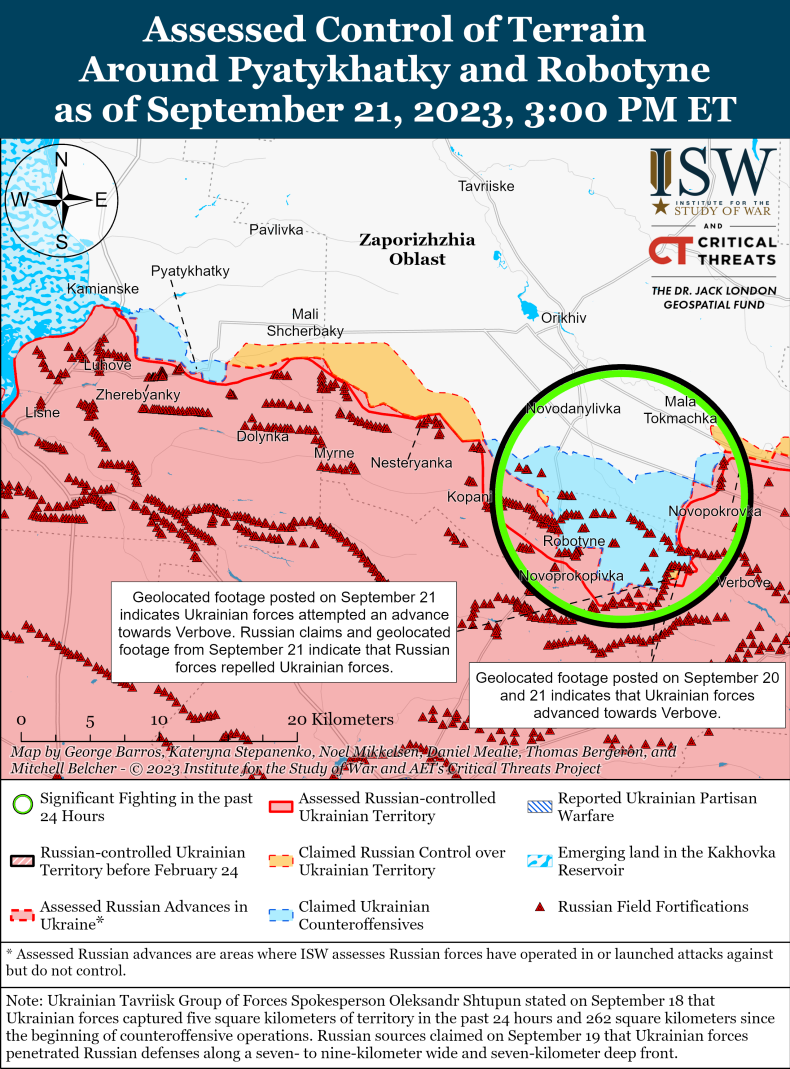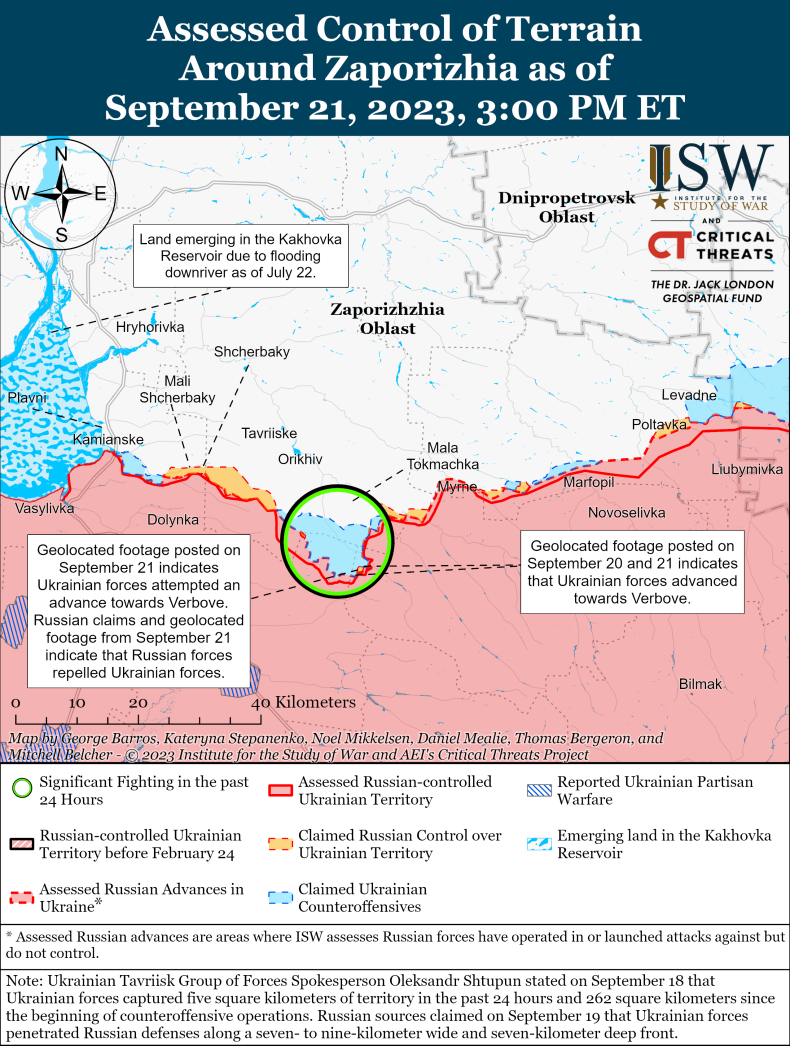 Newsweek reached out for comment to the Russian Ministry of Defense via email on Thursday night.
The ISW report also cites a Ukrainian soldier purportedly telling The Wall Street Journal that "poor quality" Russian troops are defending front-line trenches in the area but "stronger" troops emerge when the defense line is breached.
The think tank said that the solder's comments were "consistent" with its assessment that "elite" Russian troops were "the primary counterattack elements" in western Zaporizhzhia.
Ukraine also reportedly breached the Surovikin line earlier this month, although no armored vehicles were observed operating beyond the line at the time.
Earlier this week, ISW said that Russian losses had "significantly increased" as the Ukrainian counteroffensive found success in the Zaporizhzhia region, suggesting the rise in casualties could be due to Moscow's reliance on ill-equipped "Storm-Z" units, which consist of former prisoners.
Ukrainian President Volodymyr Zelensky visited Washington, D.C., on Thursday to meet with President Joe Biden and members of Congress, making the case for more U.S. military aid to bolster Ukraine's chances of fending off Russia's invasion, which began nearly 19 months ago.
Biden announced an additional $325 million in aid to Ukraine on the same day, although a far larger request for $24 billion is being held up in Congress due to Republican infighting that is threatening to trigger a government shutdown.