Ukraine's counteroffensive is gaining territory in Zaporizhzhia and near Bakhmut, according to maps from the Institute for the Study of War (ISW).
The U.S.-based think tank said in a report on Thursday that geolocated footage had shown Kyiv's forces making "further advances" northwest of Verbove, a village in the western Zaporizhzhia region.
The village is just to the east of Robotyne, which was recently recaptured by Ukraine in one of the biggest successes of the four-month counteroffensive.
Geolocated footage also reportedly indicated that "marginal gains" had been made northwest of Klishchiivka, a settlement to the southwest of Bakhmut in the Donetsk region.
Bakhmut was captured by Russian forces in May following an extended and bloody battle. Its recapture is one of the goals of the current counteroffensive.
Detailed maps of claimed Ukrainian advances in each region were released as part of ISW's report on Thursday. Newsweek has not independently verified the accuracy of the maps.
In Donetsk, ISW's map shows that the Ukrainian military appears to be making gains to the north and south of Bakhmut.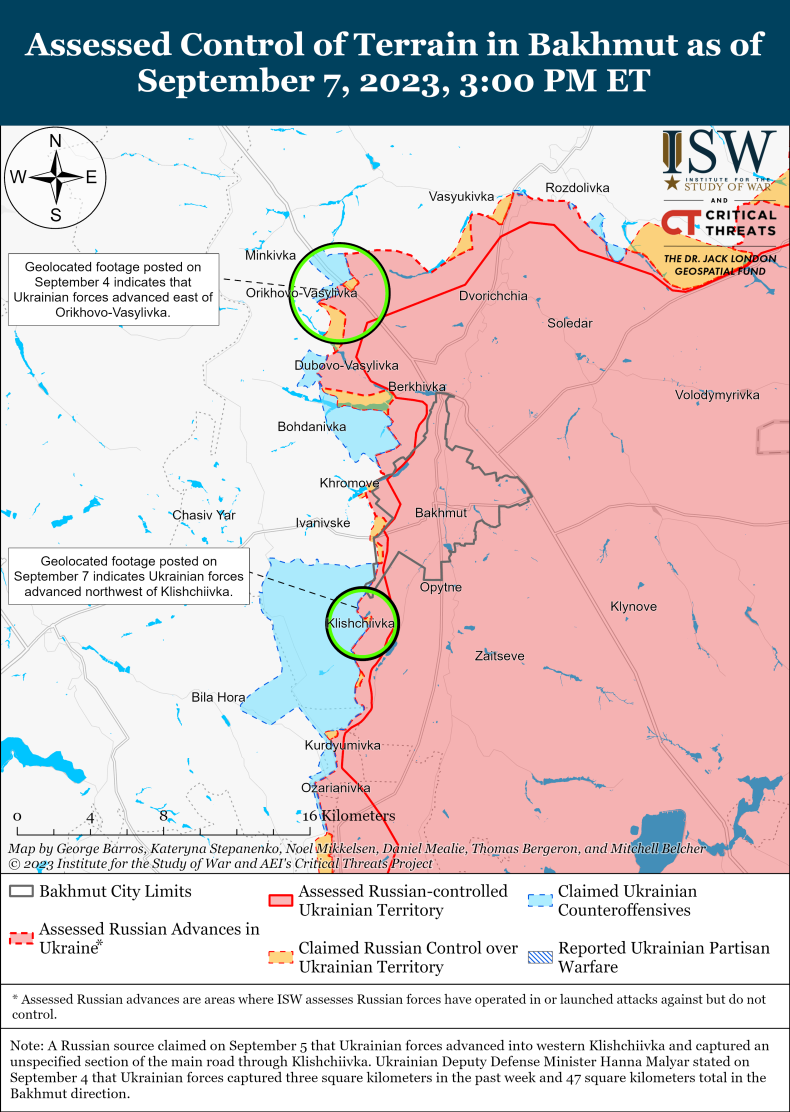 In Zaporizhzhia, the map indicates that success near Robotyne is accompanied by gains south of the village of Pyatykhatky.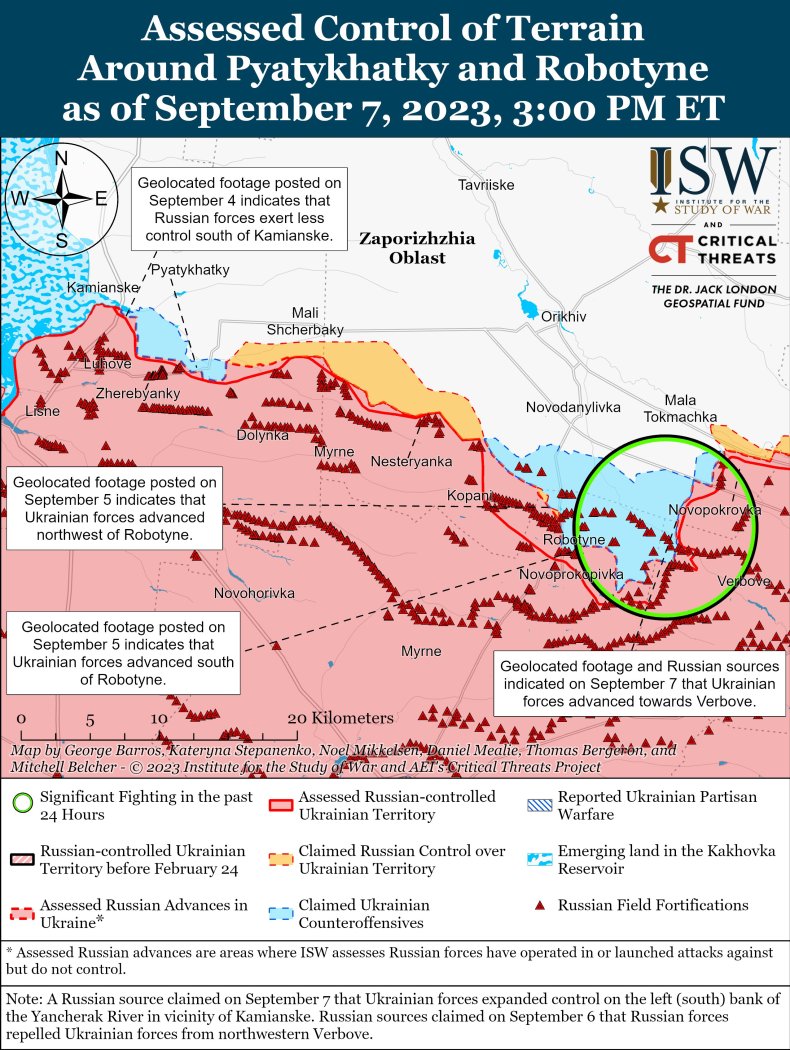 Newsweek reached out for comment to the Russian Ministry of Defense via email on Thursday night.
The General Staff of the Armed Forces of Ukraine claimed earlier on Thursday that Russia had lost 610 soldiers, 37 artillery systems and 21 armored personnel vehicles in a single day.
The General Staff also said its forces had "succeeded" south of Robotyne and to the west of Verbove, with a "partial success" near Bakhmut.
A pro-Russian official in Zaporizhzhia said that Moscow's military had "tactically abandoned" Robotyne in an appearance on state-run television earlier this week.
Ukraine's Deputy Defense Minister Hanna Maliar boasted on Monday that Russian forces were "on the defensive in the Zaporizhzhia and Kherson directions" while advances were being made near Bakhmut.
Maliar claimed that Ukraine had liberated around 1.15 square miles in Zaporizhzhia over the past week, and a total of 18 square miles in the area since the beginning of the counteroffensive.
Trent Maul, director of the U.S. Defense Intelligence Agency, said on Wednesday that there was a "realistic possibility" of the counteroffensive breaking through all Russian defense lines in southern Ukraine by the end of the year.
Maul told The Economist that Ukraine's assault on the second of three Russian defense lines was "actually pretty considerable." He cautioned that a complete breakthrough could be "very difficult" due to weather concerns and ammunition shortages, despite Ukraine's recent success being "significant."