Around 6:30 p.m. on Thursday, the crowd of about 200 inside the Rotunda of the National Archives was getting restless.
Made up of leaders of the local Washington and national Ukrainian communities, at least one Cabinet member in Attorney General Merrick Garland, and a slew of members of Congress, they had arrived to hear Ukrainian President Volodymyr Zelenskyy speak. Some had been waiting for hours for the scheduled 5:30 p.m. speech.
But when Zelenskyy and his wife, Olena Zelenska, walked out to the podium 10 minutes later, the mood switched instantly as the crowd gave them a long, raucous standing ovation.
Zelenskyy's remarks, made in front of the vault that holds the U.S. Constitution, the Declaration of Independence and the Bill of Rights, included some inspirational talk, but mainly centered on gratitude for what the United States government and its people had done already.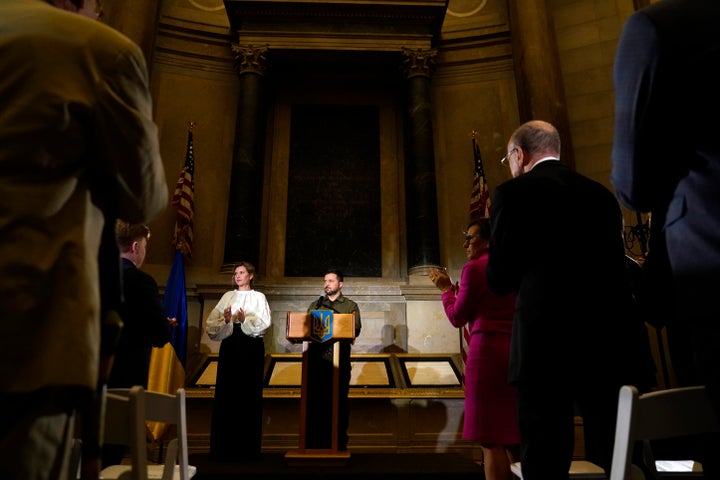 It was a far cry from Zelenskyy's appearance at the U.S. Capitol in December, a visit that had been steeped in secrecy for security reasons, and during which he made a dramatic appeal to a joint meeting of Congress in prime time.
On that visit, he not only traded national flags with then-House Speaker Nancy Pelosi (D-Calif.) and had a joint news conference with President Joe Biden, but he came away with Biden's promise to give a Patriot air defense battery to Ukraine, which has become a key element in repelling Russian cruise missile and drone strikes.
Faced with a more complicated political situation this time, Zelenskyy's visit was telegraphed a week in advance, and the message appeared to be "thank you," with the "but we still need more" simply left implied.
"There is not a single soul here today who would not care what happens to freedom. And there is not a soul in Ukraine that does not feel gratitude to you, America, to you, the people who help us, not because you have to but because your heart cannot let you do otherwise," Zelenskyy said.

"That is humanity. This is what makes us Ukraine. That is what makes you America."
"There is not a single soul here today who would not care what happens to freedom. And there is not a soul in Ukraine that does not feel gratitude to you, America, to you, the people who help us, not because you have to but because your heart cannot let you do otherwise."

– Ukrainian President Volodymyr Zelenskyy
Ukraine's advocates had hoped Zelenskyy's visit would push another aid package over the finish line as part of a stopgap government funding bill to avoid a shutdown. But the House's continued struggles to pass any kind of spending bill has kept much of Washington's focus off Ukraine.

Biden is asking for about $20 billion more in military, economic and humanitarian aid to Ukraine, on top of about $77 billion the U.S. has already committed. While Republican presidential candidates Donald Trump and Ron DeSantis have said America should pause aid until Europe ponies up more, a European think tank aid tracker shows that European countries have actually committed about 132 billion euros ($140 billion), almost twice as much as the U.S., through July.

On the battlefield, Ukraine is having success, but at a much slower pace than hoped. While the summer counteroffensive didn't produce the dramatic breakthroughs that had been envisioned, Ukraine has recently taken some key villages that could be strategically useful in severing the Russian-held swath of territory linking Russia and the Crimean Peninsula.

And on Thursday, the Institute for the Study of War, a nonpartisan think tank originally founded in 2007 to advocate for the military surge in Iraq, said there was visual proof that Ukrainians had at least temporarily breached the dug-in Russian defensive lines near the front-line village of Verbove.

"The Ukrainian ability to bring armored vehicles to and through the most formidable Russian defenses intended to stop them and to operate these vehicles near prepared Russian defensive positions are important signs of progress in the Ukrainian counteroffensive," the ISW said.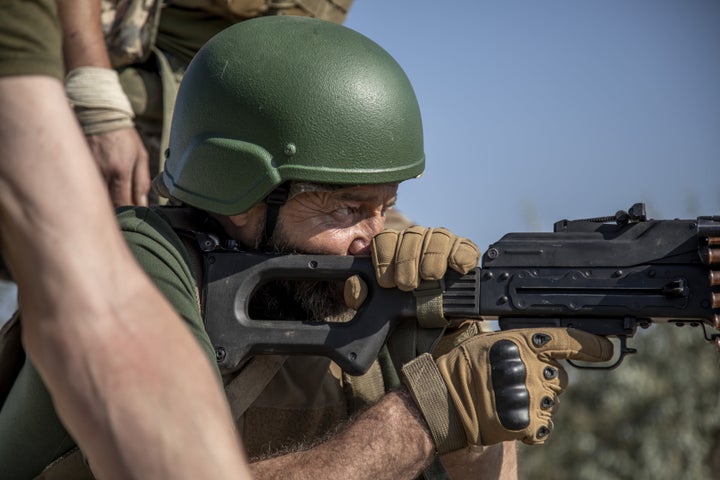 But if Zelenskyy touted any successes, he did so only behind closed doors this week. House Speaker Kevin McCarthy (R-Calif.) declined to hold a public photo-op with Zelenskyy when the Ukrainian president visited a group of House members on Thursday. And there was no side-by-side press conference with Biden this time, as there had been in December.

At a White House photo-op, Biden even intercepted a question to Zelenskyy. When Zelenskyy was asked if he was confident Congress would approve the new aid package, Biden cut in, "I'm counting on the good judgment of the United States Congress. There's no alternative."

Zelenskyy left the White House with the announcement of a $325 million weapons package for his country, as well as the news that the first U.S. Abrams tanks would be arriving in his country next week.

The weapons package was not unexpected, being the 47th time Biden has used what's called "drawdown authority" to give Ukraine weapons and ammo not currently needed or used by U.S. forces. About $25 billion of the $77 billion in aid the U.S. has sent to Ukraine has been through drawdowns.
But there was no official signal on whether Ukraine will get long-range artillery known as ATACMS, which Ukraine and its advocates have long sought.
"I'm counting on the good judgment of the United States Congress. There's no alternative."

– President Joe Biden
During Zelenskyy's speech at the site where countless school children have shuffled by to see America's founding documents, he took a moment to compare his troops to Union soldiers in the Civil War.

He said he had seen Abraham Lincoln's famous telegraph message to General Ulysses S. Grant urging him to "hold on with a bulldog grip and chew and choke as much as possible" on Confederate forces.

"Every day of this war, Ukrainian soldiers hold on with a grip of a bulldog. They chew and choke the Russian occupiers as much as possible," Zelenskyy said.

Polling has shown declining U.S. public support for helping Ukraine in its 19-month war against the Russian invasion as the fighting drags on and the aid tab runs higher. The biggest drop in support is among Republicans, most of whom don't support further aid. But among the overall public, the picture is probably closer to 50-50, depending on the poll and how the question is asked.

A CNN survey compiled in July and released in early August found 55% of Americans opposed further aid, with 71% of Republicans in opposition. But a CBS/YouGov poll in September found that 54% overall supported sending weapons, although only 39% of Republicans did so.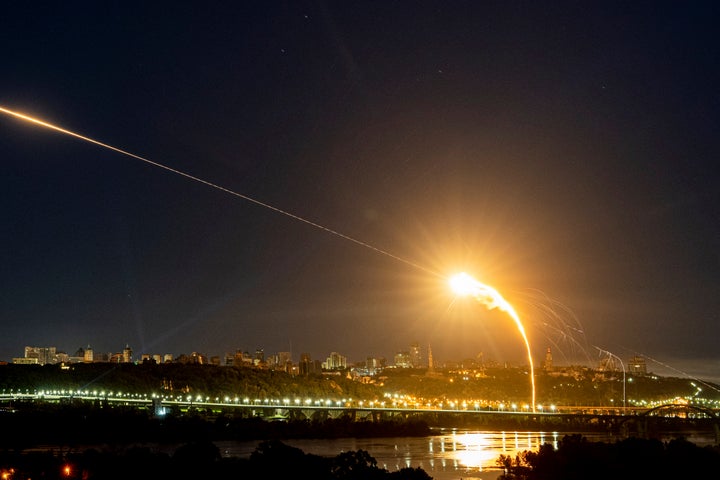 Razom for Ukraine, a pro-Ukraine advocacy group, commissioned a poll that asked whether military support for Ukraine should be included in next year's budget. Sixty-three percent of respondents said yes, but only 41% of Republicans agreed.

Rep. Nancy Pelosi (D-Calif.), who was in the House meeting with Zelenskyy, said after his speech she was optimistic Republican lawmakers would not block aid. And national security adviser Jake Sullivan said opposition to aid in Congress was only among a "vocal, quite small minority."

Zelenskyy himself may end up being a deciding factor: The Razom poll found he is the most popular foreign leader by far among Americans.
That was evidenced by Mark Martin, a 47-year-old Portland, Oregon, resident who works in marketing, and Asher, his 10-year-old son, who were waiting outside the Archives after the Ukrainian president's speech had ended.

The pair had been wandering the National Mall after arriving in Washington earlier for a family trip and saw a tiny crowd forming around the Archives. When they found out it was for Zelenskyy, they decided to wait to catch a glimpse.

Asher, clad in a blue T-shirt with a white and red baseball logo on the front, said he doesn't really watch the news but he knew about the invasion of Ukraine. He was mainly interested in "just being able to see a president."

His dad was interested in the "historical significance" of the moment and Zelenskyy himself.

"He's an amazingly dynamic individual," Mark Martin said. "In terms of his advocacy for his people and his people's cause, clearly a leader in that capacity."