The idea of using rosemary oil to encourage hair growth isn't new, but one woman claims her homemade concoction based on the fragrant shrub has cured her hair loss.
In December last year, Rojotiana Rakotoson, 25, felt insecure about her appearance as she had bald patches emerging around her hairline. But now, less than a year later, she can be seen with luscious locks and couldn't be prouder of her DIY remedy that involves boiling 80 grams of fresh rosemary, one liter of virgin olive oil and 80 grams of cloves.
She told Newsweek: "Seeing my hair fall out made me scared in case I lost all of it. But now, I feel so confident as my hair is healthy and it keeps on growing."
Rakotoson sprays her scalp daily with the homemade oil and leaves it for 30 minutes before washing it off.
What Makes Rosemary Oil Effective for Hair Growth?
If you are using rosemary just as a savory seasoning then you are missing out as it has been proven that the herb does promote hair growth. It's all down to a chemical compound in the plant called carnosic acid, according to Cleveland Clinic.
The non-profit academic medical center website states: "Carnosic acid carries anti-inflammatory and antioxidant properties that can help rejuvenate damaged nerves and tissue in your body. Applying it to your scalp creates an environment where your hair can thrive."
Rakotoson now swears by the oil and wouldn't go a day without using it. Last winter, she says she would be left with a clump of hair in her hand after scratching her head, but now she can run her fingers through her hair without any problems.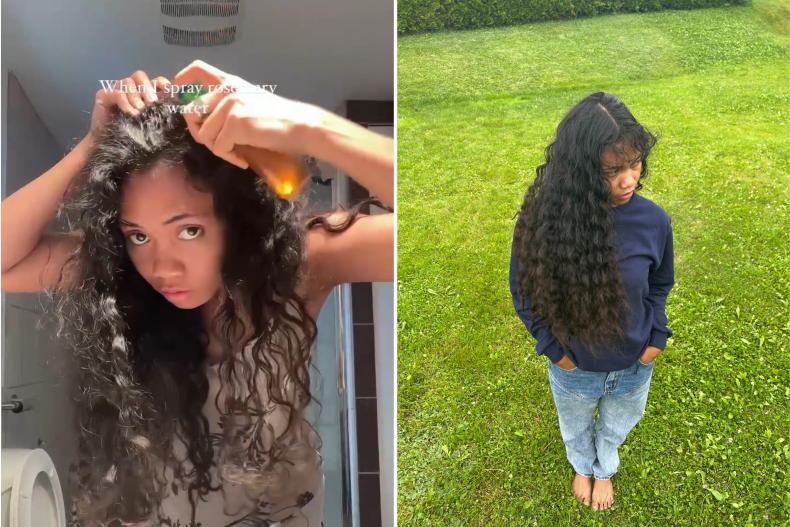 She explained that her hair loss was triggered by stress and anxiety following a big change in her life.
"I moved from Madagascar to Canada and I was depressed for about a year, I felt extremely stressed and anxious which caused me to lose a lot of my hair," Rakotoson said.
Fortunately, she discovered rosemary oil and water but decided to take matters into her own hands and make her own from scratch. TikTok users like Rakotoson – who uses the handle @rojomimii – will be no stranger to the ingredient that promotes hair growth as the hashtag 'rosemary oil for hair growth' boasts 337,600 million views.
To Rakotoson's surprise, her hair looked thicker than ever before after just five months. This prompted her to share her method on TikTok along with the results.
The video went viral and racked up 7.7 million views and 694,000 likes. However, some users questioned if the bald patches had really gone as she didn't show her face in the clip. She has since recorded another video that shows her central forelock.
"It took about three or four weeks to notice my hair was growing. But as soon as I used it, the hair loss slowed down so I could brush it without it falling out. I think the oil made my scalp harder to prevent hair loss," she said.
Over 2,600 people commented on the video, and many of them wanted the recipe.
One user vouched: "This works!! My mom uses this and her hair looks 100x better than mine."
"We love the curls, hun," praised another.
Another complimented: "Your hair is so pretty omg."
But London-based hair stylist Ayanda Soares isn't convinced, and she advises people against making their own oil.
The owner of the House of Hair salon told Newsweek: "'I don't think people should be making their own Rosemary Oil. Due to the harshness of the oil, some people won't know the exact measurements to put on the hair.
"In my professional opinion, you usually need a carrier oil before applying Rosemary oil, otherwise it can lead to scalp irritation and burning. Also, keep an eye on the use by date and how long you should keep on the hair."
According to Holland and Barrett, a chain of health food shops, the oil should be diluted with plant oils like argan, jojoba and almond oil to reduce its potency.
Is there a health issue that's worrying you? Let us know via [email protected]. We can ask experts for advice, and your story could be featured on Newsweek.