Move over Donald Trump: there's a new celebrity mug shot causing chaos on social media.
Country singer Zach Bryan was arrested Thursday in Vinita, Oklahoma, on charges of obstruction of investigation. Although he was released shortly afterwards on bond, his mugshot has already gone viral, with fans unable to get enough of the 27-year-old's jail snap.
"If Zach Bryan doesn't use his mugshot as his next album cover, that's a missed opportunity," posted Texas Red on X, formerly known as Twitter. "I need this on a shirt," wrote user xan.
It has been an eventful week for the star, with Bryan also reaching No. 1 on the Billboard Artist 100 chart, the Billboard 200 album chart, and the Billboard Hot 100 chart. His The Quittin Time tour also went on presale on September 7, with tickets expected to sell out quickly.
"When Zach Bryan sings Something In The Orange I didn't expect it to be a jail uniform," joked Sunny Lee.
"All the legends get arrested…." wrote Mo Money, reposting Bryan's picture alongside Johnny Cash and Elvis's mugshots.
"I know i have issues cuz [because] i saw zach bryan got arrested and i found him MORE attractive," commented J, while Ross Raihala called the photo a "thirst trap."
"Free daddy !!," wrote b.sharp. "The only male trans supporting country artist !! That smirk is INNOCENT !!!"
In a post to X, Bryan wrote that he'd had "an incident with Oklahoma Highway Patrol."
"Emotions got the best of me and I was out of line in the things I said," Bryan added.
"I support law enforcement as much as anyone can, I was just frustrated in the moment, it was unlike me and I apologize."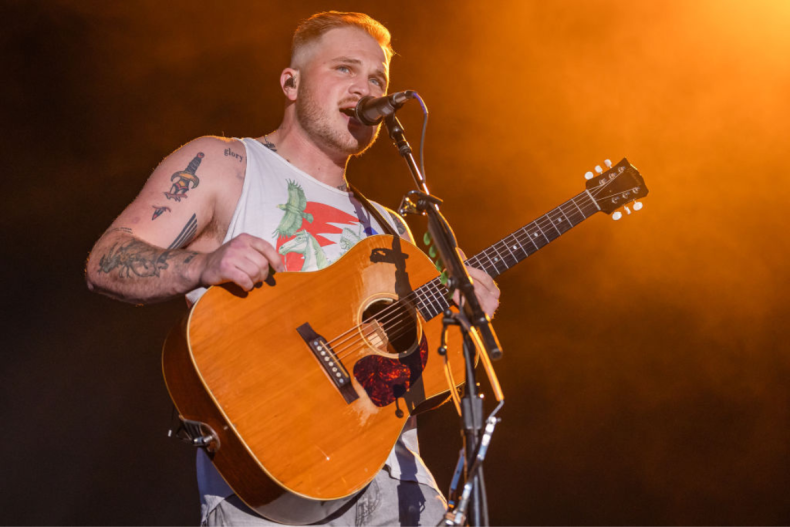 The hitmaker was held in Craig County Jail, where the now-viral mugshot was taken. Earlier that day, Bryan posted a photo to his Instagram stories of him and his dog Jack Daniels on the road. The pair were on their way to see the Philadelphia Eagles—Bryan's favorite football team—at the time.
"On the road again, gonna go see the birds win," he wrote alongside the snap of the Labrador snoozing in the passenger seat.
Bryan was in the headlines last month for his supposed feud with fellow country singer Travis Tritt. In August, Bryan said that the 60-year-old musician came after him over his comments in support of transgender people.
In April, the "From Austin" singer stated that "insulting transgender people is completely wrong" on social media.
"We live in a country where we can all just be who we want to be," Bryan wrote, with his X post receiving more than 4 million views and over 32,000 likes.
The comment was in response to reports that Tritt had boycotted Bud Light beer, after the company sent a personalized crate of the beverage to transgender influencer Dylan Mulvaney.