The Samsung Odyssey Neo G9 57-inch (57CG952) is a massive monitor that is perfect for gaming and productivity. Samsung's latest gaming monitor is a powerhouse that takes your setup to the next level. Here's what we learned using the Samsung 57CG952 with a high-end gaming PC, PS5 and a MacBook Air.
This dual UHD gaming monitor is capable of up to 8K resolution for games on the ultra-wide 32:9 screen. The Quantum Mini-LED display with HDR support handles up to a 240Hz refresh rate and delivers a low 1ms response time with AMD FreeSync Premium Pro support. This is the same as using two 32-inch 4K monitors side-by-side, but without an annoying bezel in the middle of your view.
The Samsung Odyssey Neo G9 57-inch is available at Samsung and other retailers.
Samsung Odyssey Neo G9 57-inch Performance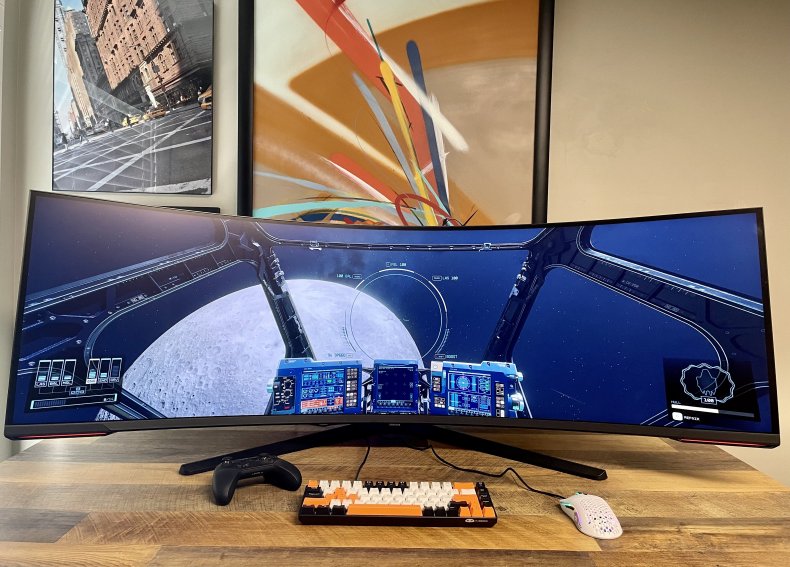 The Samsung Odyssey Neo G9 57-inch is the ultimate display for ultra-wide gaming. Dominating our 60-inch wide desk, this monitor features a 1000R curve, perfect for a screen of this size, wrapping to the edge of peripheral vision while gaming. It's also great for placing three documents or apps side-by-side while working.
We tested this with the Alienware M16 gaming laptop, with an AMD Ryzen 7845HX processor and GeForce RTX 4080 GPU, to play some of the latest games. This system is capable of 4K at 120Hz, which is limited by the DisplayPort 1.4 connection. It is a challenge to find a PC capable of pushing 7,680 x 2,160 at the full 240Hz; you'll need a GPU that supports DisplayPort 2.1 for that. You can use as much of this monitor as you can, and it's ready for more as you upgrade your setup.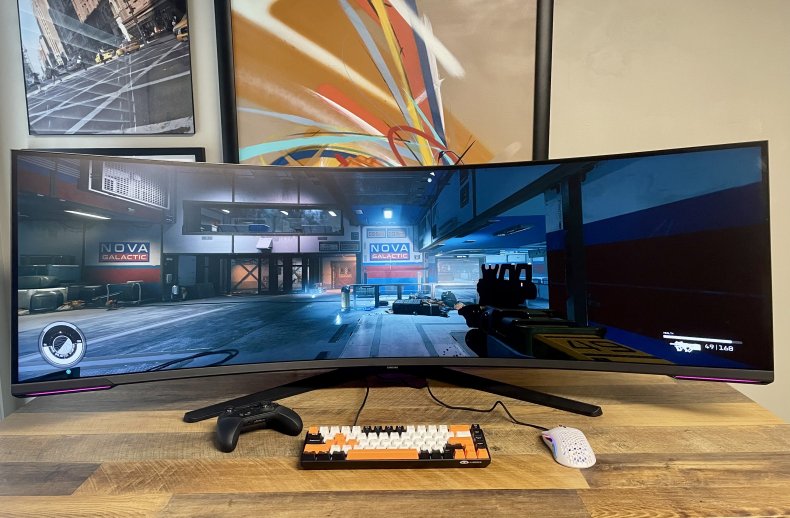 We've been playing Starfield at Max settings on the 57CG952. We needed to use a workaround to play in ultra-wide, but it was an excellent experience. The brilliant colors and flashes of light as you fly through space and explore the universe shine thanks to the VESA DisplayHDR 1000 support and excellent peak brightness.
Mini-LED backlighting in this model delivers a superbly vibrant scene, though it won't quite hit the inky black levels of an OLED screen. Ultimately, this comes down to your personal preference, but with the great black performance, this monitor has a lot of value.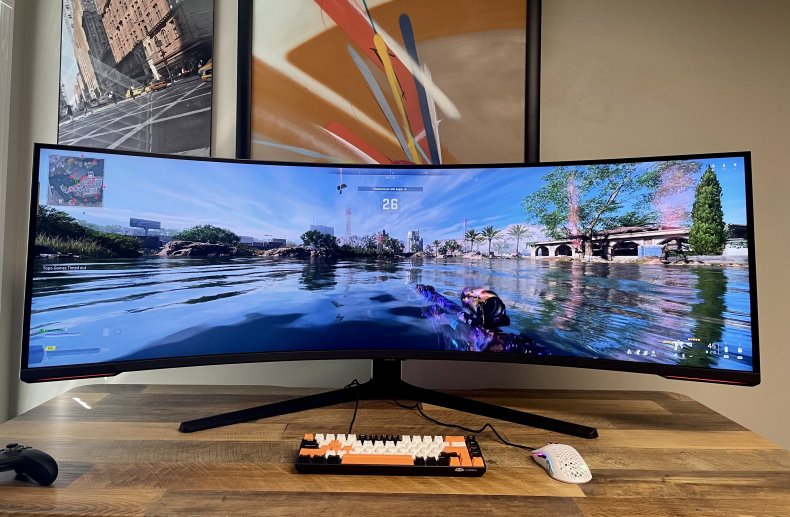 With our gaming setup, we tested the monitor at 4K resolution and 120Hz refresh rate. The display features a 1ms Gray to Gray response time. In fast-paced games like Call of Duty: Warzone 2, the Odyssey Neo G9 57-inch delivered excellent performance, keeping up with the action.
Samsung includes a Picture-By-Picture mode that lets you place two inputs side by side at 4K. This gives you essentially two 32-inch screens. You can use this to manage multiple devices for work or game on one side and control streaming details on the second.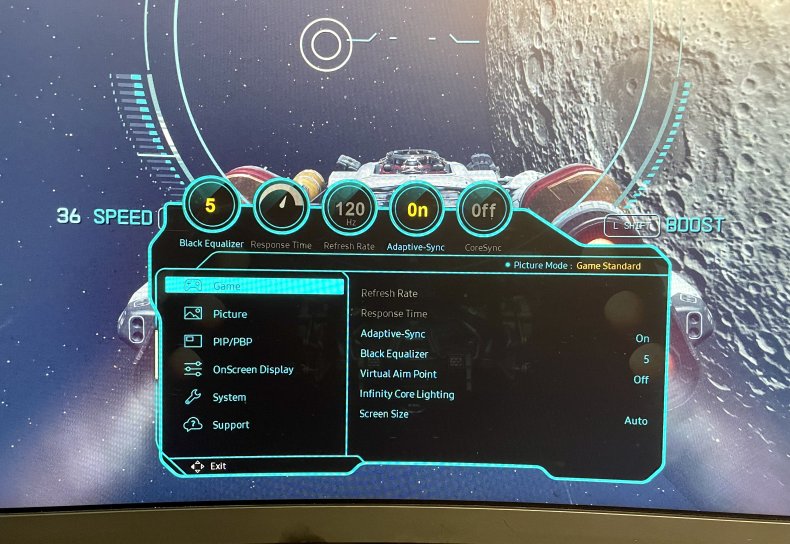 The Odyssey G9 57-inch menu offers a quick look at gaming details like response time, refresh rate, black equalizer settings and CoreSync options. Overall, the menu is easy to use, with fast access to commonly used settings.
If you are looking for an easier way to justify the price of this monitor, consider that it's also an epic work companion. We tested with a MacBook Air, which could push 5,120 x 1,440 at a variable refresh of 48-120Hz. The ability to place multiple apps next to each other to compare documents, copy details between Excel books and stay connected on Teams.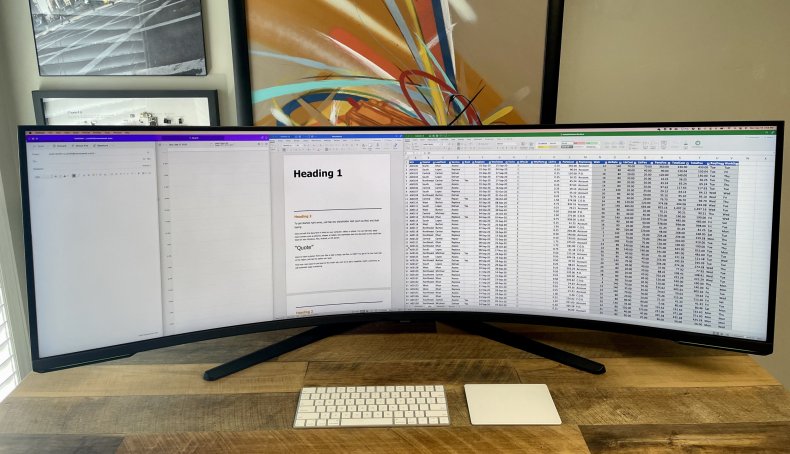 You can connect a console like the PS5 or Xbox Series X to the Odyssey Neo G9 57-inch and use the beautiful display and fast response times, but neither console supports ultra-wide gaming. By default, the console output is centered. You can force a stretched aspect ratio in the settings, but this is not ideal. If you primarily game on a console, this is not the best monitor for you unless you will use the Picture-By-Picture mode most of the time.
This monitor has no smart features like we see on Samsung TVs and the latest Freestyle projector. So don't expect to stream games or shows without connecting a device.
Samsung Odyssey Neo G9 57-inch Design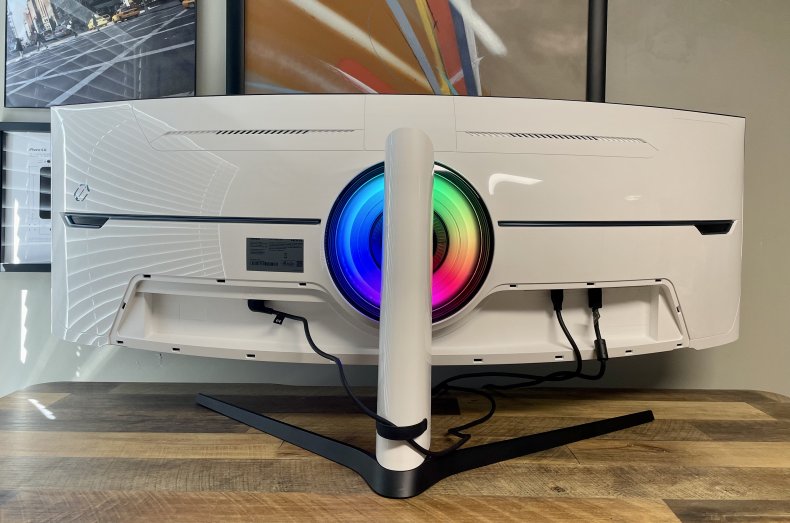 This design is familiar if you've seen or used an Odyssey Neo monitor. The rear is shiny white around the CoreSync light orb that can sync to the game or a lighting choice to immerse you in your game more. The bottom corners of the display include RGB lighting that syncs up to the CoreSync lighting system, bringing the visualization full circle.
The feet of the stand come out to the edge of the monitor slightly in a wide V-shape that is very stable. The monitor swivels 15 degrees and adjusts for 4.72 inches in height, allowing you to get the best placement on your desk. It also tilts down slightly and up even more, which provides for an excellent low on the desk placement shown below.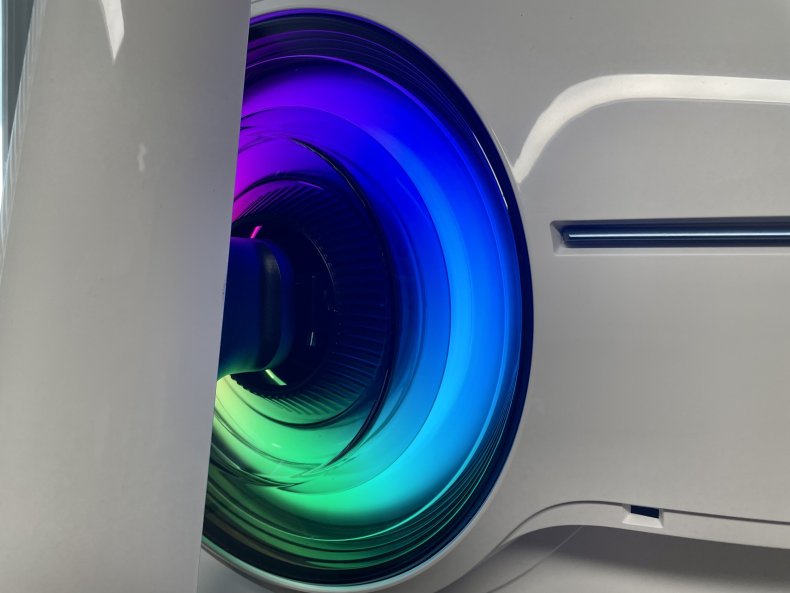 Samsung includes a simple cord holder on the back edge of the stand. The design is clean and modern. It looks good in our setup against a wall, but the style also works well if you want to use this as part of a mid-room setup.
Samsung Odyssey Neo G9 57-inch Setup
The Samsung Odyssey Neo G9 57-inch setup is a simple matter of connecting the stand to the base and then to the monitor. This takes less than 5 minutes and can be done with one person. The packaging cradles the monitor while you assemble these pieces. Once that is done, you may want a second person to help you place it on your desk.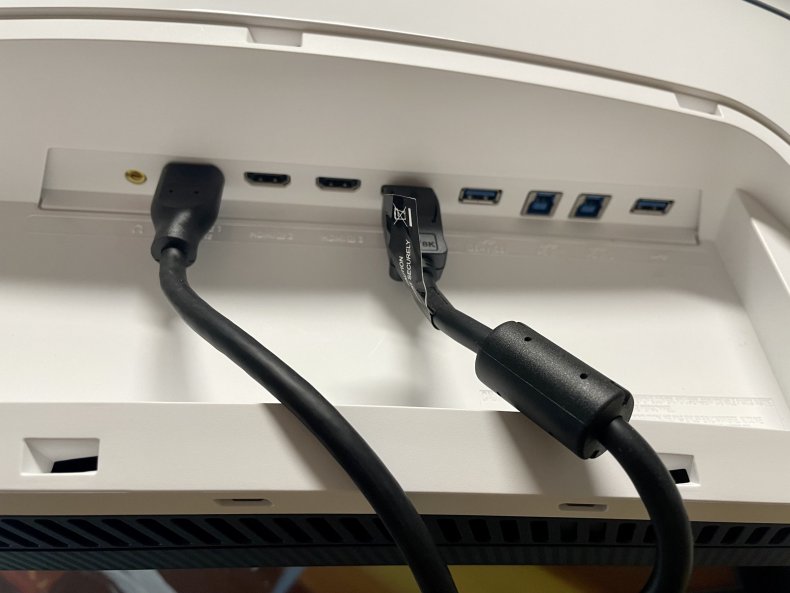 Samsung includes three HDMI 2.1 ports and DisplayPort 2.1, which supports 8K resolution when paired with the right graphics card. There is also a USB-C connection to hook up your devices. With auto-source switching and an easy-to-use menu, switching between work and gaming is a breeze.
Should You Buy the Samsung Odyssey Neo G9 57-inch?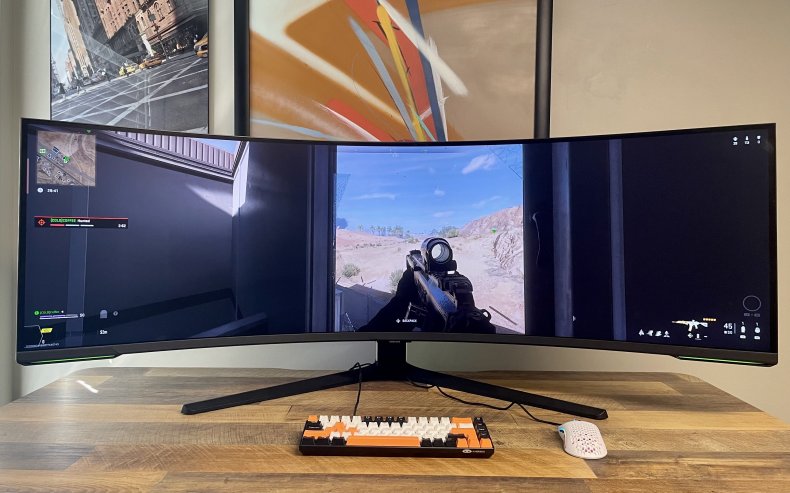 The Samsung Odyssey Newo G9 57-inch is one of the best gaming monitors you can buy. This is both a great option for today and an investment in gaming capabilities that will come as graphics cards improve.
With eye-blinding brightness levels and very good black performance thanks to the plethora of local dimming zones, you get incredible brights, vibrant colors and close to OLED black levels. If you are in the market, this is the top-of-the-line gaming monitor you should buy. For gamers on the edge, or who won't be ready to match the capabilities of this monitor, check out the Samsung Odyssey G9 49-inch model.
Buy for $2,499.99 at Samsung.
Newsweek may earn a commission from links on this page, but we only recommend products we back. We participate in various affiliate marketing programs, which means we may get paid commissions on editorially chosen products purchased through our links to retailer sites.