September 8, 2023 marks the one-year anniversary since the death of Queen Elizabeth II, Britain's longest-serving monarch.
In the year since her death, her successor, King Charles III, has established his reign and promoted his eldest son, Prince William, to the senior role of Prince of Wales.
It is the king's youngest son though, who has given the greatest insight into life behind palace walls over the past year. Prince Harry's Netflix and memoir projects exposed the raw and unvarnished realities of being born within close proximity to the crown.
Throughout his memoir, which he titled Spare, the prince launched a number of bombshells against members of the royal family—including Charles, William and Queen Camilla—but throughout, his respect and reverence for his grandmother, Queen Elizabeth, was evident.
Here, one year since her death at the age of 96, Newsweek looks at how Prince Harry remembered the day Queen Elizabeth II died in his record-breaking memoir.
Return to Britain
On September 8, 2022, Prince Harry and Meghan Markle were at their former home of Frogmore Cottage on the Windsor Castle estate preparing for a children's charity award ceremony in London.
The couple were making their first joint visit to Britain since the Platinum Jubilee earlier that summer, and their first working visit since their split from the monarchy in 2020.
The awards ceremony was the final event in the couple's four day schedule, which had started with Meghan's One Young World Summit appearance (accompanied by Harry) in Manchester, and included a brief trip to Germany for an Invictus Games event.
In Spare, Harry writes that it was while back at Frogmore Cottage that he received the news that his grandmother, the queen, was seriously unwell.
The Phone Call and Raised Voices
"That day—September 8, 2022—a call came in around lunchtime. Unknown number," Harry told readers.
'Hello?' It was Pa [Charles]. Granny's health had taken a turn. She was up at Balmoral, of course."
The 96-year-old queen was staying at her Scottish home as part of her annual summer vacation, and was joined by her daughter, Princess Anne, as well as Charles and Camilla who had a home nearby.
After establishing that Harry should travel to Scotland to see the queen, the prince wrote that he contacted Prince William, with whom relations had been strained for some time.
"I immediately texted Willy to ask whether he and Kate were flying up. If so, when? And how?" he wrote. "No response. Meg and I looked at flight options."
At this, Harry claimed that Charles phoned again, telling him that while he was welcome, Meghan was not.
"He started to lay out his reason, which was nonsensical, and disrespectful, and I wasn't
having it," the prince wrote. "Don't ever speak about my wife that way."
"He stammered, apologetic, saying he simply didn't want a lot of people around. No other wives were coming, Kate wasn't coming, he said, therefore Meg shouldn't."
After this, Harry chartered his own flight from a London airport to Aberdeen while Prince William and other members of the royal family took a government plane from a nearby Royal Air Force base.
He wrote that he "spent much of the flight staring at the clouds, replaying the last time I'd spoken with Granny."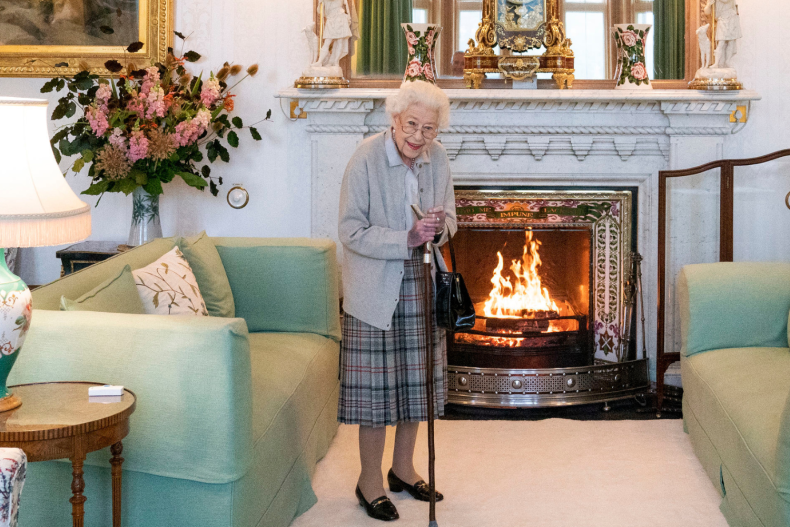 Peace at Balmoral
When the prince finally arrived at Balmoral in the early evening, the news that Queen Elizabeth had died was already broadcast.
The monarch's official cause of death was listed later as "old age."
Harry told readers of his memoir that he was met at the castle with a hug from his aunt, Princess Anne, who told him that his father, the new King Charles III, stepmother, Queen Camilla, and brother, William, had already left to have dinner at Charles' nearby home.
"She asked if I wanted to see Granny," he wrote. "She led me upstairs, to Granny's bedroom. I braced myself, went in.
"The room was dimly lit, unfamiliar—I'd been inside it only once in my life. I moved ahead uncertainly, and there she was. I stood, frozen, staring. I stared and stared. It was difficult, but I kept on, thinking how I'd regretted not seeing my mother at the end. Years of lamenting that lack of proof, postponing my grief for want of proof. Now I thought: Proof. Careful what you wish for."
After spending time with his grandmother, the prince wrote that the family members who were at Balmoral (including Princess Anne, Prince Edward and Prince Andrew) had dinner at which he noted the "eerie silence" caused by the absence of the queen's traditional bagpiper.
An Odyssey
The morning after the queen died, Harry recounted in Spare how the "quickest way back" to Frogmore Cottage "would've been a lift with Pa or Willy," but he decided to travel on a commercial flight from Aberdeen to London.
"Soon after settling into a front row, I sensed a presence on my right. 'Deepest sympathies,' said a fellow passenger before heading down the aisle," he wrote.
"Most passengers stopped to offer a kind word, and I felt a deep kinship with them all. Our country, I thought. Our Queen."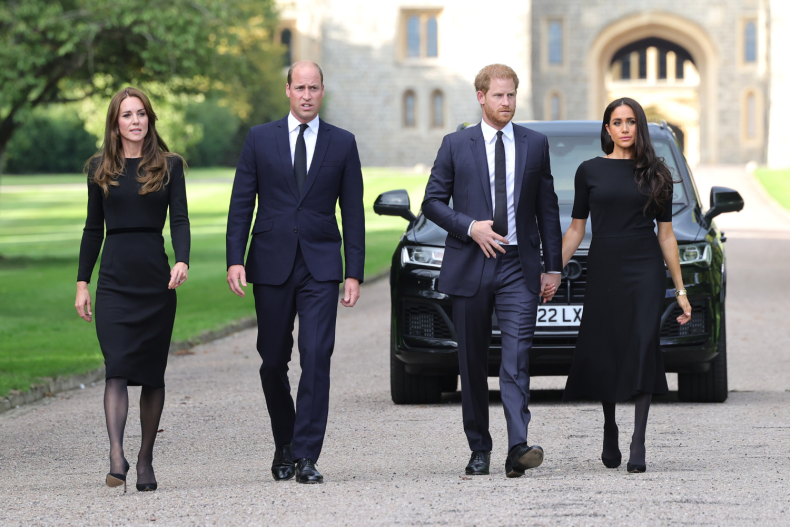 Once back with Meghan, the royals planned to extend their stay in Britain to attend the mourning events for the late monarch, including her state funeral 10 days later.
"Our quick trip would now be an odyssey," he wrote.
The prince and Meghan joined members of the royal family for the major mourning ceremonies and left Britain for America to be reunited with their children, Prince Archie and Princess Lilibet, the day after the state funeral.
James Crawford-Smith is Newsweek's royal reporter, based in London. You can find him on Twitter at @jrcrawfordsmith and read his stories on Newsweek's The Royals Facebook page.
Do you have a question about King Charles III, William and Kate, Meghan and Harry, or their family that you would like our experienced royal correspondents to answer? Email [email protected]. We'd love to hear from you.