A pre-dawn Russian missile attack on Ukraine's capital killed three people, including a 9-year-old and her mother, officials said, and inflicted the highest casualty toll from a single attack on Kyiv over the past month.
The latest Russian attack, using what Ukrainian officials said were short-range Iskander ground-launched missiles, coincided with events scheduled in Kyiv to celebrate International Children's Day. Those events were canceled.
Ukrainian air defenses shot down all 10 cruise and ballistic missiles launched by the Kremlin's forces, but falling debris caused damage and casualties on the ground, wounding 16 people, according to authorities.
Russia has kept up a steady barrage on the Ukrainian capital and other parts of the country in recent weeks as Kyiv readies what it says is a counteroffensive to push back Moscow's troops, 15 months after their full-scale invasion. Kyiv was the target of a reported 17 drone and missile attacks last month.
Ukraine's first lady Olena Zelenska said one child was in hospital after the attack.
"Children's Day has to be about safe childhood, summer, life," she tweeted. "But today it is about new crimes of (Russia) against children."
Ukrainian Foreign Minister Dmytro Kuleba tweeted that the dead included a 9-year-old girl, her mother and another woman.
U.N. human rights monitors said six children were killed and 34 were wounded last month alone.
Since February 2022, at least 525 children have been killed and at least 1,047 have been injured, according to the U.N.'s Human Rights Monitoring Mission in Ukraine.
"Sadly, as the world marks International Children's Day, there is little to celebrate in Ukraine where civilians, including children, continue to pay a heavy price" said Matilda Bogner, the mission's chief.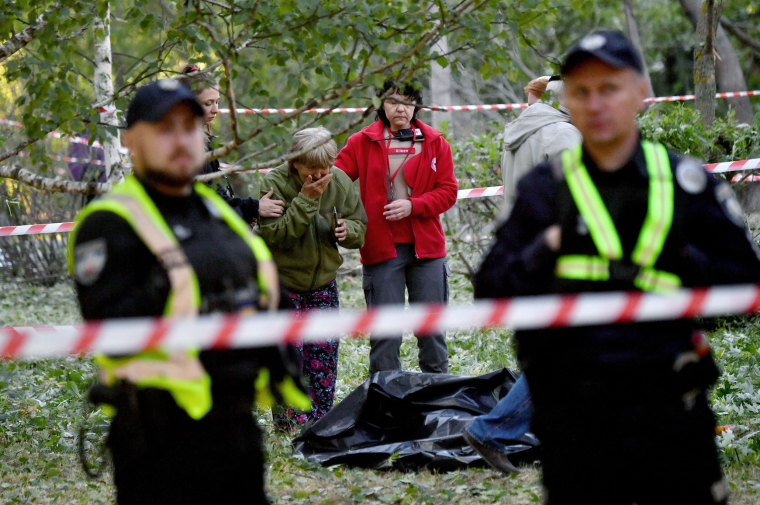 The Ukrainian Ministry of Defense cited different figures for child casualties in the war, saying at least 484 children have been killed and 992 injured. It was not immediately possible to reconcile the differences with the U.N. figures.
Russia has repeatedly targeted Kyiv with waves of drone and missile attacks since the start of the invasion, but attacks against the capital have significantly intensified over the past month. While most incoming weapons are shot down, many Kyiv residents are anxious and tired after weeks of sleepless nights listening to the sound of explosions.
Thursday's onslaught also damaged apartment buildings, a medical clinic, a water pipeline and cars. Earlier, the city government had said that two children were killed before revising the number to one.
Mayor Vitali Klitschko said authorities were investigating why a shelter at a medical facility was locked, preventing some people from taking shelter during the bombardment. He gave orders to the heads of the city's districts to immediately check if all the shelters in Kyiv are accessible.