Polish Prime Minister Mateusz Morawiecki has said Warsaw will no longer transfer weapons to Ukraine, as relations between Kyiv and one of its closest foreign partners rapidly deteriorate amid a spat over Ukrainian grain exports.
"We are no longer transferring weapons to Ukraine, because we are now arming Poland with more modern weapons," Morawiecki said in a television appearance on Wednesday.
"If you don't want to be on the defensive, you have to have something to defend yourself with," the prime minister added, stressing that the shift in approach would not undermine Ukrainian security nor signal an end to broader Polish support for Kyiv's victory.
Morawiecki's remarks are the latest sign of deteriorating ties between Ukraine and Poland. The dispute centers on the westward export of Ukrainian grain, which Poland and other European Union states have said is undercutting their agricultural sectors and forcing down domestic grain prices.
In May, the EU restricted the sales of imported Ukrainian grain in Bulgaria, Hungary, Poland, Romania and Slovakia. Last week, the bloc lifted the measures, a decision immediately rejected by Poland, Hungary, and Slovakia.
Westward land exports of grain have become vital for Ukraine due to the intermittent Russian blockade of its Black Sea ports. Addressing the United Nations General Assembly on Tuesday, Ukrainian President Volodymyr Zelensky described the opposition from central European partners as "political theater" that was "helping set the stage for a Moscow actor." The Polish government reacted angrily, summoning Ukraine's ambassador.
Also on Tuesday, Polish President Andrzej Duda raised eyebrows when he compared Ukraine to "a drowning person clinging to anything available." The president added: "A drowning person is extremely dangerous, capable of pulling you down to the depths."
Oleg Nikolenko, a spokesperson for Ukraine's Foreign Ministry, called for calm on Wednesday. "We urge our Polish friends to reject emotions," he wrote on Facebook. "The Ukrainian side offered Poland a constructive way of solving the grain problem. We expect our suggestions to become the basis for the translation of dialogue into constructive process."
Both Duda and Morawiecki made clear their intention to continue supporting Ukraine until it defeated Russia's invasion. Warsaw has been at the forefront of the push to send advanced NATO weapons—including artillery, tanks, and fighter aircraft—to Ukraine. Warsaw's decision to send MiG-29 fighter jets was particularly notable, and marked a break with most NATO allies who even now remain hesitant to provide combat aircraft.
Daniel Szeligowski of the Polish Institute of International Affairs suggested Warsaw's decision to end weapon deliveries was a practical one. "Poland has already sent Ukraine what it had in stocks," he wrote on X, formerly known as Twitter.
But Polish frustrations spilling into public view with a pivotal general election looming will be concerning for Kyiv. Poland has cultivated a vital role as a hub for military and humanitarian aid heading east, and as a hawkish advocate of Ukraine's cause in EU and NATO forums.
Newsweek has contacted the Ukrainian Foreign Ministry by email to request comment.
"The most important thing now is to retain our strategic partnership and friendship between Ukraine and Poland," Oleksandr Merezhko, a member of the Ukrainian parliament and chair of the body's foreign affairs committee, told Newsweek.
"Poland is one of our biggest supporters and true friend," Merezhko added. "Any misunderstanding between our countries plays into hands of Russia. I believe that we should wait till parliamentary elections in Poland are over and be patient."
"It would be better to separate political aspects of the problem from economic ones, and to seek a solution by means of quiet diplomacy," he added. "I'm afraid that not only Russia but also some politicians in Europe who are dreaming of a return to 'business as usual' with Russia might also be interested in the conflicts between Poland and Ukraine."
"I believe in a strong alliance between Ukraine and Poland with the support of the U.S. and the U.K.," Merezhko said. "Geopolitically it's important."
There is scope for more tension ahead of the Polish election next month. The ruling Law and Justice party (PiS) is looking to secure another term in office, though given reduced public support since the last poll may have to seek a coalition partner to do so.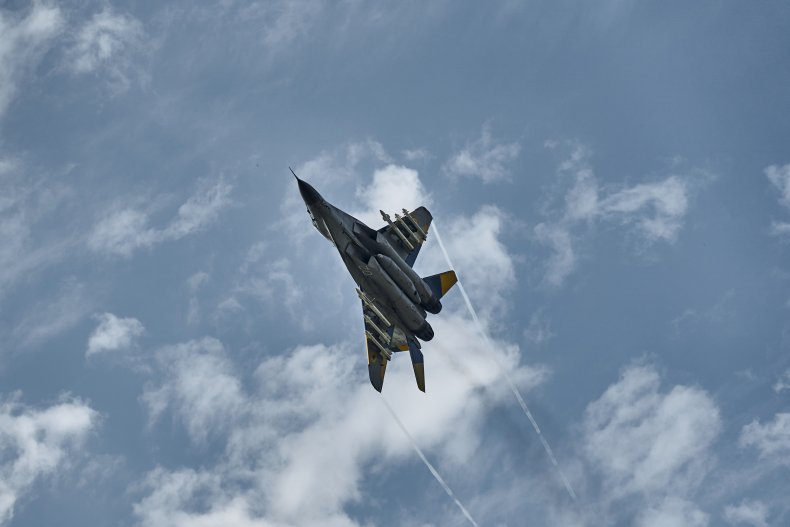 One candidate is the far-right Confederation party, members of which have been outwardly opposed to aid for Ukraine. The party's election manifesto described PiS as "servants of the Ukrainian people" and demands Kyiv "guarantee Polish companies participate in the reconstruction of Ukraine on preferential terms" in exchange for continued support.
The right-wing populist PiS is looking to head off Confederation's challenge and bolster support in its rural heartlands, which are dominated by farmers concerned by Ukrainian grain exports. "We were the first to do a lot for Ukraine and that's why we expect for them to understand our interests," Morawiecki said on Wednesday. "Of course we respect all of their problems, but for us, the interests of our farmers are the most important thing."
PiS will also be eyeing falling support for Ukrainian refugees—Poland is home to more than 1.5 million—among Polish voters. An August survey found that the number of Poles in favor of allowing refugees from Ukraine in has fallen to 69 percent, compared with 91 percent just after the full-scale invasion began. A quarter of respondents said they were opposed to allowing refugees, versus 4 percent in early 2022.